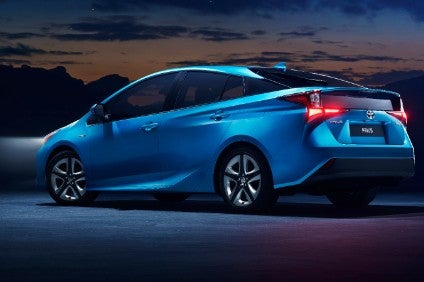 Ask any random person to name a carmaker offering hybrids, and you'll surely get back the name Toyota. The hugely profitable carmaker pioneered hybrid-electric powertrain in its 1997 Prius. That car, now in its fourth generation, is the epitome of extreme design for fuel efficiency in a mass-market vehicle. The company has long pledged that by 2020, it will offer a hybrid version of every vehicle in its vast lineup.
Toyota has, in fact, made more that half the hybrids on the world's roads to date. Its total since 1997 is around 13 million. It now delivers more than 1 million hybrids a year.
Royalty-free licenses
The news on Wednesday morning seemed minor and innocuous: Toyota announced it would offer royalty-free licenses on its portfolio of almost 24,000 hybrid-electric drivetrain patents to other carmakers at no cost from now through 2030.
"Ultimately," just-auto wrote on Wednesday, "by granting royalty-free patents and providing technical support on its vehicle electrification systems, Toyota aims to help further promote the widespread use of electrified vehicles, and in so doing, help governments, automakers, and society at large accomplish goals related to climate change."
It's a laudable goal indeed—if such selfless corporate generosity is the sole motive.
Indeed, Toyota did the same in 2015 for its fuel-cell vehicle patents, though only through 2020. No major licenses have been announced to date.
Looked at through another lens, Toyota's royalty-free licenses—plus technical support for adoption and use of its electrification technology—can be viewed as a reaction of fear.
After two decades, Toyota may have concluded that its investment of US$15 billion or more in hybrids will not carry it from 2030 to 2050, when it expected hydrogen fuel cells to be the unchallenged zero-emission vehicle technology of choice.
In effect, Toyota may have concluded its hybrid-electric technology will have a shorter life and lower adoption rates than it had long projected. It may be starting to write down the value of that hybrid IP, surely among its most prized corporate assets.
Hybrids, hybrids everywhere?
Remember projections from 10 or 15 years ago that perhaps one of every three vehicles sold globally by now would be a hybrid? That hasn't happened.
If it comes close over the next few years, the "hybrids" in question will be 48-volt enhanced start-stop systems. These (very) mild hybrid systems contribute little to actual vehicle propulsion, but they're far less expensive than Toyota's 400-volt two-motor systems. Most important, they get OEMs through several years of increasingly tight CO2-emission limits. (At least they did before the WLTP era, but that's a different story …)
Meanwhile, the data show that Toyota's 13 million hybrids over 22 years remain the vast majority of hybrids on the roads. Today, its vehicles account for more than 80 percent of all hybrid sales, which make up about 3 percent of global sales, per LMC Automotive.
It's worth considering whether Toyota has concluded its high-voltage full hybrid systems, used in the Prius and all its brethren, have at most 10 more years before they're simply supplanted by far less costly battery-electric vehicles.
In that light, Toyota is opening up its patent portfolio to keep its expensive technology relevant as long as possible. More companies using what used to be called Hybrid Synergy Drive spreads component cost more widely, keeping prices lower than if only Toyota used the system.
Capital for BEVs
It's an appealing offer, one Mazda and Subaru have already taken up. Both are small companies in the greater Toyota ecosystem. But using an existing, well-engineered hybrid system with an experienced supply base may well appeal to more automakers—especially those which have not yet developed their own strong hybrid technology, as GM, Ford, and Hyundai-Kia have.
Buying in hybrids rather than developing them in-house would free up much-needed capital that other OEMs can devote to designing the high-volume battery-electric cars that China's government suggests will be the only way to keep selling in the country over the long run.
That has become possible as Li-ion cell prices have fallen far faster than projected even 10 years ago. GM says it will be able to sell long-range BEVs at a profit in 2022 or 2023, though analysts remain skeptical of the claim. Tesla has already shown us what's needed to offer both alluring electric cars and the fast-charging ecosystem to support them.
VW Group now takes 200-mile BEVs very seriously, and its Porsche unit will launch 15-minute ultra-fast charging for 200 miles within the year. And of course China bought more BEVs in 2018 than the rest of the world put together.
Pressed on both ends
Twenty years ago, Toyota bet that for its (est) USD 15 billion or more, it would own the ability to produce more fuel-efficient ICE vehicles than competitors. It has won that bet, only to find that its major markets didn't want or wouldn't pay for such a technically sophisticated contraption.
Take China. The national government has long intended the country to own the biggest share of global production of lithium-ion cells and battery-electric vehicles. It wouldn't serve Chinese national interests to lean on (copied or stolen) Toyota-like technology, especially as the country moves slowly toward greater respect for intellectual-property rights in some venues as a condition of global participation.
Europe put its chips on diesel for two decades. We know how that story ended. The interim solution was plug-in hybrids, but those sums are quickly being revised in light of grim ratings from the new WLTP regime. The solution, especially in Wolfsburg, will clearly be battery-electric vehicles without combustion engines.
And as it turns out, Toyota's profitable North American market isn't willing to pay the tab for significantly higher fuel efficiency, especially as its hybrids today are largely confined to the fast-eroding segment of passenger cars.
Add it all up, and Toyota's technically sophisticated two-motor parallel hybrid systems are pressed on one end by lack of adoption and much cheaper 48-volt mild hybrids, and on the other end by the rapidly falling costs of lithium-ion cells for long-range EVs.
Plug-in hybrids: only 10 years?
Even plug-in hybrids, widely assumed five years ago to take a dominant share of the global market for all vehicles with plugs, may prove transitional. GM has apparently concluded that BEVs are the sole technology worth pursuing for the 2020s.
The largest North American maker ended production of its well-received Volt plug-in hybrid in February, after two generations and sales of more than 100,000 units. Actual buyers loved the Volt, but its marketers never came close to cracking the code on how to describe it to shoppers not already predisposed to the car.
How quickly might [plug-in] hybrid market share erode? "We see plug-in [hybrid] technology, at least over the next decade, as a good solution for customers," said ZF Friedrichschafen CEO Wolf-Henning Scheider this week. Note the timeframe. The quote came as Scheider announced ZF's largest-ever order, from BMW for transmissions—including versions with electric motors.
Toyota has the bulk of its electrification efforts in hybrids without plugs, with an eye toward long-term adoption of hydrogen fuel-cell vehicles. It makes exactly one plug-in hybrid, the Prius Prime, derived from its mainstay Prius.
It produces BEVs with exceeding reluctance, and only for those markets where they are required. First that was California, where it partnered with Tesla on 2,500 units of the RAV4 EV from 2012 through 2015. Now it's China, where volumes must be two to three orders of magnitude higher.
Rearguard action
Those OEMs that focus aggressively on long-range BEVs for China will likely also see success in European markets, which are serious about major and meaningful reductions in tailpipe carbon emissions. North America's cheap gas, long travel distances, and lack of city-to-city mass transit suggest it will likely lag in EV adoption—despite incessant media coverage of Tesla. (Whether the US becomes an "island" or a "backwater" in global auto tech depends on how cynical you choose to be.)
In that light, Toyota's patent-licensing scheme feels like a necessary rearguard action to aid its hybrid supplier ecosystem to cut costs, by encouraging more takers to use the technology while it lasts. This will help Toyota lower its own costs over a shorter term, if in fact it no longer sees full hybrid technology as lasting much beyond 2030.
The story may have been different had Toyota chosen to follow the lead of General Motors in the 1970s. The US firm, then the world's largest automaker by far, offered royalty-free licenses to its catalytic-converter technology as a way for all automakers to reduce emissions quickly and significantly. (Toyota created an entire substitute powertrain, of course, an investment greater than GM's by an order of magnitude, if not two.)
Toyota's pride in its parallel-hybrid technology and expressed disregard for battery-electric vehicles may reflect the classic innovator's dilemma, as a prescient article by Matthew Klippenstein pointed out almost six years ago. Formulated by Harvard Business School professor Clay Christensen, it suggests that the leading innovator in a technology tends to fall behind when The Next Big Thing comes along.
The dilemma comes because the innovator's resources are largely devoted to exploiting its invention and meeting current customers' needs—which pay the bills. Ensuing technologies in their early days often provide only compromised solutions, let alone lower or nonexistent profit margins. It's a good description of battery-electric vehicles today.
The chairman of the Toyota board of directors since June 2013, Takeshi Uchiyamada, was the lead developer of its hybrid-electric technology and is known as "the father of the Prius."
Still, Toyota has not included any of its patents on lithium-ion battery packs in the royalty-free offer. Sooner or later, the company has to know which way the wind blows.
Meanwhile, for the world's most profitable mass automaker, it feels like an existential moment.