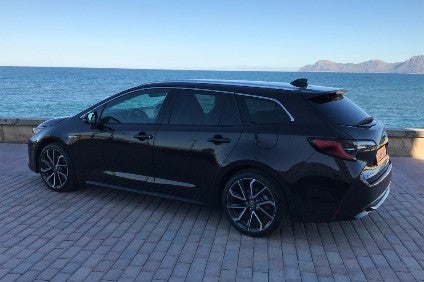 Highlight of my week was undoubtedly another trip – after several years – to one of my favourite business and leisure spots, the Spanish island of Majorca (aka Mallorca) to which I've been many times both for holidays and new car launches. This time around it was the much improved Toyota Corolla, the model formerly known in Europe as the Auris.
Apart from the usual increase in size and a complete restyle, it now offers a choice of two hybrid powertrains (RIP, diesel) as well as an entry level 1.2 petrol and the sedan has returned, now with added hybrid, intended to keep current Avensis sedan owners in the Toyota fold come trade-up time and offer them Toyota's first European hybrid sedan. The brand is not a big player in Europe, relatively speaking, so it will be interesting to see how the new C-segment contender does against heavy hitters like VW's Golf, Ford's Focus and the Vauxhall/Opel Astra and a heap of other rivals – C-segment being huge over here. Elsewhere, of course, the US, Asia, Australasia, the Corolla is everywhere and I expect this one'll be no different. General consensus of the Brit media mob was 'excellent' with refinement and noise suppression singled out for special mentions.
Our story about how dwindling stocks of the outgoing Evoque, intense competition in the segment where the Discovery Sport competes and an uptick in US deliveries all helped to make the Range Rover Sport Jaguar Land Rover's best performer in January was the most popular noos yarn this week. Retail sales of Land Rover's second most expensive model rose to 7,122 units last month, a gain of 31.3% compared to January 2018. That placed it well ahead of the next most popular model, the Discovery Sport, which fell 37.7% to 6,064 vehicles. Some believe steep pricing to be the reason why the Range Rover Velar is still not living up to the high hopes which many had or indeed still have for it. Sales fell by 17.4% in January to 4,878. The RRV was even outsold by the resurgent Range Rover, deliveries surging by 60% to 4,955 cars.
Also attracting lots of eyeballs was our piece on how strategic partners Ford and Volkswagen Group reportedly were in disagreement over how much VW should invest in Ford's self-driving vehicle unit. The Reuters report said Ford was seeking at least US$0.5bn and cited anonymous sources 'familiar with the negotiations'. Last year, Ford announced a reorganisation that created a new consolidated unit: Ford Autonomous Vehicles. It said the new consolidated organisation was charged with accelerating its AV business to capitalise on market opportunities. The company also detailed key organisational changes designed to improve its operational fitness and drive profitable growth.
Ford again. Brexit. Again. A report in The Times said the Blue Oval had told UK prime minister Theresa May it was stepping up preparations to move manufacturing activity out of Britain as the UK heads towards a 'no-deal' Brexit. Ford told the prime minister during a private call with business leaders that it was preparing alternative sites abroad, The Times said. A Ford spokesman told us: "We have long urged the UK government and parliament to work together to avoid the country leaving the EU on a no-deal, hard Brexit basis on 29 March. Such a situation would be catastrophic for the UK auto industry and Ford's manufacturing operations in the country. We will take whatever action is necessary to preserve the competitiveness of our European business."
Reality check: Ford axed car, truck and light commercial vehicle manufacturing in the UK long before Brexit was invented. All it has left are a couple of struggling engine making operations (demand falling for a variety of reasons), and the operations that import, distribute, retail and service vehicles sourced largely from Europe and North America. And those operations keep the brand number one in sales in many segments. 'Course Brexit is an additional, and unwanted, problem but Detroit has struggled in Europe for years (see GM Europe, sold to PSA for EUR1) and Ford's issues here are far wider than the convenient Brexit it keeps bringing up as its scapegoat.
Not unrelated: one reason its UK engine operations are seeing lower demand is former units and/or customers weaning themselves off Ford made engines and doing it all in-house. Hello, JLR. If you've tried any of the new Ingenium I4 line, petrol or diesel (or, for that matter another ex-Ford engine customer, Volvo Car's new line of I4s and I3s), you'll know they've both done a great job on the design and manufacture. Now comes news JLR is adding a new I6, three-litre Ingenium petrol engine to debut in the Range Rover Sport. The new engine, natch, was designed and engineered in-house, and manufactured in Wolverhampton. The straight six (my favourite type of motor as it's so smooth) comes in 360PS and 400PS tune with torque of up to 495Nm and 550Nm, and, JLR claims, is "more responsive and better balanced than the outgoing V6 petrol". Which they've been buying from, ahem, Ford.
I've really got to get my mitts on a JLR press demo with one of these under the hood. Electric supercharger to deliver immediate response supported by a twin scroll turbocharger and Continuous Variable Valve Lift, which boosts power and help the engine to breathe with maximum efficiency, plus Mild Hybrid Electric Vehicle (MHEV) technology to optimise performance, fuel economy and reduce emissions. The MHEV 48V system uses a small integrated electric motor to harvest energy lost during deceleration, and then intelligently redeploys it to assist the engine to maximise efficiency. Clever stuff.
Staying with engines: a new contract – the third and latest covering the engine supply partnership between the two companies and the largest ever signed by Ricardo – confirms the company as supplier of engines to McLaren in support of its Track25 business plan. Since 2011, Ricardo has manufactured the entire production requirements of McLaren Automotive at its purpose-built assembly facility at Shoreham, UK. In the past year, production levels under the existing Ricardo-McLaren agreement approached 5,000 engines – with the total delivered since the partnership commenced now past 15,000. Under the terms of this new agreement, Ricardo is nominated as the supplier for engine requirements as McLaren embarks on its Track 25 business plan which includes 18 new models or derivatives, many featuring hybrid technology. To support this diversification, Ricardo will invest in the production facility to accommodate additional product flexibility, new manufacturing capabilities, and further capacity. This third generation of supply agreement for the McLaren engine succeeds the previous contract with the company. Good news. Despite Brexit.
The Ghosn saga continues. Earlier this week we learned that, although he has been replaced as Renault's chairman and CEO, Carlos Ghosn retains some management positions at Renault and remains a director of Renault SA. A statement said 'Renault wishes to specify that Ghosn resigned from his terms of office as chairman of the board of directors and chief executive officer, but remains, as of the date hereof, director of Renault SA'.
But the other shoe dropped. From Japan came reports Ghosn's chief defence lawyer had resigned in a move that threw further uncertainty over the future of the ex-chairman of Nissan who is (still) in detention in Tokyo and facing charges related to financial misconduct. The Nikkei business daily said Motonari Otsuru and his associate Masato Oshikubo had submitted their resignations to the Tokyo District Court, with no reason given for the decision. The report also suggested the latest development could signal a change in Ghosn's defence strategy and bail requests (all turned down so far).
Have a nice weekend.
Graeme Roberts, Deputy Editor, just-auto.com