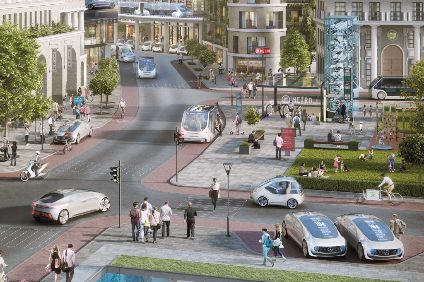 How much disruption will the auto industry experience over the next ten years or so? It's a question that many are asking as attempts to sketch out the future of mobility – or, more accurately, urban mobility – gather pace.
The uncertainties involved when looking ahead to, say, 2030 are pretty considerable, of course. But businesses need to take a view on the long-term and start to plan for it. Working back from 2030, the changes that will have been wrought in the market by then will have begun to take shape much earlier. The successful firms will have anticipated market change and positioned themselves to be leading the market.
The consultants at BCG have conducted a study that points to the convergence of three trends – ride sharing (its rise facilitated by personal connectivity), autonomous drive and vehicle electrification – to transform the automotive industry. BCG forecasts that by 2030 some 25% of miles driven in the US could be in shared self-driving electric cars.
Quarter of traffic driverless by 2030 – study
We can see some straws in the wind already in terms of the path to that long-term scenario. Car sharing business models are making considerable progress around the world. The technology for automated drive is developing rapidly (though hurdles to fully automated drive being rolled out remain).
And electrification appears to be coming, with more hybrids and also full EVs in the pipeline. China is shaping up to be a key battleground for EVs, with OEMs putting China at the centre of their electrification strategies.
Investors are hearing about the megatrends and industrial disruption ahead and, naturally, becoming excited. Tesla shares are in high demand. Elon Musk talks a good game and his electric cars look, to many, like they are at the forefront of the mobility revolution ahead. After all, Tesla cars are electric, can drive themselves (to a degree) and software updates happen over the air. Tesla is a new car company and one with a hint of the high tech, West Coast fizz of the Internet giants. It's market cap now exceeds that of some of the auto industry giants. But the big difference is, they shift millions of units and make billions of dollars of profit. Tesla makes well under 100,000 units and is in loss.
Loss-making Tesla, investors are saying, is nevertheless worth its premium price because of its future worth, when it starts to sell in much higher volumes (Model 3), has the critical battery capacity for EVs (Gigafactory) and the profits then roll in. Tesla remains though, in current terms, a relatively small player in the auto industry, with a low level of output and low levels of scale economies. A lot hinges on the success of the Model 3. Expectations have been set high.
The bigger car companies with their large-scale volumes, financial muscle and huge R&D resources are potentially agile and able to position for the convergence of megatrends in the decade ahead. They can work to their strengths. Mindset is key. The clever OEMs are putting thought and planning into this, but it's perhaps less attention grabbing than Tesla's story (which is, undeniably, very impressive) and the striking views of its charismatic leader, Elon Musk. However, investor stampedes should always be viewed with caution and Tesla, as others have also observed, is not quite the full deal as a disruptor. There may be greater disruption to come; indeed it is likely that there is. Players in China and other emerging markets could become key. Traditional automotive companies will need to be on top of their game, developing a culture and approach that goes beyond traditional barriers and ways of working. Some have grasped that as a new strategic imperative, others have yet to.