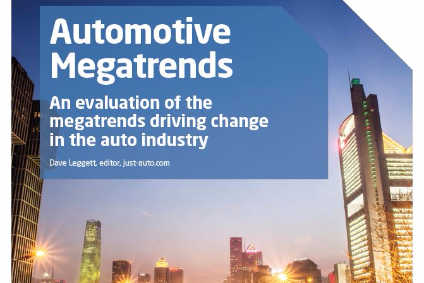 The global automotive industry stands on the brink of unprecedented change due to the impact of eight discrete megatrends, according to a new report due out soon from just-auto.
Wanna see it? The report will be available from mid-February but take out an annual subscription to just-auto before 31 January 2016, at a 35% discount on standard pricing, and you'll receive free copies of both Automotive Megatrends and another recent report, Autonomous Vehicles: Divergent Futures, by Professor Peter Wells, Director at the Centre for Automotive Industry Research.
The report's author argues a combination of factors – economic, demographic and technological – will reshape the industry over the next decade. The megatrends identified and assessed include urbanisation, the drive for greener vehicles, connectivity, ADAS and autonomous cars, and digital retail.
Few industries are facing as much varied and complex change as the automotive industry. In this report we attempt to identify the most significant megatrends, and provide some practical recommendations on how to respond for both suppliers and OEMs.
The emergence of new business models, including peer-to-peer car sharing, and on-demand mobility, popularly pioneered by Uber, is also explored. Consolidation, and the increase in opportunities in emerging economies round-off the list of megatrends discussed in the report.
News of this exciting report attracted considerable interest from readers in a busy week, ahead of the Detroit show, in which the Consumer Electronics Show, now, in my view, on a par with the big national shows for auto industry interest, was held. Plucking out highlights takes some doing but I was pleased to see some work towards standardisation, led by Ford, numerous cockpit innovations including this from ZF, the idea of sitting in a cafe talking to your Volvo (mine's an XC90, T8 powertrain, please) via a wristband, and Ford's idea of driving a drone as far as you can in to a disaster zone, despatching it to do some survey work, driving on, and having the drone obediently return to its relocated mother ship pickup truck when it's done the job. We've bundled our coverage, including a preview by Cat Dow, into our usual handy take-home pack here. I also rather like Ford's idea of working with Amazon to link smart cars with smart homes. Set the heating from the office and tell the garage door to open when you just turned into your street? Bring that on.
Cat was at the show and will report in further detail soon.
Been following the rise and rise of Fiat Chrysler's Jeep? So have we and this week, Ray Hutton took a close look at the automaker's recent successes and future plans.
The VW diesel emissions crisis continues to rumble on and now the US government has filed suit against the automaker. We also have a group pack on that story and you can see all previous coverage in one place here.
With the calendar having just flicked over into January, the annual crowing about the previous year's sales has started and it's well justified this year. Savour these stories from the US, UK, Europe, JLR and Ford in China , just for starters, and cross your fingers for 2016.
Have a nice weekend and Happy New Year.
Graeme Roberts, Deputy Editor, just-auto.com