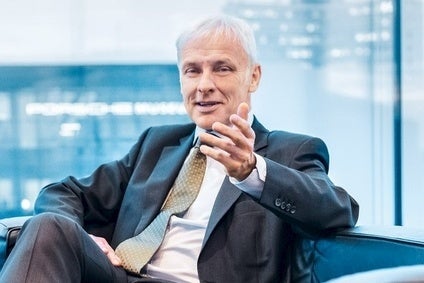 Volkswagen Group stayed very much in the news this week. The company posted a set of results that were dragged down by provision made for costs associated with 'dieselgate'. I suspect it won't be the last set of disappointing results to come out of Wolfsburg. We also learnt this week that Toyota pipped VW to the post to achieve the highest vehicle sales in the auto industry in the first nine months. Being global number one and the relentless pursuit of scale has perhaps contributed to the rather fine mess that VW is in now.
Is Volkswagen responding a little slowly to the immediate problems it faces? It's easy to say yes to that, but I would imagine there is a lot of work going on to plot a course through the difficult terrain ahead. And some of it shouldn't be rushed. I expect overall volume and being global number one has rapidly fallen off the radar at VW HQ. New CEO Matthias Müller this week outlined five key steps to "realign the VW Group" in the wake of the company's current crisis. We won't get the new strategy until mid-next year, but his remarks this week were pointed because of what they say about that volume chasing culture that has prevailed and helps to explain the pressure to break into the US market.
"Many people outside of Volkswagen, but also some of us, did not understand that our Strategy 2018 is about much more than production numbers. A lot of things were subordinated to the desire to be 'Faster, Higher, Larger', especially return on sales." According to Müller, the point is not to sell 100,000 more or fewer vehicles than a major competitor. Instead, the real issue is qualitative growth, he said. Quite.
PSA decided that it would be a bit proactive on the diesel issue as it stands to lose if diesel generally takes a big hit. Meanwhile, suppliers jumped in to say that diesel engines really aren't that bad and, well, we need them. Commercial vehicles won't be running on anything else anytime soon. Ford, interestingly, pointed out that it can be very flexible in Europe and I am sure others are working on many scenarios.
Ford posted a pretty stellar set of Q3 financial results, but sometimes you just can't win. Investors are apparently worried that Ford may find growth harder to come by in future quarters, but I think they may be overdoing it. Similar sentiment greeted a good set of results from Delphi. Investors, eh, who'd have 'em?
We also had the Tokyo Show open this week. Glenn's final list of the Tokyo debuts is now available. This Lexus highlights an emphasis on fuel cells this year.
One surprising bit of news was that Honda has developed its own 10-speed automatic transmission. It had been heavily working with ZF…
Over in Russia, the market is in a pretty grim state. But that didn't stop Vlad Putin enthusiastically getting behind the wheel of the latest AvtoVAZ model, the Vesta, as well as helping to promote Russia's auto sector.
Also in the news this week, we learned that the Lotus Elise lives again, kind of. I nearly fell off my chair.
And a supplier in France, Lectra, prefers to be there rather than in China. And no, it's not because the food is better (not sure that's true, anyway). To continue that food theme for a second, a friend of mine who lives in Australia has told me that kangaroo meat tastes very good and that it is readily available as road-kill. Not sure that is quite, as we Brits like to say, my cup of tea. Volvo Cars, at least, is looking to use technology to keep the bouncing marsupials and those who may collide with them safer. Cheers to that.
Have a good weekend.
Dave Leggett
Editor, just-auto.com