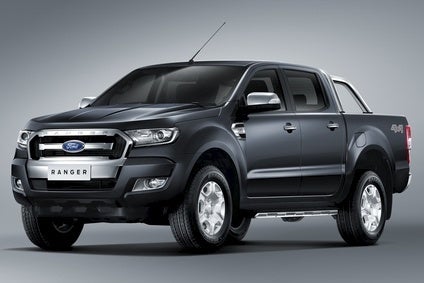 Our updates of the auto situation in Tianjin, following the massive explosions in the Chinese port city, have attracted a lot of reader interest this week. I was last week in the middle of a British 'staycation' (it rained, thank you for asking) when news of the disaster broke and watched, appalled, at the war zone-like TV news views of thousands of incinerated cars (many new VW Beetles as it happened; Tainjin being a key auto port of entry for imported models, VW was said to have lost some 2,750 cars) as TV news anchors regularly reported on the increasing, but surprisingly low number of people killed. Tragic.
We reported last Friday on the initial tally – 5,800 JLR vehicles alone possibly damaged – but there was some good news from Toyota yesterday – it has been able to restart some production at its Tianjin joint venture plant. A Toyota spokeswoman told my colleague Simon Warburton the automaker had 4,700 Toyota and Lexus models damaged in the inferno, all of which were ready to be shipped to cities in China. Some were imported from Japan and some produced locally. The automaker was not able to tell us whether access to the port was now possible but it appears this is still highly restricted. In the meantime, Toyota was "considering other ports for shipments and imports." No information was available as to the impact on Toyota's supply chain. We'll keep you posted.
There was also a lot of interest in Glenn Brooks' pedal of the 2016 Land Rover Discovery, updated for its swansong model year and his look at what we know so far about the fully redesigned replacement we are looking forward to seeing in 2017. Meanwhile, I'm saving for a Discovery Sport… Renault's current Megane Tourer, the sporty version, natch, also went under the Brooks microscope, accompanied by news of Renault's future plans for the range. Glenn is also busy keeping our Frankfurt global debut list up to date – the big European show of the year is almost upon us.
Speaking of TV news, do you remember the globally screened infamous police chase of OJ Simpson's white Ford Bronco along Los Angeles freeways about 20 years ago? (Yup, I went to see the courtside media circus downtown myself.) Well, according to local media reports citing well-placed sources, it seems Ford is thinking of bringing the nameplate, and the Ranger truck, back to the US. Ranger has continued, of course, outside North America, made mostly in Thailand for non-NAFTA markets (with some local assembly in markets such as Nigeria) and is now at least three generations ahead of the last US model. It will be interesting to see if Ford does another 'OneFord' programme and adapts the current Asia-Pacific-designed model line for the US, as GM does with the Chevy Colorado/GMC Canyon, or does another unique model. If it does the OneFord model-share trick, that'd take it full circle right back to the Ranger's 1978 predecessor, the Courier, which was a restyled (new nose) spin-off of then-affiliate Mazda's B-series truck line, built under contract in Japan. Mazda still sells a variant of the Ranger, now called BT-50, to compete with the Ford in many countries and – here we go round again – it's built in the same Thai plant as the Ranger. Bronco also dates back yonks and was a more basic SUV than the Explorer that supplemented and then effectively replaced it. Adapting the latest Asia-Pacific Endeavour, designed with lots of Ford Australia input, would be one, easy OneFord way of doing a new Bronco on the cheap, as it is already built in both RHD/LHD, and it is designed to be pitched in emerging markets such as India, a little more downmarket than current Ford SUVs from Europe and the US. Right where the last Bronco was versus the Explorer, in fact. We'll see.
It's a public holiday here in the UK on Monday so we'll see you again on Tuesday.
Have a nice weekend.
Graeme Roberts, Deputy Editor, just-auto.com