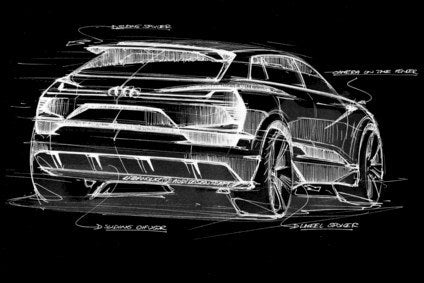 Electric powertrain technology comes with a number of drawbacks – mainly surrounding battery performance issues – but it is interesting to see different OEM strategies emerging. The much discussed issue of range can be 'resolved' if you go down the route of a bigger battery, as Tesla has done. That bigger battery will be heavy, so there's an engineering challenge straight away. There is also a cost challenge. Mind you, that cost challenge perhaps gets a little easier if you are selling a premium brand vehicle that will have a big price tag and some margin to play with.
This week we learned a bit about Audi's plans in this area, with news of an all electric SUV due in 2018, with a preview concept to be shown at Frankfurt next month. Crucially, it will have a range when charged of at least 500km (and Audi has lined up suppliers for European supply). The large lithium-ion battery is positioned between the axles and below the passenger compartment. Audi uses its experience with the electrically driven Audi R8 e-tron sports car for the drive system. Three electric motors – one on the front axle and two on the rear axle – drive the Audi e-tron quattro concept.
FRANKFURT PREVIEW: Audi to show pure electric SUV concept
In fact, looking at our list of Frankfurt debuts, Audi has a pretty busy show planned, as do BMW and Mercedes-Benz. Well, it is Frankfurt.
While on the subject of shows, we have a report on the Jakarta Show, which appears to have been dominated by the tall MPVs and other LCVs that they like in southeast Asia. Honda's BR-V was there and we also have an analysis of that car ('Bold Runaround-Vehicle').
Over in Alabama there was news of a sizeable supplier investment. And in China, we're still investigating the effects of that huge explosion at Tianjin.
Suppliers to Toyota in Japan learnt that the welcome hiatus from pressure to discount appears to be over and Hyundai Mobis secured a deal to supply parts to PSA and take another step to a broader customer base.
And NEVS, the company that somehow survived Saab but is only just about out of intensive care, appeared to get some positive news as it struck a deal with Dongfeng. Good luck to them.
Hmm. China and electric vehicles? Might be a good tie-up for NEVS there. I read recently that breathing in the Beijing air is equivalent to a 40-a-day smoking habit. So official support for EVs in China ought to be very significant in the future and there are certainly some big numbers being bandied around.
Also on the be-kind-to-the-environment theme, we've been looking at emmission technology innovations. Exhausting work.
Have a good weekend.
Dave Leggett,
Editor