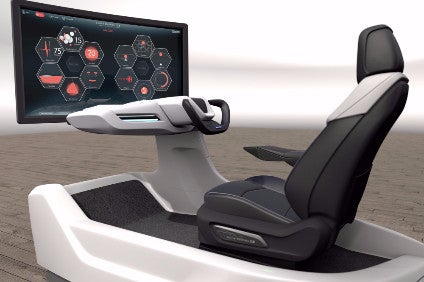 The big motor shows tend to be remembered for the cars on display and there's nothing wrong with that. Paris in 2016? Must admit that I am struggling to think of anything that was genuinely, jaw-droppingly amazing. You had to stand back and think a bit to get the point of some vehicles. Take the VW I.D. electric car concept. I note that one or two people were distinctly underwhelmed by it, but what it says about the new strategic direction of VW Group is probably where its real significance lies. And the fifth generation Nissan Micra? Its significance lay in the advanced technologies (especially ADAS) and features that Nissan is prepared to put into a low-margin B-segment vehicle.
Actually, the supplier show hall was where some of the most significant action was going on in Paris. This week we published Paris highlights from the supplier side of things. These included:
Plastic Omnium claims 3min hydrogen storage recharge
FIEV urges carmakers to keep French home fires burning
Faurecia thinks laterally as autonomous looms – CEO
FIEV outlines 14-strong wishlist to French Presidency hopefuls
PSA confident of supply chain ahead of huge launches – component chief
Michelin aims to form part of mobility solution – Europe COO
Michelin mounts robust case for 1.6mm tyre tread depth
Valeo mulls eventual diesel replacement
PSA supply chain is "orchestra" in carmaking – component chief
Faurecia builds on Iran ties to secure major deals – CEO
CLEPA closes in on new CEO appointment
Faurecia homes in on weight loss to slash CO2
Here's the finalised list of cars on show.And an overview of the show from our new product guru. And you can browse all of our Paris coverage here.
Still on advanced technologies, we reported from Seoul this week for an update on Kia's progress with autonomous drive. As was pointed out, the technology is fine and dandy, but there is also the small matter of social acceptance to be addressed ahead of full AD rollout. Sounds like there was an interesting demo of driverless valet parking. Thinking about some of the less than user-friendly multi-story car parks I have frequented recently, that really does sound like welcome progress.
And finally, what do you think they call Aston Martin's only robot over at the Gaydon manufacturing facility? It's tasked with glueing things together. James Bonder. That made me smile. Bonder will be joined by more; at least seven, I believe.
Have a nice weekend.
Dave Leggett, Editor, just-auto,com