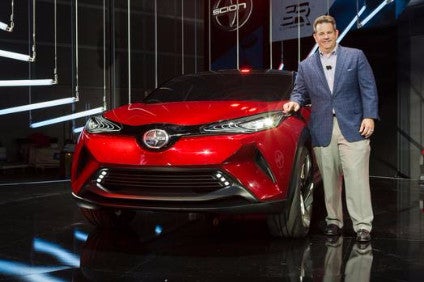 The two top-read stories on just-auto this week were both on subjects I get no joy from publishing – axing of a brand and (so far, voluntary) axing of people in a region proving troublesome to automakers.
Scion – soon to be no more – was Toyota's brave attempt at a 'yoof' brand in the US, something to try and change the image of Toyotas as a staid, if reliable, brand; the sort of cars you'd cheerfully recommend dad or grandma buy but wouldn't be seen dead in yourself. A carefully selected launch range in 2003 did attract the younger crowd and some not so old; one model in particular stood out in the import crush and attracted older buyers due to its suitability as a mobile advertising billboard. US sales rose to a peak of 173,000 units by 2006. However, sales fell off after that and it managed just over 56,000 units in 2015. Analysts say Toyota was increasingly focused on other things – like recalls – and Scion suffered from lack of new product and attention. Michelle Krebs, senior analyst at Autotrader, said market demographics had been working against Scion since its introduction in 2003. "Scion's demise demonstrates the growing influence Millennials are having on the auto industry. Toyota birthed Scion to lure then-young Gen-X buyers who wanted anything but what their parents owned," she said. "Millennials now have sped past Gen Xers in new-car purchases. In contrast to Gen-Xers, Millennials have gone mainstream. Millennials aspire to well-established, highly respected global brands like Toyota and luxury brands like Audi and BMW. Millennials are moving away from small cars – the only thing Scion sells – and instead, are the driving force behind the surge in compact sport-utility sales…" RIP Scion, joining Saturn, Pontiac, Oldsmobile and many other defunct brands.
Last week came some good news for Ford – a return at long last to some operating profit in Europe after much pain including the closing of an entire plant in Belgium. So we were a little surprised to find – well buried in a press release – that more cost savings are still being sought though, so far, the 'separation program' is voluntary.
GM announced its 2015 results this week with lots of profits but not everywhere – black ink still eludes the automaker here in Europe as well as in one or two other pesky regions.
Our Q&As with senior industry figures are always popular and many of you this week enjoyed Dave Leggett's chat with Visteon CEO Sachin Lawande. A billion dollars a year in cockpit sales in China alone is not to be sniffed at.
Finally, some of the best laid marketing and product plans can be knocked off course by events beyond automakers' control. Such as naming a new car and learning, as a motor show launch is imminent, the nameplate you picked looks and sounds very similar to a rapidly spreading virus. You gotta have some sympathy for Tata this week. Pass the thesaurus?
Have a nice weekend.
Graeme Roberts, Deputy Editor, just-auto.com