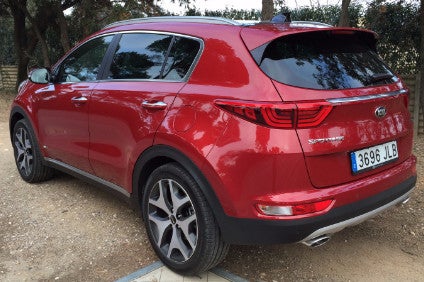 Started the week with, shock horror, driving an actual car for once, in fact several – old KIA Sportage as a means of transportation to the airport and then several variations of the new one, which made its debut at Frankfurt last year. I had never got around to a pedal in the outgoing model, which has been with us since 2010, and facelifted in 2014, and was wondering if they really needed a new one yet but, of course, the redesigned crossover is quite an improvement with new engines and transmissions (hello, in-house-developed twin clutch automatic) and connectivity among many items KIA had to shout about. Fourth generation, already; anyone remember the first?
Just today we learned Daihatsu – whose expertise these days is focused on small cars and developing markets, they're long gone from Europe – is to be fully swallowed up by former part owner Toyota.
Speaking of Daihatsu markets, Ford is to abandon Japan and Indonesia, saying there's no chance of making a buck there. Daihatsu would beg to differ.
Speaking of making a buck, guess who's back to writing up Europe results with the quill dipped in the black inkwell? Take a bow, Ford, for making a tricky and angst-filled (RIP Belgian factory) transformation plan work.
Speaking of results, Honda had some out and it looks like Takata recalls are weighing heavily.
Speaking of mergers, Johnson Controls is combining with Tyco though the deal is focused on building products rather than auto which is being spun off separately.
Iran has been in the news this week and the automakers have been in like woolly dogs. Starting with PSA 's DS which had a new dealership open within days of sanctions being lifted (and 114 Airbus planes are also in the offing). Not to be outdone, Renault popped up with an 'us too' statement and French suppliers made clear they were salivating at the prospect of new business. Coups d'opportunité!
Have a nice weekend.
Graeme Roberts, Deputy Editor, just-auto.com