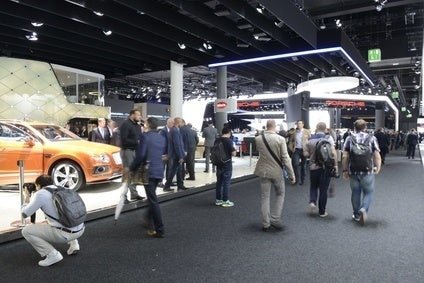 Frankfurt. Lots of new cars to read about. Lots of industry news to be told. So what did you ghouls read most? Natch, the report about the poor old BMW chief keeling over at their press conference, of course.
When you watch the video some media helpfully decided to publish, you can see poor chief executive officer Harald Krueger collapsed on stage only momentarily – a brief faint. The CEO, 49, was escorted offstage by two assistants following the incident on Tuesday which took place shortly after the briefing started. Krueger was treated by a doctor after the "moment of dizziness", as it was called by a BMW spokesman and reports soon reached us his condition was stable and he's recovered well. Apparently he wasn't feeling so great after a spate of travelling and it's questionable whether his handlers should have let him on stage at all. From my experience of helping run PR events, though, they'd probably have been overruled by The Man himself. Motor shows are renowned for heat and overwhelmed, ineffective air conditioning so it wouldn't take much to tip a less than 100% chipper exec over. As we saw. First Frankfurt after May appointment as CEO – sadly that'll take some forgetting.
As for the show itself, well, lots, including what happens when Jaguar and Range Rover get together behind the bike sheds – hello, at last, full details of the F-Type SUV. Chris Wright sat in on a GM presser to hear Mary Barra again, firmly, dismiss any deal with that Marchionne man while Simon Warburton walked the suppliers halls to talk purchasing policy with Toyota, meet the CEO of a huge, newly merged interiors company and talk autonomous cars and driver experience with driveline magnificos GKN.
Roger Stansfield was there for us, as well, fighting IT gremlins which is why his analysis of Kia's new model plans is only out today. Pre-Frankfurt, as the SMMT showed off in London the cars it was sending to the German show, Dave Leggett nabbed Vauxhall chief Tim Tozer for a word.
Away from the Frankfurt buzz, we heard that FCA and the UAW had reached a tentative labour deal, setting the scene for talks with Ford and GM while the latter announced deals settling some lawsuits and 'deferring' prosecution over the infamous 'ignition switch' recall debacle which cost well over 100 lives in the crashes the defect caused.
So the company pays up and people escape prosecution? That's about the size of it so far (GM did sack a number of employees and there was a hint from a district attorney individuals still could be charged) and it hasn't gone down well with victims' relatives. As Margie Beskau, whose daughter Amy Rademaker was killed in a 2006 crash told the New York Times today: "I don't understand how they can buy their way out of it. They knew what they were doing and they kept doing it."
Have a nice weekend.
Graeme Roberts, Deputy Editor, just-auto.com