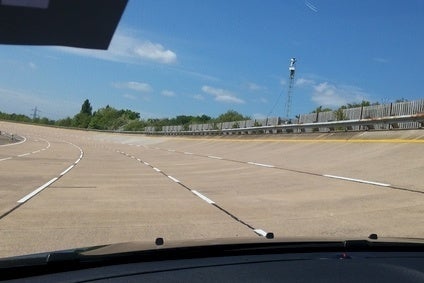 I was at the SMMT's annual test day yesterday. At this agreeable event, vehicle manufacturers make cars available for journalists to drive at a proving ground, so it's an opportunity to get an update on latest product and meet up with people – either arranged or because you happen to bump into them. I bumped into Tim Tozer, Vauxhall's MD and I also had a slightly poignant moment at the Vauxhall stand.
You probably don't need me to tell you that yesterday's driving of as many cars as we could get our hands on in the time available was also a lot of fun. Yes, that's right: being in cars and driving them was downright fun. F-U-N, FUN! I was reflecting on this on the drive home, while stuck in a jam on the M25 (London's orbital motorway that can be very, very busy). Now that wasn't much fun at all and I would gladly have pressed a button to take away the drudgery of handbrake on-off-on and clutch pedal pumping. It got me thinking about autonomous drive yet again. Elements of autonomous drive will enhance the driving experience, for sure – removing the chores. And I get that they can be more environmentally friendly, will be safer, will give us more time etc. I just wonder whether, in decades to come, when people hop into vehicular pods that require no driver interaction beyond keying in a destination address, there will be the sad realisation that something valuable has been lost.
The key for automotive manufacturers and suppliers is to hang on to the good bits of the value chain that some others from outside the industry are now eyeing (Apple and Google) for as long as possible; hell, maybe the vision of commoditised pods will be proved wrong or they will still be differentiatable in some ways. One area that will be potentially up for major change is the vehicle interior. If you are spending less time in the car actually driving, the experience changes and the cabin perhaps comes in for a design rethink. We had a nice piece from Chris Wright exploring this theme with Ford of Europe's design director.
Still on the theme of autonomous cars, Simon Warburton attended a big Bosch gathering in Germany looking at upcoming automotive technologies and the company's strategic positioning. Autonomous cars will be much safer, for one thing. And DAS technologies are already impacting the insurance market according to Volkswagen.
I also bumped into just-auto writer Ray Hutton yesterday and we got chatting about Jaguar following a piece he has just written for us about the XE. It will be interesting to see how successful the XE is. Here's a simple guide to the XE industrial strategy.
One of the cars I drove yesterday was the Suzuki Celerio. The name, for me, is reminiscent of an ice lolly or a root vegetable, but the really interesting thing about this car is some of the clever tech used for fuel efficiency in the three-cylinder engine as well as what might be coming down the line. Glenn Brooks can tell you more.
In other news this week, Ford's UK MD Mark Ovenden gave us his latest assessment of the UK car market, Renault gave birth to a Kwid, Takata's airbag recall mess got messier and we heard from Williams' CEO about the F1 brand's consulting ambitions. And this is a very important vehicle for Toyota.
Finally, while we're on fun and the whole idea of a car being more than just a means of getting from A to B, a new Chevrolet Camaro is coming. It does look very good and initial reports sound pretty positive.
I am just glad that in my time at proving grounds (with a couple of mule and unique concept drives along the way) I haven't broken anything valuable. There but for the grace of god, as they say. Respect to Jalopnik for sincerely saying sorry and also for publishing this clip of the incident. As I always say to people who emerge unscathed from crunches, whatever the damage: It's only metal and metal can be replaced.
We'll be off on Monday as we have a public holiday here.
Have a good weekend.
Dave Leggett
Editor, just-auto