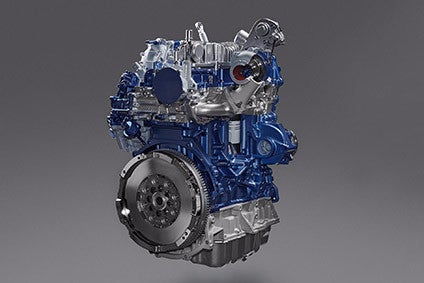 News from Ford of Europe of a brand-new, Euro VI-compliant diesel engine line drew most eyeballs of all just-auto stories this week. No surprise there, of course; diesel is, ahem, in the news a lot at the moment and also the European vehicle owners' fuel of majority choice, mostly because (a) fuel economy is better and diesel is cheaper than petrol in some markets and (b) CO2 emissions usually are lower than the equivalent petrol engines (though the gap is closing) and initial purchase and annual taxes are set according to CO2 emissions in many countries, including here in the UK. The dreaded NOx emissions which have caused VW so much angst recently, especially in the US, are greatly reduced under Euro VI rules but require some clever technology with Ford (and many other automakers) opting for selective catalyst reduction (SCR) with urea injection and a self-regenerating particle filter, all of which costs.
Give it a year or two and this new two-litre 'EcoBlue' Ford engine, developed and made entirely in-house (it is not part of the JV with PSA which continues making other motors for now) at the automaker's R&D centres in Dunton, Essex and Germany (manufacture is at the Dagenham Diesel Centre just east of London), will be in all sorts of larger Ford passenger cars and commercial vehicles across Europe and, I suspect, nigh on world-wide. Ford said it would "offer optimised fuel efficiency and reduced CO2 and NOX emissions using sophisticated technologies and innovative design". The new engine line supplements the automaker's established EcoBoost petrol engines "and will be used in a wide range of future passenger cars and commercial vehicles with power outputs ranging from 100PS to 240PS". The I4, two-litre version made its European debut this week at the commercial vehicle show in Birmingham, England, in the Transit and Transit Custom vans now sold globally.
Staying with diesels, many readers were also drawn to Chris Wright's comment article this week which argued that, surely, it can't have come as a surprise that more diesel engines are failing to meet emissions test targets? When the Volkswagen scandal over the so called defeat device broke last year, many in the industry wondered whether this was the tip of an iceberg. As we have noted before, if you create tests then people will find ways of passing them – by fair means or foul. Talking to industry insiders, the whole issue of diesels and passing emissions test comes down to semantics. Is it a question finding a way round a test, or of fiddling the system? Defeat or cheat? That's the question. This, of course, raises the now-asked-regularly question of lawmakers – isn't it time for real-world testing instead of the artificial laboratory-based approval regimes currently in place?
Both Ford and Tata Motors' Jaguar Land Rover have invested heavily in aluminium body production – JLR across the UK-built product range and Ford, especially, with its brave and pioneering North American move into alloy F-series trucks. Both in the last week have announced impressive recycling tallies for their aluminium body plants. In other plant investment news, FCA announced what is effectively a new engine production line for its Trenton North plant in Michigan – doesn't seem that long ago the 3.6 V6 Pentastar the new I4 is replacing was itself new. FCA is also in the process of rationalising its North American factories in favour of trucks and SUVs over cars and there is the possibility it will contract out at least the build of small cars – will we see a Mazda-2-sedan-variant-for-Toyota-built-in-Mexico type of deal inked between the Auburn Hills automaker and an yet unknown local OEM?
This weekend is the first of two welcome extended 'Bank Holiday' weekends we get here in England at the start and end of May, and I am looking forward to the annual two days when the authorities close several main roads in my town and many of the cars from my childhood and (with old vehicles) mis-spent youth emerge from winter hibernation for one of the first such gatherings of the British classic car season. Bring it on…
See you Tuesday.
Graeme Roberts, Deputy Editor, just-auto.com