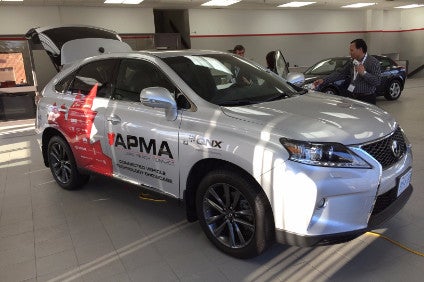 I'm not long back from a fascinating week in Ontario, home to all of Canada's car assembly plants, major suppliers such as Magna and Linamar and a bunch of clever companies and academic boffins all working in what we might term the connected and automated car space.
Not surprisingly, the tour hosted by the Ministry of Economic Development, Employment and Infrastructure, began with a visit to the ministry offices and a round-table with the lively minister, Brad Duguid, hisself. He did not shy away from awkward questions about the fall in Canadian auto output, and the shift of some models south but sees the province's 'sweet spot' as the production of higher end, more complex vehicles, high quality and lead plant ability.
GM Canada, of course, builds cars at a plant in Oshawa (no tour, sadly) but its adjacent engineering centre, set up initially to adapt cars for the harsh market, now has a connected car and green technologies mandate. The centre is now focused particularly on future mobility and advances in environment technology – electrification, tougher laws, lightweighting, recycling and aspects of connected/autonomous cars and urban mobility where cars sense their environment and adapt accordingly.
One of my favourite visits was to a downtown Toronto company called iNAGO who look like making it possible – finally – to have an intelligent conversation with a car without wanting to dismember the touchscreen. No idea yet who the first OEM is going to be yet, though.
Everyone has heard of Silicon Valley, MIT, etc but the University of Waterloo? Me, neither, but this sprawling campus is home to academics, alumni and students the equal of their counterparts in the US and home to Canada's largest engineering school and world's biggest maths faculty. The auto bit comes from the Waterloo Centre for Automotive Research working on active safety, automated driving, lightweighting and advanced powertrains, and EVs, and they are in the process of installing new fully integrated test cells and adding even more buildings. Unsurprisingly, they have a close working relationship (and access to test tracks) with local automakers Honda and Toyota, in much the same way as Nissan here in England works closely with the University of Cranfield.
Also in Waterloo, we visited Intelligent Mechatronic Systems which, essentially, harvests data from vehicles to aid drivers, fleet users, insurance companies and government (eg road user charging without complex infrastructure). Its founder is a professor at the university. Companies like Trustpoint and QNX (with strong connections to Blackberry) handle aspects of connected car security, not only to prevent hacking, as so recently demonstrated by the recent Jeep expose, but also to ensure that critical vehicle to vehicle and vehicle to infrastructure communications – essential to the fully autonomous car a decade or two away – work every time.
Then there's the platform guys – Pravala in Waterloo and Lixar in Ottawa. The former works with OEMs and Tier 1s like Continental to, as they put it, "manage the onslaught of devices, technologies, protocols, standards and user interfaces", sorting out all internet and wireless network connectivity in the car so your navigation and audio systems can live in harmony and all be accessed by the same touch screen. Lixar describes itself as a "mobile to everything" software company and has worked on feature sets – diagnostics, geo-fencing, geo-location, mileage tracking, Bluetooth key fob connectivity and much more. We also visited Weather Telematics which is building a network of fleet and transport vehicles fitted with sensors for real-time 'nowcasting'. Application – a forecast will give you general expected weather for a period, nowcasting can warn a driver that there's a strong chance of black ice in that shady dip on I-95 on the US east coast and suggest he or she slows down. And there was Studio 63, a company that takes a production car, guts parts of it, and installs one-off show-and-tell technology for demonstration at motor shows and industry conventions.
In many ways, what is going on in Ontario, and, as the president of the local autoparts suppliers trade lobby indicates, they don't see themselves in isolation, parallels the change in the UK auto industry over the last couple of decades. We no longer bash out Ford Fiestas or Nissan Micras but we do still make high-value premium cars like Aston Martin, Jaguar, Range Rover, Bentley and Rolls-Royce and we're home to some very high quality R&D and the HQs of a number of Formula One race teams. Even our more mundane cars are high-tech – Nissan makes the Leaf and its battery pack in England; many of Toyota's Auris models are hybrid.
Ontario was the first place outside Japan to build Lexus (joined only recently by Kentucky) and is home to Honda's global Civic lead plant. Common to both the Canadian province and the UK is the need for highly skilled engineers and the institutions are there to provide them. And there's help for the entrepreneurs of the future – in Waterloo an old tannery is now Communitech, an innovation centre supporting over 1,000 tech companies, from startups to global players – even Google has a presence there.
The connected car future surely is bright.