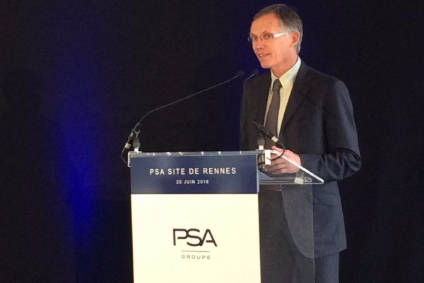 Yes, of course, Geneva this week, with lots of shiny new metal to get the consumer media all a-Twitter (other social media platforms are available), but the big story for just-auto readers, looking all but inevitable a week ago, was the first-thing-Monday announcement PSA would acquire GM Europe's Opel/Vauxhall operations. Or, as some pundits put it, GM (with some large pension liability support) will pay PSA to take it away.
And so, the official confirmation: GM will sell the loss-making European operations to PSA Group in an EUR2.2bn deal expected to close by the end of this year. In a deal valuing GM's Opel/Vauxhall subsidiary and GM Financial's European operations at EUR1.3bn and EUR0.9bn, respectively. PSA said the transaction would allow "substantial economies of scale and synergies in purchasing, manufacturing and R&D" – a benefit of EUR1.7bn by 2026 is expected with operating margin of 2% by 2020 and 6% by 2026. With the addition of Opel/Vauxhall, which generated revenue of EUR17.7bn in 2016, PSA will become the second-largest automotive company in Europe, with a 17% market share.
There was the usual assurance on jobs and the also-usual 'we'll fight 'em on the beaches' sort of talk from the unions for whom the big Vauxhall Luton, Ford Dagenham and MG Rover Longbridge closures of the early to mid 2000s must be painful memories. Short(ish) term, the very efficient Ellesmere Port plant, which fought hard for the current Astra contract, has work till 2021; the remaining plant at Luton, the van joint venture with Renault, should be good till about 2026.
Some American analysts applauded the pending sale of The European Patient with which GM has struggled to stem red ink since 1999: "The automaker's European operations have been a money loser for years while other regions, such as China, are showing continued growth and profitability. This is a smart move for a company that sees far more potential in other global markets while also investing heavily in the autonomous future of personal transportation," said Kelly Blue Book's Karl Brauer. Our own analyst, editor Dave Leggett, looked at the advantages of scale for the merged automakers. And there may be opportunities for the critical supply chain, regardless of what the Brexit negotiations achieve. It also appears pro-consolidation advocate, Sergio Marchionne, also approves. And rival Ford, which has already absorbed a lot of pain in Europe (Genk plant closed in 2014), sees opportunity.
For now, it looks like softly-softly. Both PSA and GM are rolling out some cracking new products (Peugeot 3008, Opel Insignia; new niche-plugging crossovers built on platforms in plants they already share) so it should be steady-as-she-goes for some years while the suits eye those opportunities for rationalisation. You can't have two of everything after a merger so, eventually some plants and other facilities may be for the chop but, hopefully, at a rate that is not as drastic as some recent plant closures. We'll just have to wait 'n' see.
Have a nice weekend.
Graeme Roberts, Deputy Editor, just-auto.com