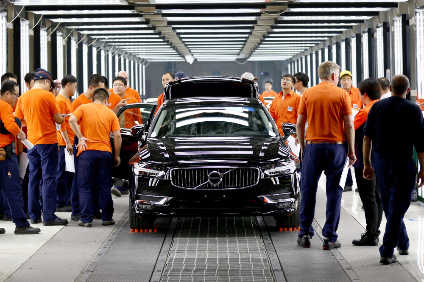 Our look at future Volvos was the most popular read on just-auto this week, a pleasing result, because I know how much work it takes to put one of those together. Hat tip, then, to our resident 'new and future products' editor/analyst (he'll answer to either) Glenn Brooks, also researcher/editor for our production life, factory source and platform basis research database PLDB. If you're not familiar with PLDB (or our OEM/supplier research database QUBE), follow the links for a preview; if you'd like to see more, click here to get in touch.
Staying with analysis for a mo, we also took a look at Subaru 's Levorg (cue the little joke about what that spells backwards) and future model plans plus put Nissan's new(ish) emerging market brand, the revived Datsun, under the microscope. We also continued our series of Research Snapshots with a look at glazing trends.
On the news front, our regular Russia visitor, business editor Simon Warburton, filed more news from the recent RAF forum – here (GAZ group), here (Ford Sollers on local sourcing), here (boost for exporters) and here (manufacturing quality).
In other news this week: contract assembler Magna 's plant plans for Slovenia, a refurb for GM's older plant in Brazil, 'Japan' launch week also in Brazil and yours truly's reports from BMW 's annual accounts press conference in Munich – a bright outlook for 2017 and updates on that meeting with President Donald Trump and Brexit.
Always sad to see a car making plant go, I was intrigued to learn this week what's happening on the site of the Mitsubishi (nee Chrysler ) Australia factory site in Adelaide, South Australia. Hint: it's still vehicle-related.
Have a good weekend.
Graeme Roberts, Deputy Editor, just-auto.com