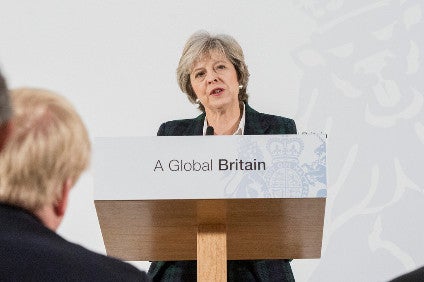 Britain woke up this morning to news of yet another unexpected voting result – Prime Minister Theresa May's bid to increase her majority in parliament has failed and, to use the local vernacular, it's 'hung', requiring an uneasy alliance with Northern Ireland MPs to achieve any sort of majority. Naturally, we have a view.
Editor Dave Leggett, an economist by trade, reckons the general election result raises a number of questions for UK economic prospects and the position of the UK's automotive sector. It was a gamble that hasn't paid off. The publicly presented rationale was to seek a bigger majority for the governing Conservative party in the House of Commons to bolster the UK's Brexit negotiating position with the EU. A bigger majority for the governing party would give dissenters less numerical leverage and leave the UK government with a stronger hand (and, perhaps, make it easier for London to offer concessions in order to secure a free trade deal). The opinion polls two months ago suggested it was almost a one-way bet to secure a bigger majority for the Conservatives. Opinion polls, as we know, can be wrong – but it was an opportunity that May could not resist.
In the UK's House of Commons, 326 seats are required to have a majority of the 650 total. Theresa May's Conservative Party had 331 seats after the 2015 general election when David Cameron formed a government. The Conservatives look like ending up with a reduced 318 seats which means it cannot govern without the support of some non-Conservative MPs or parties. It's a so-called 'hung parliament'. The most likely outcome is that the Conservatives will continue to govern (a 'minority government') with the help of a smaller party – such as the democratic unionists – DUP – in Northern Ireland (which may also be a factor in a softer Brexit stance, because the DUP does not want a hard border with Ireland). However, a hung parliament creates conditions of considerable instability in the government. Interesting times ahead, then.
Away from politics, our ongoing analysis of automakers' future model plans continues to draw eyeballs – we have published in-depth articles on BMW's Mini, Rolls-Royce and Chinese JV brands Zinoro, Skoda's new Kodiaq and future SUV plans, plus Kia's Niro (NB the 'no weird styling' comment).
This week, in conditions that appeared to be heralding the beginning of a Scottish flood of biblical proportions, I sampled Mazda's excellent new second generation CX-5 compact crossover and was extremely impressed. We have a detailed technical review for you.
Business editor Simon Warburton published a number of articles from his recent SPIEF17 trip to St Peterburg on Avtovaz and stimulus measures, a supplier boom in Serbia, and Russian vehicle sector recovery.
Some rationalisation of 'back office' functions is now taking place at Nissan and Mitsubishi and we have analysis of that in Asia and word of shared parts warehousing in Australia.
We also had an update on workforce reduction at VW.
Have a nice weekend.
Graeme Roberts, Deputy Editor, just-auto.com