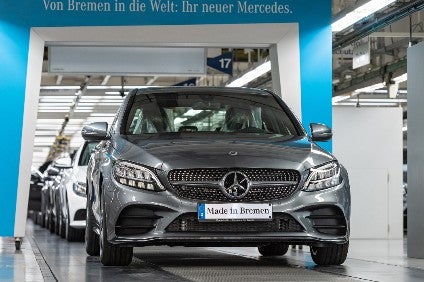 There was a glimmer of hope in all the bad news this week – Wuhan, aka Coronavirus Central (thanks a lot) on Thursday reported no new cases, the first such report since the bug started to take hold last January. So, perhaps, this, or some of this, might be over for the rest of us in two, maybe three, months? Let's hope so. Or maybe not. The caveat is that it'll need to be 14 days of no new cases in Wuhan before some victory is pronounced and China – a totalitarian state – has used draconian methods to control the spread. Refuse to cooperate and hazmat clad goons haul you from your apartment, for example. But, however you slice 'n' dice it, their approach seems to have worked. Let's hope for a similar outcome for the rest of the world and that coronavirus becomes a distant memory, recalled only by Olde Fartes like me (who knew survivors of the 1950s polio epidemic and still recalls the sweet taste of the medicine doled out annually at school for quite a few early 60s years).
This just in from Veoneer was the most upbeat of a stream of announcements this week: first quarter sales were expected to see limited negative impact from the coronavirus outbreak, mainly from the second half of March, and in the range of US$350m to $370m, including sales from VNBS Asia for January. Underlying sales for January and February were stronger than anticipated, despite negative effects from the initial coronavirus outbreak in China. New order intake to the end of February was around $160m average annual sales but the supplier now expects March activity to be limited. OEM production downtime or lower production rates are expected in Europe and North America for the next two to four weeks commencing now. "We are adjusting our production according to customer demand and local government initiatives, and anticipate that our production facilities in Europe and North America will operate in the range of 20 to 30% of capacity during this two-four week period, including potential temporary facility closures. It is highly uncertain how long the production reductions will last," the supplier said in a statement.
Meanwhile, the global cases, deaths and recovered counter continues its relentless ticks upwards and, here in the UK, politicians and media talking heads continue to panic folk unnecessarily with talk of a London 'lockdown' (hasn't happened yet), keeping social distancing restrictions for "at least most of a year" and closing schools to all but the zillions of 'key workers' doing their bit, amidst much personal sacrifice, to keep at least some of the country functioning. Guess who's about to become involuntary 'classroom assistant', for an unknown period likely to be months, to two young children attempting to learn online? Meanwhile, my local supermarkets have suspended home deliveries indefinitely and a personal shopping trip last night resulted in a view of aisles of empty shelves looking like a plague of locusts went through (forget fresh meat, fruit and veg, pasta, tinned goods, eggs, kitchen towels, toilet paper (never have I longed more for a GBP6,000 Toto toilet-cum-bidet), etc. Welcome to western civilisation life in 2020.
And so to the auto industry. First, we have wrapped all our coronavirus coverage into a continuously updated daily briefing here and also in a Hot Topic here. Ferret around in either of those and you'll see the horrible and ongoing effect on our beloved autobiz – plant closures, disinfections, withdrawal of financial guidance and many other woes. Eventually, new cases of this ghastly bug will peak and start to tail off, the less seriously affected will recover and join the lucky ones who dodged the bullet and, maybe, the second half of 2020 won't be quite the auto industry train wreck the first half is gonnabe.
Our parent company GlobalData has compiled a fascinating outlook of said recovery, ranking top vehicle manufacturing companies worldwide to show the impact of the coronavirus crisis will be strongly adverse across the industry this year, with all major companies impacted. The GlobalData ranking – which takes into account factors impacting company performance such as positioning for disruptive megatrends, as well as the impact of the coronavirus crisis – shows Tesla and Toyota leading the 32-strong field of automotive companies. The COVID-19 theme has been newly introduced to the GlobalData 'thematic' scorecards and it stands out as the number one short-term theme for the automotive sector. However, themes such as electric vehicles are just as important for medium- to long-term prospects – which partly drives Tesla's position at the top of the pile. Attention this year will be firmly focused on the impacts on the sector coming from the crisis that is forcing temporary manufacturing plant shutdowns of uncertain duration. In summary, the industry faces a very difficult year, GlobalData analyst Calum MacRae said. "Some industrial consolidation and restructuring is inevitable. The long-term disruptors pointed to sector transformation anyway. The COVID-19 crisis will likely accelerate that process and add to volatility in the sector and company performance in 2020."
In the same vein, a just-auto comment article 'Automakers have no alternative but to shutter plants' was widely read this week. Many automakers are temporarily shutting down their manufacturing plants in Europe in response to the COVID-19 crisis. There are two main drivers at work and it is interesting to note that the OEMs are all acting on this currently and they have all acted with speed. As we saw in 2008/9, the writing on the wall is there very quickly to take this course of action and there is no point in delaying. The crisis is impacting car companies in two major ways. Firstly, supply chains are being disrupted as critical parts enter short supply. This first emerged with China sourcing but has now spread to include supplier plants in Europe also experiencing disruption. Secondly – and even more seriously – demand for new cars is drying up in major markets as consumers face considerable uncertainty over the economic outlook and grapple with new priorities in their daily lives. The March sales numbers are going to make for grim reading across the region. While there is some inertia support for sales such as orders to fleets that were already baked in, private sales will have fallen off a cliff. Dealerships are not exactly busy with footfall or leads. Don't be surprised to see the European car market down by a large number in March – perhaps as much as 40%. The hope has to be that the situation stabilises thereafter.
Our future model series continued this week, as popular with readers as ever, as our product guru crystal balled Ferrari: Once upon a time Ferrari insisted it would keep annual production well below 10,000 cars. In 2019, the five figures cap was breached and in February, company CEO Louis Camilleri said he saw an especially strong 2020 ahead. Now, commencing today, the company has idled factories and put staff on a fortnight's paid leave. Looking beyond COVID-19 though, Ferrari will reinvent itself in the 2020s with all manner of new models, including electrification and an SUV.
Finally, we're never too far away from new tech stories. Topical for obvious reasons was a chat with Yanfeng. Given the accent on tomorrow's car interior is becoming more about occupant comfort and health, how will that affect the interior? Maintaining a social distance, we put this question to Han Hendriks, chief technology officer at the supplier. The coronavirus epidemic highlights just how important vehicle hygiene is for the entire mobility industry and its boffins have developed an antimicrobial device that can be integrated into the headliner console and uses UV light to disinfect the air and surfaces in the vehicle interior.
And clever Toyota production people have developed a new type of paint atomiser which uses static electricity to replace conventional air paint atomisers used in the vehicle body painting process. The company maintains the newly developed airless painter achieves more than 95% coating efficiency (the amount of paint sprayed versus the amount that actually adheres onto the vehicle body), from conventional efficiency of approximately 60% to 70%. By deploying the airless paint atomiser in Toyota Group's painting process, it is expected CO2 emissions will be reduced by around 7%.
Keep up that social distancing, peeps, stay safe and have a great weekend. Like polio, this, too, will pass.
Graeme Roberts, Deputy Editor, just-auto.com