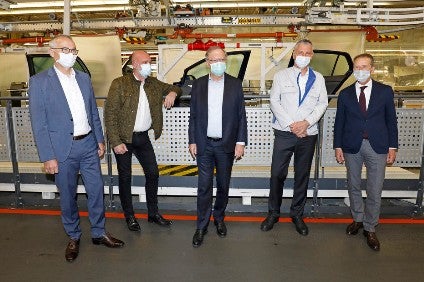 We've been seeing a steady stream of announcements of production restarts, both components and vehicles, as virus infections start to taper off and manufacturers put in place a new era of post-COVID-19 personal protection and 'social distancing' for workers. But is it too soon? One union thinks so.
The US UAW said plans to restart automotive manufacturing in early May were 'too soon' and 'too risky' to its members. The US auto companies had been planning to start up manufacturing operations in Michigan from 4 May but the UAW statement placed doubt on that date. UAW president Rory Gamble said the UAW 'does not believe the scientific data is conclusive that it is safe to have our members back in the workplace'. The union also said that not enough testing had been done to 'really understand the threat our members face'. Since then, non-unionised Toyota has postponed its North American restarts, originally planned for 4 May to 11 May, citing supplier and logistics issues.
It's now quite clear the automotive sector faces a long term struggle in the wake of the coronavirus epidemic. Analysis by just-auto's parent company GlobalData this week calculated lost automotive volume as a result of the COVID-19 crisis at 3.6m units, with the industry's revenue loss estimated to have risen sharply in recent weeks to $113.3bn.With much of the world in lockdown, supply chains are being restricted, revenues are plummeting and consumer demand is diminishing. A senior executive at a German auto component maker, who wished to remain anonymous, said: "It is an unmitigated disaster for the automotive industry. We are struggling like hell." "It is a crisis that keeps on scaling up,"said Calum MacRae, automotive analyst at GlobalData. "Initial plans for production shutdowns in many auto plants were just for a one or two day deep clean. Now, many plants in Europe and North America expect to be shuttered throughout April and until the beginning of May. It may end up being longer."
Many but not all. Last Monday, Volkswagen kicked off with what I guess for a long time is going to be the 'new normal' as production resumed at its main Wolfsburg plant with, of course, a Golf first off the line. But production started at just 10% to 15% of capacity and should be around 40% by now. A 100-point plan provides maximum health protection for employees, VW claimed. The new normal: employees must measure their temperature at home every morning and go through a health checklist before they leave for work, preferably already dressed in their workwear. Walkway diversions have been set up to avoid contacts, numerous distance markers on floors act as guides for walking and for keeping distances during meetings. Mouth and nose protection must be worn in areas where minimum distances of 1.5m are not possible. Mobile plexiglass partitions are in use in many areas. Material is often no longer transferred from employee to employee, but is placed in containers. More time is allocate for equipment cleaning. Cleaning frequency for washrooms and team rooms has been intensified, and several hundred additional hand washing facilities are being installed throughout the plant. Get used to it. And the cost.
Oh, the cost. Many automakers were already facing numerous challenges before the virus with strict new emissions laws to meet and electrification. First virus affected results are in and not pretty. Ford reported a first quarter net loss of $2bn, adjusted earnings before interest and taxes was negative $632m, including an estimated negative effect of at least $2bn from the coronavirus crisis. It expects things to get worse: second quarter adjusted EBIT pegged at a loss of over $5bn as industry volume declines significantly in every region. Its autonomous vehicle services rollout plans have now been put back to 2022 from 2021 as it meets the challenges of the current business environment as well as "the need to evaluate the long-term impact of COVID-19 on customer behaviours". In the drive to save money, the company will also no longer proceed with a programme to develop a Rivian architecture EV for Lincoln.
Ford has said it plans to restart production at most of its main continental European vehicle and engine plants from 4 May – next Monday. Manufacturing will resume from that day in phases at Saarlouis vehicle assembly and Cologne assembly factories plus an engine plant in Germany, Valencia assembly in Spain and Craiova assembly and engine plants in Romania. Production will restart at the Valencia engine plant on 18 May but there are no resumption dates for the Dagenham, England and (doomed, slated for closure) Bridgend, Wales engine plants as the UK is still in lockdown and central and regional governments have yet to detail an exit strategy or timing.
For those that still have jobs and can make the payments, details of the new generation of Ford's perennial best seller, the F-150 pickup truck have been sneaking out. We reported this week the new truck will have a new frame and (again) aluminium panels as well as a range of fresh and updated engines. Production is scheduled to start at Dearborn Truck on 28 September. Rear-wheel steering, four-, six- and eight-cylinder petrol engines, along with a six-cylinder diesel plus hybrid and electric variants should all be on the menu.
More in-house analysis: we found the global light vehicle market hit a seasonally adjusted annual running rate (SAAR) of just 54m units in March, which compares with almost 90m light vehicles sold globally in 2019. The decline in trend in the first quarter of the year is sharp and stark. The 54m units SAAR figure for March compares with a SAAR of 67m units in February and just under 80m units in January. The speed of decline is worrying and we expect to see April – a month in which many vehicle markets were seized up fully by COVID-19 response population lockdowns – to see a further deterioration to trend. It looks like the hit to the global vehicle market this year will be much greater than in the 2007/8 financial crisis, when growing emerging markets such as China helped to provide support. Our base COVID-19 global light vehicle sales scenario forecasts a fall of 16% on 2019 to 75m. How does this compare with the last big recession? Well, China was a smaller market then, but a rapidly growing one. In 2007 the global vehicle market was 66.6m units, declining to 64.8m in 2008 and 60.2m in 2009 (a relatively mild looking 7% annual decline). The lower falls then reflect the impact in our global composite of a rapidly growing Chinese market; the hit was felt severely in the US and Europe – the US light vehicle SAAR running rate sinking below 10m.
On that cheery note, have a nice weekend.
Graeme Roberts, Deputy Editor, just-auto.com