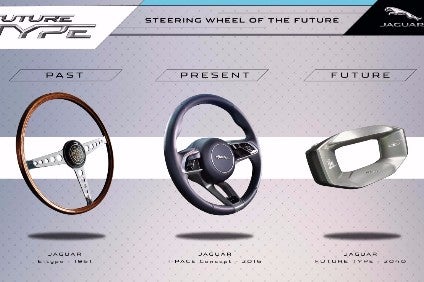 'Twas the week before Frankfurt (our preview here) and nothing was stirring… Not quite, with quite a few absentees from the Messe this year, new model announcements (or plans for same) this week included the long-awaited redesigned Nissan Leaf, some blue-sky thinking from Jaguar and another step towards the fully autonomous car from Audi.
What intrigued me about the fully redone Leaf which, being an electric car nut, I can't wait to try early next year, was the differing mileage claims. Nissan US (for which Smyrna will build the new model) says 150 miles; Nissan Europe (Sunderland plant in England) says "378km/235miles (New European Driving Cycle)" on a single charge. Last time I looked, a US mile is the same size as a UK mile (unlike their gallons) so I guess it's different 'official' test cycle results and, maybe some conservatism given that EV batteries don't like cold weather and range consequently reduces in the snow. And parts of the US (new Leaf will be a 50-state car) get wholly cold, much more so than over 'ere.
As for Canada and Scandanavia (Leaf is a big seller in EV-friendly Norway), well, I hope the cold weather testing was thorough. Battery improvements give the standard version a bit more range than the outgoing Leaf and an "even longer range" variant is promised for end-2018. Bring it on. I've often said that, when a genuine 300-mile EV hits the UK market at an affordable price (we're not getting the Opel Ampera-e as a Vauxhall as it's not built in RHD), I'll buy one. Better get saving, then.
Not strictly a new car, but a concept showing how Jaguar is thinking: how about owning the (intelligent) steering wheel instead of the car? They're quite serious, too. This is the sort of thing my non-driving other half dreams of – instead of trying to dig me out of the TV chair on a traffic-gridlock English Saturday afternoon, she'd be able to smartphone-summon a nice autonomous Jag and be chauffered electronically to the mall, with all all connectivity mod cons and a telly. Sweet.
Another recent Jaguar (and Land Rover) innovation was a recruitment programme for engineers using a virtual character – the 'band' Gorillaz's lead guitarist Noodle. The automaker announced its first result this week.
General Motors' Holden in Australia ends local production next month, replacing the last home grown Commodore with the imported Insignia, so we've sampled its last locally made, hot (Vauxhall badged for UK export) ute, the Maloo. End of an era [sniff]; I've owned a couple of Holdens over the years. Holden and Toyota are the last to close their Aussie car factories, bringing to a decades-old industry that moved on from horse-drawn coach and wagon production to bodying imported chassis, CKD kit assembly and, from 1948, full local manufacture (henceforth encouraged and protected by heavy tariffs on imported cars and kits). Gradually, over the years, tariffs and restrictions were reduced and the exodus from assembly or manufacture began. Some suppliers, with export and aftermarket replacement business to hand, will remain but many jobs have been lost. Thailand now supplies many of the Japanese brands once assembled or made locally.
It's hurricane season in the US and, after a southern states battering from Harvey, August sales took a tumble. Now Irma is targeting the south, with Florida most likely as I write. The sole upside is there should be a sales surge after the storm surge as inundated cars are scrapped and replaced.
Barely a day goes by we don't see a press release without the word 'digital'. This week it was VW's turn as it announced it would develop digital mobility services with IBM. The object is "development of personalised digital services for the driver, with a view to actively shaping the growing trend towards networking between vehicles and drivers". Just in time for Frankfurt, where it will be demonstrated, Mercedes announced the EQ Ready app to help motorists decide whether it makes sense for them to switch to an electric car or hybrid. This can record real journeys made by the user, analyse his or her everyday mobility behaviour and compare it with numerous parameters of electric and hybrid vehicles. This makes it possible to try out e-mobility in a virtual yet realistic way, the automaker said. The app (of course) also recommends which alternatively powered model from the Smart or Mercedes-Benz ranges best matches the user's individual behaviour.
Have a nice weekend.
Graeme Roberts, Deputy Editor, just-auto.com