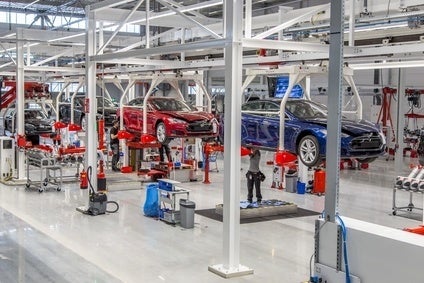 A new Covid-19 lockdown in Shanghai has resulted in a 4-day suspension of Tesla manufacturing at its factory there this week. The decision is in compliance with a city-wide lockdown order to prevent the spread of COVID-19 announced at the weekend.
Unlike many western nations that were slow to enact lockdown orders and quick to lift them, China has generally opted for swift and strict measures to aggressively clamp down on outbreaks. This meant that, over the course of 2020, China began operating a zero-COVID model that aimed to rapidly locate and isolate outbreaks before they spread.
While this strategy held for some time, it began coming under pressure as more infective virus variants – first Delta in 2021, and now Omicron in 2022 – spread throughout its population. Now, China is seeing thousands of new infections per day, with an associated uptick in virus-related deaths.
GlobalData's Light Vehicle Production Disruption Tracker shows that, throughout 2021, COVID-19-related production losses across the Asian continent had previously been declining. Losses peaked at more than 290,000 units in Q2 2021, but then fell to 174,000 units in Q3, and then further down to 96,000 units in Q4 2021. Following this trajectory, it was hoped that Q1 2022's figure would continue to show a decline but, with 90,000 currently tracked units of lost production, disruption seems to have levelled out, suggesting that upward pressure from increased infections is dampening the Asian recovery.
Tesla's newly announced four-day Shanghai shutdown is expected to cost the EV maker more than 8,000 units of lost production. Factoring this loss into the total Q1 2022 figure for COVID-related losses across the Asian continent, it is very likely that total Q1 2022 losses will be higher than losses recorded in the previous quarter, demonstrating COVID's continued ability to batter production networks long after it first emerged.
China's insistence on sticking to its zero-COVID target stands in contrast to many other nations around the world where political and public opinion appears to have shifted towards an attitude of living with the virus, rather than stamping it out entirely – sometimes referred to as an endemic scenario. While this approach is possibly more dangerous from a public health perspective – potentially increasing the risk that another more virulent variant could emerge – it does reduce the financial and operational disruption caused by lockdowns, which shut factories and keep consumers stuck at home.
As a result, we are beginning to see pushback on the zero-COVID model in China, both from business groups concerned about the loss of revenue from production stoppages, and from epidemiology experts who believe that maintaining a zero-COVID target may not be feasible considering the rest of the world appears to have reopened despite the continued threat posed by the virus. This growing resistance is unlikely to halt the current stoppages planned at Tesla's Shanghai plant but does indicate that strict lockdowns like these may become less common in future, despite the ongoing viral threat.
The ruling party in China has hinted that its stance may change in the future. Party Premier Li Keqiang said the country's COVID response would become more "scientific and targeted" in a speech to the National People's Congress, suggesting that, over time, it might enact fewer country or city-wide orders to curb the virus' spread.
Nevertheless, the COVID pandemic remains dangerous and unpredictable – able to deal out significant disruption to automakers, even after a year of relative dormancy in a country as well prepared as China. With the constant risk that new and more problematic variants could emerge at any time, auto companies must respond quickly and be flexible to best cope with the ensuing disruption.
This article was first published on GlobalData's dedicated research platform, the Automotive Intelligence Center