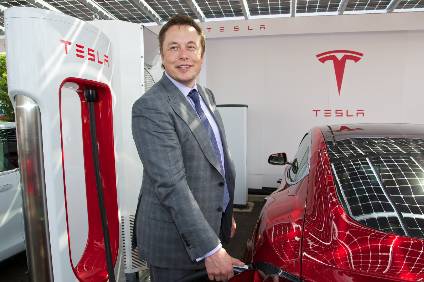 Tesla 's market capitalisation now exceeds that of Toyota , making it the most valued carmaker in the world.
A recent jump in Tesla's share price puts its market capitalisation at $207.7bn versus $171.8bn for Toyota (its share price not helped by the recent slump and deterioration in Japan's vehicle market and industry).
In a sector facing serious challenges that deterred investors before the COVID-19 crisis hit, automotive companies have taken a further battering. It's a double whammy – increasing pressures on demand and revenues have been compounded by the virus.
Indeed, the automotive sector is among the most severely impacted by the COVID-19 crisis and is facing decimated markets this year. GlobalData's base COVID-19 light vehicle sales scenario forecasts a fall of 17.8% on 2019 to 73.9 million, a greater hit to the market than in the 2007/8 financial crisis.
Against this background, the share prices of many automotive companies and suppliers have been dented.
Tesla has out-performed the sector in terms of market cap, investors viewing it as very well positioned to gain from accelerating sales of electric vehicles over the next few years.
However, Tesla has out-performed the sector in terms of market cap, investors viewing it as very well positioned to gain from accelerating sales of electric vehicles over the next few years. Tesla is seen as having a favourable mix of upcoming products, class-leading engineering expertise in advanced technologies, manufacturing capacity coming into place, as well as retail and marketing strengths that will mark it out as a winner in the post-COVID-19 business landscape.
Indeed, it tops GlobalData's Thematic Screen which ranks automotive companies according to themes that matter most to the industry, generating a leading indicator of future performance (Toyota is fifth).
A recently opened plant in China, a market that is rapidly recovering and where it leads the EV segment this year, further underpins its current success and positive prospects.
Second quarter deliveries and output data confirm that Tesla is performing much better than its peers and on course to deliver over 400,000 vehicles in 2020, significantly up on 367,000 last year, in spite of the COVID-19 dent to the global market.
Although Tesla volume is small relative to long established car companies such as Toyota (circa 10 million units a year), it is seen by investors as much more agile than many of its competitors and likely to continue to perform relatively well as more of its electric vehicle products come on stream.
Where does mercurial Tesla founder Elon Musk figure in this sentiment? Often a controversial character, his high profile media presence – bolstered by other business interests such as SpaceX – nevertheless serves to mark him out as a no-holds-barred disruptor. He is clearly cast in a very different mould from the much more conventional business leaders and executives found at the established car companies. That, in turn, reinforces the attractiveness to many of the Tesla ten-year start-up narrative – which can already log a number of significant achievements that many in the industry thought it would not reach.
Tesla therefore seems to escape the rules that investors apply to the established car companies and its share price appears immune to the effects that the COVID-19 pandemic has had on others. But they are not standing still and many of them have considerable resources to throw at responding to the threat posed by Tesla.
The scene is set as Tesla plots a growth path in major automotive markets over the next five years. The pressure is firmly on, though, for Tesla to maintain volume growth and successively bring new models to market, while also building profit from the current thin levels. Investors like a good story, but ultimately it has to deliver on the promise.
See also: Cybertruck and other Tesla future models