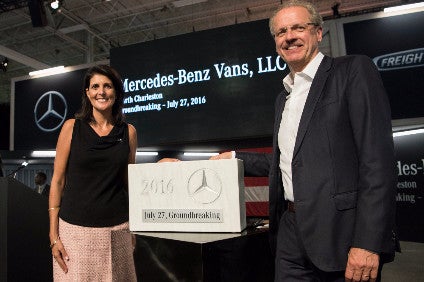 News of Daimler's globally popular Sprinter van range topped the news popularity poll this week as you all lapped up news the all-electric version would be produced at the light commercial's lead plant Dusseldorf and a follow-up story batteries for the EV would be made at Unterturkheim. Sprinters are very popular here in England as increasing internet shopping leads to more and more home deliveries and it's worth noting the smaller Vito is popular for taxi and VIP transport as well as load-carrying.
Although it had to wait for today's email newsletters, we published more details of the gorgeous new Jaguar compact SUV, the E-Pace, the second the embargo was lifted (after a big reveal event in London) last night; yours truly scurried to and from the earlier technical briefing in the capital to bring you the details – not least of which was the revelation Magna Steyr will assemble this Jag under contract, just as per the earlier announced I-Pace EV build deal. Magna itself routinely reports quarterly 'complete vehicle assemblies' so expect a spike in the numbers – Jaguar thinks this E-Pace newcomer will become its top seller, displacing the larger F-Pace, and I think that's likely; it is so well sized for Europe and should appeal in other markets, too.
We previewed the body construction of Audi's new A8 earlier this year, followed by details of its 48 volt mild hybrid system, and now, finally, came full details of the complete car. It appears to be quite a challenge to have the various autonomous features approved for each market, too. BMW and others also offer the feature, but I love the idea of the car parking itself in a garage, especially one like mine (English garages are apparently sized for the 1930s Austin 7 which is why citizens use 'em for storage, not cars). Not enough room to open the doors? Get out first and let Audi park itself. That would also come in handy in some parking structures where the spaces are not very wide. Family abandons ship and then the car puts itself in the slot.
While on the subject of (semi-) autonomous cars, PSA claimed another milestone this week – a Citroën C4 Picasso from the automaker's autonomous vehicles fleet crossed through the toll station at Saint-Arnoult-en-Yvelines (France, Paris area) – the biggest one in Europe – without driver's assistance thanks to a specific communication between the vehicle and the infrastructure. We're well used to automatic transponders that automatically debit an account with the toll fee and tell the barrier to open sesame (I always seem to get the one on a press launch drive fleet that doesn't work and end up hurling euros or a credit card at a machine) but it takes quite a bit more for a car to work out which gate to drive to, aim carefully, slow, ensure the arm is up and accelerate safely away into a suitable lane. One more step to the fully autonomous car, PSA?
As always, we had some new analysis this week, this time looking at the future of the shrinking Chevrolet brand. Long gone are the (mid-'60s) days of 1m Impala-size cars built in one year alone.
Have a nice weekend.
Graeme Roberts, Deputy Editor, just-auto.com