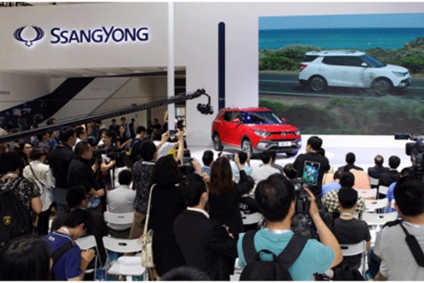 Is the end nigh for Ssangyong? News on just-auto this week does little to discourage such thoughts. It doesn't help confidence much when the CEO bails out, captain fleeing a sinking ship comes to mind. "As securing new investment is taking longer than expected, and as the restructuring process is imminent, more complications and struggles are expected to lie ahead," CEO Yea Byung-tae said in a resignation letter cited by Korean media this week. The letter was sent to employees and executives at the automaker. "Coming up with resolutions together with you could be an option, but as I deeply feel the shock and let down you would have felt, I think it is right to take responsibility as the president who took care of management so far," the letter continued.
Kudos for admitting defeat. Ssangyong has been struggling for some years. Its sales are steam-rollered monthly by giant compatriot Hyundai-Kia; the other two of the 'big five' are GM Korea and Samsung which are also floundering. Ssangyong's me-too SUVs and pickup trucks do little to excite buyer interest, particularly overseas (less than 1% of Hyundai's tally last month) and some of its relatively recent attempts at 'styling' have just been plain ugly. There has been regular industrial action with a sit-in at one point and damage to the plant. Majority (c.70%) shareholder Mahindra & Mahindra has been trying for a long time to ditch its slice with no interest. Ssangyong finally filed for bankruptcy on 21 December 2020 after it failed to meet its debt obligations with creditors refusing to reschedule repayment deadlines. A number of local manufacturers have refused to supply components because of significant overdue payments, causing the automaker to suspend production for long periods throughout the last quarter. A bankruptcy court gave the automaker three months for M&M to find a buyer but that deadline is now past due and months of talks with US vehicle importer HAAH Automotive Holdings resulted in no commitment to an acquisition by the court's deadline. Are we about to see another MG Rover or Saab?
It's apt that with Mercedes-Benz now a mass market brand, SUVs are much of the reason why. Apt in that the G, the brand's first SUV, was never intended to be a luxury vehicle. As it became the G-Class, the 4×4's name was leveraged again and again, to the point where there is now a large line of SUVs, each of which has G as the first letter of its name. Our latest future model report examines a selection.
Market revival - Suzuki has signed a new distribution agreement with Malaysia's Naza Group after an absence of almost six years from the country. Naza confirmed it had appointed a subsidiary to take charge of Suzuki sales and aftersales operations of new generation models. Suzuki's previous Malaysian distributor was DRB-Hicom which also assembled the Swift hatchback at a plant in Pekan in Pahang state. It ended Suzuki sales in 2015 under a restructuring plan and the brand's 29 dealers converted to Proton Edar outlets.
Distributor musical chairs - Malaysian vehicle distributor Bermaz Auto (BAuto) announced it had signed an agreement with Kia Corporation to assemble and sell its vehicles. The new partnership follows the termination of the Kia sales and distribution agreement with Naza Group (see Suzuki above) towards the end of last year. BAuto said it had agreed to establish a joint venture with the South Korean automaker, called Kia Malaysia, which will assemble vehicles from imported completely knocked down (CKD) kits. BAuto said it would take a 33.3% stake in the new company and was expected to contribute one of its assembly plants while Kia would own the remaining 66.7% of the equity and invest in the manufacturing infrastructure.
Motor shows, remember them? China is staging one soon. The latest additions to just-auto's list of global launches for 2021's biggest motor show - Auto Shanghai - are two Hondas, although the company was yet to announce specifics of either model. Meanwhile, General Motors confirmed the Cadillac Lyriq would make its public debut.
General Motors, Ford and Hyundai have made further production cuts and closed more assembly plants because of the global semiconductor shortage plaguing automakers. Hyundai Motor said on Friday that it will suspend production for two days, starting on Monday, at its Asan, South Korea plant. "We are closely monitoring the situation to take prompt and necessary measures to optimise production in line with the supply conditions," Hyundai said in a statement. On Thursday General Motors said it was temporarily halting output at several North American plants and extending other shutdowns in Kansas and Canada due to a lack of chip supply. Ford said this week it was cancelling production at assembly plants in Chicago, Michigan with a partial closure of its Kansas facility. It would also reduce output in Ohio. The supply crunch continues to furrow both OEM and supplier supply chain management brows. We have wrapped our ongoing coverage here.
After all that, have a nice weekend.
Graeme Roberts, Deputy Editor, just-auto.com