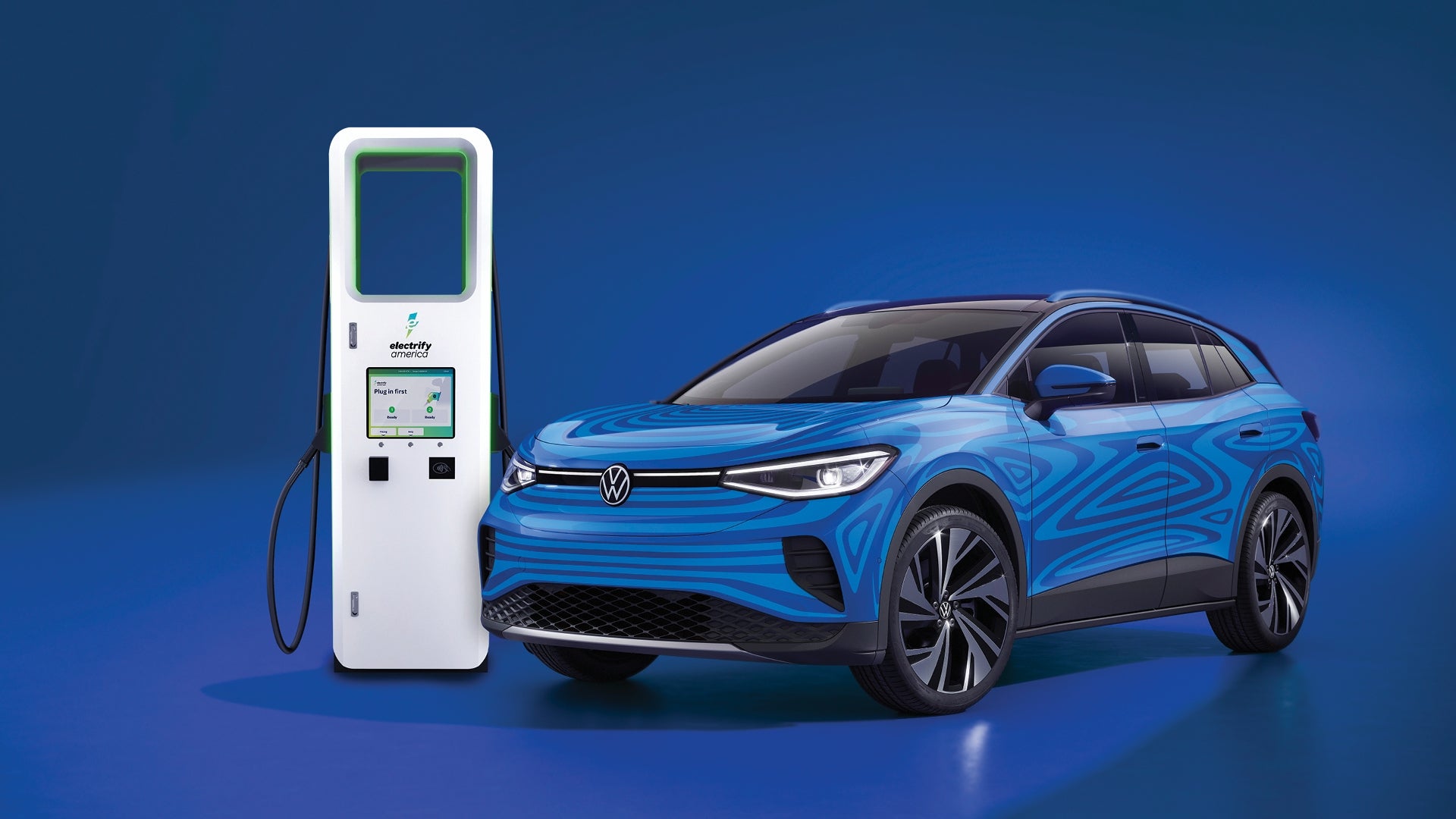 Electrify America, the US-wide open DC fast-charging network set up as part of Volkswagen's emissions-cheating settlement with the federal government, now has more than 600 charging stations and 2,600 individual DC fast chargers, including the completion of two cross-country and two coastal routes in 2020.
The network plans to have 800 charging stations and about 3,500 DC fast chargers in development by December 2021.
As summer season travel begins in earnest in the US, and public charging station use rises, Electrify America has suggested five ideas on how to pass the time while charging an EV ( VW recently launched the ID.4 SUV in the US but not the ID.3 hatchback) which appear to be focused particularly on first time EV owners and, of course promoting the new vehicle.
Rest and relax: Recharge driver and passengers at the same time as the vehicle "with a quick self-care break. "In the ID.4, drivers and front-seat passengers can retract the sunshade of the available panoramic fixed glass roof and use the available six-way adjustable seats with power recline to get comfortable."
Move yourself: Take the time to stretch your legs and go on a walk around the neighbourhood. However, remember to be mindful of EV charger etiquette and remember to not let your EV take up the charger once you've completed powering up.
Enjoy in-car entertainment: Take advantage of the Car-Net Wi-Fi Hotspot stream your favorite movie or television show on up to four compatible devices. The Electrify America app will send a notification once a vehicle has reached the desired charging level.
Indulge in a massage: A premier available feature of the ID.4 are its front seats with built-in, four-way massage lumbar and memory. After several hours of driving, a massage might just what you need to get back in action. Take it a step further by activating the 30-colour ambient lighting option for a fun and full sensory experience.
Stop and shop: Most Electrify America charging stations are conveniently located at service stations, grocery stores, outlet centres, hotels, and large retailers. While waiting for a vehicle to charge, buy groceries, grab a cup of coffee, shop for clothes or stock up on household goods. If not in the mood to shop, treat yourself to snacks while you wait.
This charging-point-as-a-destination trend is beginning to grow here in the UK. Late last year, Gridserve opened its first 'Electric Forecourt' near Braintree, Essex.
The site is the first of over 100 sites being built over the next five years, providing much needed charging infrastructure required for mass EV adoption well ahead of the 2030 ban on petrol and diesel cars.
The forecourt, adjacent to Great Notley, just off the A131, enables 36 electric vehicles to be charged simultaneously, with high power chargers that can deliver up to 350 kW of charging power, adding 200 miles of range in 20 minutes.
Together with Gridserve, the project has been funded by Hitachi Capital, Innovate UK and OZEV.
Electricity is generated from both the solar power canopies above the chargers , and a network of hybrid solar farms. The UK's first subsidy-free solar farm in Clay Hill is paired with the Braintree forecourt, providing 100% renewable energy via the national grid. There is also a 6 MWh battery onsite which helps to balance the local energy grid and shift energy to periods when it is more valuable. For example, on windy winter nights the battery can store enough energy to drive 24,000 miles in electric vehicles the following day.
Electrify America in February said it had added 30 solar-powered EV charging stations with two Level 2 chargers each to its network in California.
Drivers charging at the new UK forecourt initially paid 24p per kWh of energy (including VAT), which was claimed to be currently the lowest ultra-high power charging rates on the market. A typical charge from 20% to 80% costs under GBP10 for an average size electric vehicle. Gridserve planned to introduce a tiered pricing structure later.
Retail space includes WH Smith, Costa Coffee, Booths, a post office, and Gourmade. The facility also includes a waiting lounge, free superfast WiFi, 'high-end' washrooms, dedicated kids' area, wellbeing area with exercise bikes that generate electricity, and business meeting room pods.
The upper floor of the building showcases the latest electric vehicles, and there are multiple digital screens that help people learn about and source electric vehicles. Gridserve is also hiring electric vehicle enthusiasts to help educate people about electric vehicles, and arrange test drives.
BP Pulse in March said it would expand its ultra-fast EV charging infrastructure in the UK with a series of new charging hubs developed in partnership with The EV Network (EVN).
BP is aiming to double the size of the bp pulse network in the UK to 16,000 charge points by 2030, with a particular emphasis on ultra-fast chargers.
The total amount of charging on the bp pulse network is due to grow 30-fold by 2030.
The agreement is expected to deliver a significant number of new EV charging destinations in the areas with high volumes of traffic. The sites will be developed by EVN with each having a range of ultra-fast charging bays and some becoming EV convenience and mobility hubs with food, drink and other facilities on offer to drivers as they charge.