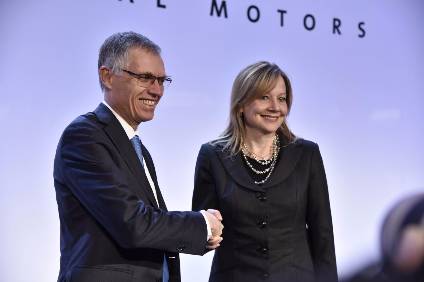 The deal is all but done, scheduled to complete this year. Opel/Vauxhall is to become part of the PSA Group. When the news broke last month that the two were in talks for a sale, my thoughts could be summed up in a simple question: Why would PSA want to take that on?
Truth is, the answer isn't all that obvious but it comes down to a traditional automotive industry driver: Scale.
Opel/Vauxhall is losing money. GM has failed to make a profit on its European operations since 1999. Finally, GM wanted rid, to focus efforts on more profitable parts of the world. Fair enough. Why repeat losses ad infinitum? No sacred cows any longer (maybe that is even more of a feeling in the changed world of 2017). PSA's challenge is to set up a larger combined group that will have a stronger presence in Europe and the world. We'll know in five years whether the plan is working. The financial targets certainly look ambitious.
Carlos Tavares senses an opportunity. The auto industry is governed by the laws of scale. They work like gravity and are immutable. You need lots of capital to make cars. Car plants are expensive, as are the thousands of workers inside them. New product development and R&D are getting more costly. Electrification is not cheap to develop.
The auto industry also stands on the cusp of major change with autonomous cars and new business models. What will it look like in ten or fifteen years? My guess is that it will look somewhat different (with some new entrants) and that the bigger players will have greater market strength and ability to partner with new entrants. Industrial 'concentration' will rise as scale and financial strength trumps brand differentiation in the mass-market segments. Premium players could still be well-positioned, but the big players may also have to countenance a much more commoditised end-product governed by greater adoption of car-sharing and autonomous drive operation.
If Opel/Vauxhall is losing money, it's hard to escape the conclusion that something has to give.
In this scenario scale becomes even more important. Premium players have fat margins, but volume players have to work with thin margins. PSA is a medium-sized player. Acquiring Opel/Vauxhall takes its volume up a significant step. PSA will, however, have to re-fashion its cost base. If Opel/Vauxhall is losing money, it's hard to escape the conclusion that something has to give. Tavares has the benefit of the cost-cutting experience he has been through to bring to bear. There will be synergies, of course. But as he has said, there is an opportunity now to work on internal benchmarks to drive up efficiency. Let the competition begin, was his tone yesterday.
It would be easy to say that the UK's two Vauxhall plants look very vulnerable. Ford leads the UK market but does not make cars here. However, it was in profit last year in Europe, despite exchange rate pressures. Opel/Vauxhall was not; is that the crucial difference, not making cars at currency risky UK plants? I suspect it's more complicated than that. If 80% of the Astras made in the UK are shipped to the eurozone, the losses may have had more to do with the other Vauxhall models made in the eurozone and sold in the UK. That said, Ellesmere Port's Astras have very little UK content and a cursory glance at a map of Europe suggests relatively high logistics costs in shipping so much to a northwestern manufacturing outpost. The exchange rate has made those parts more expensive to import. But the plant has shown before that it can compete on cost (to win lead plant for current Astra). It also provides a degree of natural hedging in the sterling area that could be even more valuable in a 'hard Brexit' scenario, as Tavares (rather surprisingly) acknowledged yesterday.
Are UK plants easier (cheaper) to shutter than French or German ones? Maybe, but restructuring costs are special items in the accounts and I would think it will ultimately come down more to operational factors and process. Which plants work and make good strategic sense?
The important point is that the whole manufacturing network has to be looked at and that there will be changes as engineering architectures and major component systems eventually move to a shared basis across all the brands (something like VW Group). It's going to be about minimum efficient scale at plant level, optimised volumes for certain products (cars and components) and a logistics network that is as efficient as it can be. Benchmarking of costs – and especially unit costs – should point to plants that are no longer commercially sustainable. It would be close to a miracle if the whole network survives as it looks today, but 'everyone has a chance'. It's hard to argue with the fairness of that approach.
Is it a big ask to have that many brands in volume segments and successfully differentiate them? It won't be easy in Europe, but the global marketplace offers opportunities. Look at Skoda in India, for example. Brands can be very successful in new markets if the brand image is pitched the right way. Opel may have more life in it as a German 'near premium' marque: German engineering quality at a competitive price. The cynic may say that the opportunity is being diminished as the established premium brands take aim at niches that sit close to or inside mass market segments, but there may be a sizeable opportunity, nevertheless (and I wonder how the opportunity compares with that of the DS brand and the notion of French premium; more benchmarking potential). Maybe people will want to own an Opel in the traditional way, but Citroen's appeal could, say, extend into the more commoditised world of car-sharing and younger consumers (Apple Car, powered by Citroen!). If you have a suite of brands to play with, there may be many more options as the market – or mobility space – changes and fragments.
So, why did PSA want to take loss-making Opel/Vauxhall off of GM's hands? The main driver is scale economies in manufacturing and engineering, but the suite of brands also acts to extend PSA's hand of cards. In a tough global competition, it buys more options. Fresh and creative ideas are needed, of course. Tavares will have his work cut out to get the right stimuli and cultural mix from the two different corporate elements and traditions (DaimlerChrysler serves as a manual on how not to do it). Building trust straight away is crucial. He seemed to say the right things yesterday and that's a good start.
PSA can take Opel/Vauxhall and integrate the manufacturing and engineering – and parts procurement – into a new bigger group with a better cost structure. GM, on the other hand, was faced with the hard slog of trying to make its European operations work profitably on the current basis and it gave up to work on other priorities. Who will have the last laugh?