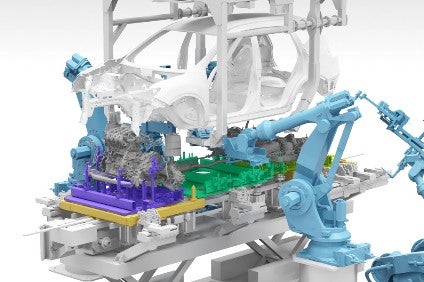 It's clear restarting auto production is not going to be as easy as unlocking the doors and switching on the lights and machinery. As we noted this week: "Even as the unprecedented global COVID-19 public health crisis is yet to reach a peak in many countries, a number of carmakers and major component companies are now talking about restarting temporarily shut down plants later this month or in early May. It's a sign of a much hoped for gradual resumption of normal economic activity as policymakers look to balance broader economic needs with immediate public health priorities. However, all industries are different and some will find it easier to swing back into action than others. The automotive industry is one that will face considerable challenges on the path to getting back to (or close to) where it was pre-COVID.
"For one thing, the public health crisis is far from over, meaning that facilities have to have protocols in place to manage social distancing and reassure workers over safety." The powerful US union, the United Auto Workers, had a view on that, saying plans to restart automotive manufacturing in early May are 'too soon' and 'too risky' to its members. The US auto companies have been planning to start up manufacturing operations in Michigan from 4 May but the latest UAW statement places doubt on that date. UAW president Rory Gamble said the UAW 'does not believe the scientific data is conclusive that it is safe to have our members back in the workplace'. The statement also said that not enough testing has been done to 'really understand the threat our members face'. Automakers may partly resolve the problem by continuing to push back reopenings, as in this case. There's little point in pushing out the product just to have it pile up somewhere else unsold because the retail outlets still mostly are shut.
However, others are pushing ahead. Nissan said vehicle production in Spain, suspended since 13 March there, the UK since 17 March and in Russia since 30 March, would resume slowly from 27 April. "Across the business the company is following all the regulations and advice from national governments and has implemented a range of measures to ensure the welfare of employees and communities," it said, making clear this will be slow and measured. "Like the rest of the automotive industry, Nissan is looking forward to resuming business as soon as circumstances across Europe allow. The industry is currently working with very limited visibility on future market conditions, however some activities are now being planned." Like other automakers, it is putting in place a comprehensive set of safety measures to protect employee health. In Sunderland, UK, the new safety protocols will be implemented in a pilot activity involving the Powertrain team which began this week and initially involved around 50 people. No date yet for the resumption of vehicle production. Vehicle production would resume first in Barcelona with pickups on Line 2 and in the powertrain plant along with the Montcada and Sant Andreu plants, on 4 May. "Some projects" would restart in Cantabria and Avila on 27 April. Nissan said it was grateful for the financial assistance offered by national governments to support its 15,000 direct employees in Europe, partner companies and suppliers.
China is returning to something vaguely resembling 'business as usual' so we took a look at a new model BYD is readying as Tesla paints it firmly in its sights. We asked: "As Tesla ramps up Model 3 production at its Lingang plant and prepares to add the Model Y, might the era of BYD as Chinese market EV champion be ending? The battery, car and bus maker has a portfolio comprising petrol and PHEV vehicles as well as electric ones, but must it now choose to spend heavily on one technology for the models it will launch later this decade?" Almost on cue, the Chinese government this week said it would extend tax exemptions on purchases of new energy vehicles (NEVs) by a further two years to help the segment rebound from a year long decline.
Sales of NEVs in China fell by 4% to 1.206m units in 2019, with strong growth in the first half of the year offset by a sharp decline in the second half after the government slashed subsidies at the end of June.
Tesla opened an official virtual store on China's Tmall site as the US electric vehicle manufacturer continued its efforts to expand its share of the world's largest vehicle market. Tmall is a leading business to consumer e-commerce platform owned by internet giant Alibaba Group, providing vital exposure to Chinese consumers at a time of social distancing due to the COVID-19 coronavirus pandemic. Tesla has enjoyed a strong start to the year in China following the launch of the locally made Model 3 at the end of December, with sales amounting to 16,700 units in the first quarter of the year across all models – including a record 10,160 units in March alone – which the company said was equivalent to 30% of total battery power vehicle sales in the country.
Chinese internet giant Baidu 's Apollo Robotaxi driverless taxi service, based in Changsha in China's Hunan province, became fully operational this week after completing trials originally launched in September of last year. Apollo Robotaxi's fleet of autonomous vehicles operates in a 130 sq km area, covering diverse driving conditions including in residential areas, commercial zones and industrial parks. The fleet uses Baidu's in-house developed Vehicle to Everything (V2X) navigation system and each car comes with a back up driver in case of emergencies in accordance with current traffic regulations. Changsa residents can now hail Apollo autonomous taxis free of charge through the Baidu Maps app.
Not every 'disruptive' innovation will survive, as we learned this week. Business conditions precipitated by the COVID-19 crisis have proved the ideal distraction for General Motors to gently kick its Maven car-sharing initiative into touch. Maven was one of those brave new mobility experiments that looked great in corporate presentations and was guaranteed to get Wall Street excited about automotive dinosaurs seeking new revenue streams and extracting more value from underutilised assets. Disruptive business models were not meant to disrupt the companies applying these new strategies. But that's exactly what they appear to have done. They are a distraction for the established automotive players when they should have a laser like focus on making their products as good as they can be. And it seems that when push comes to shove, they accept that too. Maven had been launched in early 2016, but had never really taken off. In 2019, it had withdrawn its services from several cities in the US including Chicago, Boston and New York so the portents were not great before COVID-19 wreaked havoc through society and the economy. The rest of analyst Calum MacRae's opinion piece is well worth a read.
While we wait, and wait, for quarantines to be lifted, how a bout a little virtual tyre kicking. Courtesy Volvo Cars.
Our running update on coronavirus related news is here.
Have a good weekend.
Graeme Roberts, Deputy Editor, just-auto.com