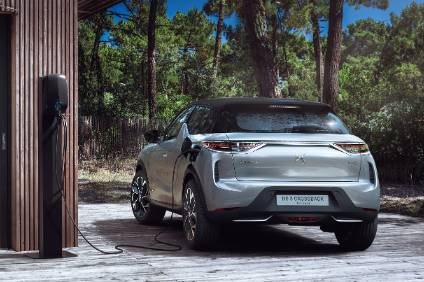 News of a 200 mile range electric DS drew a lot of reader interest this week. When PSA Group adds a fully electric variant to its new DS 3 Crossback range later this year, the car will come with a claimed range on full battery charge of 200 miles (on the WLTP drive cycle, 267 miles on NEDC). The car (the variant will be called E-Tense) will be equipped with a 50kWh lithium-ion battery and a system for recovering energy during deceleration and braking.
DS told us range is maximised by the ability to pre-set cockpit temperature before driving and incorporates a 'very efficient heating pump'. Its efficiency, with a reduced electrical consumption, optimises thermal comfort in the passenger compartment without affecting battery temperature control, DS maintains. "With this set of technologies, which we assemble, we are convinced that we have reached another stage in the mass manufacturing of electric vehicles," said Remi Seimpere, DS 3 Crossback E-Tense project director. "Such control also lets us offer a very attractive warranty: eight years or 100,000 miles." The 100kW rapid charging adds 5.5 miles of range every minute and will complete an 80% charge in 30 minutes. DS drivers can purchase a connected smart wall box (single phase), enabling a 100% battery charge in 8 hours.
It's looking like the days of sub-100 miles EVs are over. I recall the '100 miles' first Nissan Leaf I pedalled around for a week several years ago never started its day with more than 88 miles on the 'fuel' gauge, despite being plugged in all night. The redesign I lived with for the same period last summer had about 120 miles to offer and you can now order a model with at least 200 miles of go. And that seems to be the new entry level norm for EV range now. With additional range optional at extra cost.
Ford has had mixed success with electrics and this week came news of a US$500m investment in Rivian and plans for the two companies to develop a new, battery electric vehicle using Rivian's skateboard platform. Rivian already has developed two clean-sheet vehicles. The company's launch products – the five-passenger R1T pickup and seven-passenger R1S SUV – will deliver up to 400-plus miles of range plus performance, off-road capability and utility, from late 2020. Ford already has confirmed two key fully electric vehicles: a Mustang-inspired crossover coming in 2020 and a zero emissions version of the F-150 pickup, and Rivian remains an independent company.
Meanwhile, in Russia, Ford plans are not being received too well. Workers losing their jobs this summer under the automaker's plans to axe car production in Russia are protesting for higher pay-offs, according to local reports. Workers face a struggle to replace incomes in a region – St Petersburg – where typical monthly pay is just 25,000 rubles (US$390) per month — half the average wage at Ford. The workers say that they want 24 months' salary as severance compensation from Ford Sollers (Ford's JV) but have been offered just 12 – less than would be the case at other shuttered Ford plants in Europe. The Ford Sollers St Petersburg plant's union, The Ford Primary Trade Union Organisation, has demanded compensation equal to two years' salary. It accounts for half of the plant's workforce.
Ratings agency Fitch this week said selective alliances are likely to be a medium-term alternative to full-scale mergers and mega acquisitions to support automotive manufacturers' credit profiles. The agency said it expects such partnerships to be beneficial to business profiles, cost structures and cash generation, notably through investment sharing, and less detrimental to financial structures and management time. The agency maintains that upcoming deals will be 'defensive in order to cut costs and respond to rapidly shifting trends, compared with previous consolidation rounds, driven chiefly by growth and expansion'. Central to the renewed cost-savings argument is the need to develop new, more fuel-efficient powertrains, notably electric engines, requiring heavy investment but which are as yet unprofitable. M&A should also enable repositioning on other developing mobility trends such as ride sharing and car hailing, Fitch said. Its analysts argue that constraints remain which will make the next round of large M&A very uncertain and 'likely to be replaced by various smaller and more focused agreements'.
Ford and the creators of the Transportation Mobility Cloud (TMC) Autonomic have signed a multi-year, global agreement with Amazon Web Services (AWS), which the companies will expand the availability of cloud connectivity services and connected car application development services for the transportation industry. Through this collaboration, Autonomic's TMC – described as the leading automotive cloud – will be powered by AWS – the 'world's leading cloud' – to become the standard connected car solution for Ford vehicles. Ford Mobility and Autonomic chose AWS for its global availability, and the breadth and depth of AWS' portfolio of services, including Internet of Things (IoT), machine learning, analytics, and compute services. The collaboration with AWS allows additional partnership and business opportunities for automakers, public transit operators, large-scale fleet operators, and software developers. As a Technology Partner in the AWS Partner Network (APN), Autonomic will also work with Independent Software Vendors (ISVs) and System Integrators (Sis) to offer vehicle connectivity services and capabilities for developing connected vehicle cloud services, vehicle features, and mobile applications to automotive manufacturers and mobility application developers.
Toyota, Kenworth, the Port of Los Angeles and the California Air Resources Board (CARB) say they have taken the next great leap towards the future of zero-emission trucking, unveiling the first of Toyota and Kenworth's jointly developed fuel cell electric heavy-duty trucks before a crowd of media, government officials and industry and community leaders during a special event held at the Port of Los Angeles. The new generation zero-emission truck expands on the capabilities of Toyota's first two Project Portal Proof-of-Concept trucks through enhanced capability, packaging, and performance while offering an estimated range of more than 300 miles per fill, twice that of a typical drayage trucks average daily duty cycle. Toyota and Kenworth will deploy 10 trucks as part of the Zero and Near-Zero Emissions Freight Facilities Project (ZANZEFF), hauling cargo received at the Ports of Los Angeles and Long Beach, throughout the LA Basin. The background to this is years of complaints from Long Beach residents about hundred of diesel fume-belching trucks passing through their city daily to and from their very busy port and there has been a campaign to clean up heavy transport emissions. This is a good start.
Also worth an end-of-week read: Matthew Beecham's Lubricating electric vehicles – Q&A with Millers Oils and Glenn Brooks' look at how PSA Opel's latest Insignia is denying its segment trend with rising sales.
Have a nice weekend.
Graeme Roberts, Deputy Editor, just-auto.com