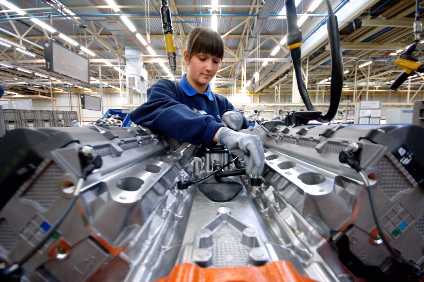 This was not a good week to be a worker in certain auto or engine making plants owned by GM, PSA or Ford in the UK and Spain. Especially for those of nervous disposition.
Not only did the possibility of a PSA takeover of GM Europe's loss-making European division Opel/Vauxhall continue to loom large (will there be an announcement on Monday, eve of Geneva show press days, guaranteed to be the talk of the day?), with attendant concerns over the future of the Ellesmere Port Astra assembly plant in England, there also was nervousness at PSA's smaller plant in Villaverde, Madrid, despite a bullish comment from a government minister about GM Zaragoza (home to a new PSA/GM joint development model) and PSA Vigo.
As usual with these big deals, reports are all over the place. Two days ago, comments made by GM CEO Mary Barra suggested a final deal announcement was not imminent; in the last 24 hours, it's been reported something could be trumpeted on Monday. Recalling how the Magna deal to buy Opel went down to the wire and then everything stopped, a few years ago, I think it's best wait 'n' see. Interesting for us in the meed-jah but no fun at all if you help build cars for GM or PSA and you're already having visions of an axe poised over your plant. The still-to-be-re-employed after the Bochum (GM) and Genk (Ford) closures of recent memory will surely sympathise.
On top of GM/PSA, news leaked out this week Ford may cut about 1,200 jobs at its Bridgend engine plant in Wales. As always, there are two sides to this story. One is the usual UNITE union demand for Ford to provide "cast iron" legal guarantees over the plant's long term future. The other is a BBC report, citing a leaked Ford document, which said the plant was under-performing in comparison to similar sites, including at the UK diesel engine factory in Dagenham, Essex, and that overtime levels at Bridgend were more than double Dagenham's rates, which adds 6% to the cost of the engines produced. It attributed this to absence, non-performance and work practices including paying staff allowances they are not entitled to and regular job rotation.
Over to you, Unite. There's more to it than that, of course, and we put in-house analyst Calum MacRae on the case, digging up a full background to the factory and considering what the future might hold. Speaking of the future, the UK's Brexit from the EU is never far away these days and there was a hint of further niggle from Nissan, over its Sunderland plant, but some good news came from JLR , whose moves to some Chinese production might have rattled its UK workers: their upcoming new model is going to be British-built. Clever historical twist in its name, too.
Back to the future again: Our Man in Brazil checked in this week with questions being asked about the outlook for loss-making car factories over there and we've been talking with Volvo about interior design.
Quick ad break before we roll the closing credits – with all this talk of car factories, you might like to peruse details of our exclusive research database PLDB which comprehensively covers vehicle production life and associated assembly plant allocation.
Have a nice weekend.
Graeme Roberts, Deputy Editor, just-auto.com