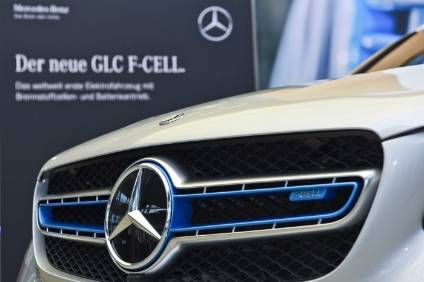 This week, Mercedes-Benz launched an electric vehicle featuring a hydrogen fuel cell and conventional plug-in hybrid electric vehicle (PHEV) battery technology. The first sales are to selected customers in Germany and the GLC F-Cell will be offered exclusively in the form of a full-service rental model. This will include all maintenance and possible repairs together with a comprehensive warranty package covering the entire rental period.
Mercedes launches 'GLC F-Cell' hydrogen/PHEV powertrain
Mercedes says the powertrain set-up for the vehicle is unique as it features both fuel cells and a battery drive which can be charged externally using plug-in technology. It will be interesting to see how the split in energy sourcing plays out. A report in the UK recently concluded that fleet buyers were attracted to the UK government grants available to subsidise PHEV purchase, but then usage was very heavily skewed towards the ICE unit, the plug-in charge leads sometimes not ever coming out of the wrapping.
The Chinese OEMs' ambitions expand well beyond the Chinese market. As the products improve (design, engineering, quality and reliability), they can start to eye the more demanding and mature markets in the West. The US, you might think, would be off the agenda given the current trade spat and tariffs between the US and China. Zotye is apparently undeterred – or maybe thinks things will be resolved by 2020 (let's hope so) – and has said it will sell an SUV in the US. It also says it will stick to its Chinese brand name. Good for Zotye, I say.
There is much speculation on how increased automation and robots are going to transform manufacturing generally and automotive will obviously be a part of that. Skoda has opened an 'automatic small parts warehouse' at the main plant in Mlada Boleslav. It says the high level of automation makes it possible to increase the efficiency of work processes in the plant's small parts logistics. Humans, your days are numbered.
Aston Martin this week said an extensive testing regime has started for its DBX SUV prototype. I'm just glad a good concept name has made it through to the production model. DBX it is.
Are Ford and VW on the brink of a deepening collaboration? An alliance? A full-on merger? Ford CEO Jim Hackett dampened down some of the speculation this week. OEM partnerships can be a 'delicate dance'.
Ford CEO cautious on VW relationship
My colleague and deputy editor Graeme Roberts was in Morocco this week to sample Citroen's flagship C5 Aircross SUV that will go on sale in Europe next year. It's made in France and also made in China and there are some intriguing differences between the two markets' specifications.
Citroen 'Europeanises' the C5 Aircross with new rear seats
We also interviewed Hyundai-Kia's design chief, Peter Schreyer, who had some interesting observations on how electrification and autonomous tech will impact design. Grille, what grille? Oh, you still want a grille…
Hyundai-Kia's design chief on CASE opportunities
Brexit reared its head this week and it was something of a rollercoaster ride. An 'outline agreement' on terms of exit and 'transition' was finally struck, but then the political side of things rapidly spun out of control in London. The agreement therefore faces considerable hurdles ahead, as does the UK's government. The agreement was, though, welcomed by the UK automotive sector and business in general as a positive step. A 'disorderly' or 'no-deal' Brexit is far from banished though.
BMW 'preparing for no-deal Brexit'
On the product front, a big SUV which also describes itself as a coupe is not to everyone's taste. But Audi, the king of niches, may just have found another one.
Has Audi created a new segment with the Q8?
And finally, I couldn't quite resist a pun opportunity with this header (well, we get our laughs where we can).
GAC cooks up new tie with Michelin
Have a good weekend.
Dave Leggett
Editor, just-auto