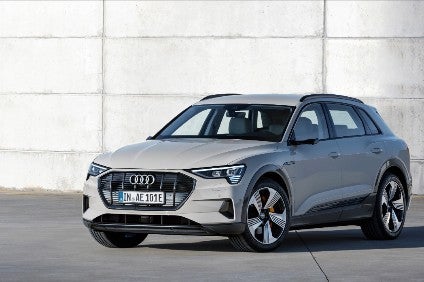 Blowing me own trumpet again – parp – my look at Mazda's excellent new 3 topped the analysis eyeball-attracting chart at just-auto this week. I have always held Mazda products in high regard (even owned one in a previous life) and this new 'un reinforced the belief while the pioneering compression ignition petrol engine – albeit with a little spark plug assistance therein – is still to come. Sadly, bad news also draws eyeballs and Ford's 7,000 white collar jobs axe topped the news chart. Read through the details and the reasons make sense but it's still hard for those affected.
Good news, though, after a spell of bad, from Tata Motors' Jaguar Land Rover. In a reversal of fortunes that surely will please the Indian owner, the automaker booked a pre-tax profit after three consecutive quarters of red ink. GBP120m of pre-tax earnings for the quarter to 31 March, 2019 came after GBP149m in redundancy costs and a GBP3.6bn loss for the full fiscal year to 31 March, due partly to a large writedown from the third quarter.
Hopefully coincidentally, JLR named a new CFO this week as well. Ken Gregor decided to step down on 1 June 2019 after 22 years with the business and had been CFO since June 2008 when Tata Motors acquired JLR from Ford. Adrian Mardell, chief transformation officer (CTO), will replace Gregor as CFO. Gregor will remain with the automaker until the end of August to support the handover of his responsibilities to Mardell who has, most recently, headed the Project Charge transformation programme.
Better news from Ford. It plans to produce new Lincoln models in China to save on costs and avoid local tariffs. "It's a huge, huge opportunity for Lincoln because we see China as Ground Zero for Lincoln given the size of the market and how well the brand has been received," CFO Bob Shanks said.
On the US tariffs, we had this comment article.
Will future models save sinking Renault Samsung? Last month, its deliveries numbering only 6,175 vehicles, Renault Samsung slid down the Korean sales chart even further, dropping to position seven behind Genesis. What will majority shareholder (80%) Groupe Renault do about its subsidiary's worrying decline? Our answers are worth a read. Pull up a coffee and enjoy.
Supplier news always interests just-auto readers. Borealis, which supplies polyolefins and base chemicals to the auto plastics industry, officially opened a new polypropylene (PP) compounding plant in Taylorsville, North Carolina, US. The 50,000 sq ft facility, with a rail siding in place, adds an initial 66m lbs of capacity to strengthen Borealis' and Borouge's global supply capability for thermoplastic olefin (TPO) and short glass fibre (SGF) compounds. Among the first compounds produced in the new facility are those used to make automotive interior and exterior parts for major OEM and various tier suppliers.
Meanwhile, Roechling Automotive has entered into an agreement with Japanese automotive supplier, Kasai Kogyo to sell its plant in Wolfsburg-Hattorf for an undisclosed price. The 13,000 square metre plant, built in 2001, produces door and side panels for automobiles.
An automotive interiors specialist is to collaborate with a materials supplier to replace the use of petrochemicals with natural polymers. Yanfeng Automotive Interiors (YFAI) and Prisma Renewable Composites have an agreement giving YFAI exclusive use of Prisma's lignin-based material to develop automotive interiors. Trademarked BioLAN is produced using lignin, a natural byproduct of the pulp and paper making process, which is essentially the 'glue' that surrounds the cell walls of living plants like trees and grasses. It contains a vast amount of the world's carbon and has the potential, if modified correctly, to replace many petrochemical-based products. In another previous life, I worked in plastics and I find this sort of development fascinating.
Highlight of my week was Thursday's annual SMMT Test Day. This is when the auto PRs bring at least six cars and we network and drive. Most, but not all were there again at Millbrook, complete with a special treat, examples of their heritage fleets. Between them, the various automakers and distributors harbour an extra ordinary number of beautifully preserved cars. I had a brief go in a gorgeous little rear engine Suzuki coupe I remember new and a colleague treated himself to a run in a very early Honda Civic, the extremely rare two-door with a Bmc Mini-style boot (trunk) instead of the hatchback I'm most familiar with. Great fun.
Of the new cars, my highlight was Audi's etron. It just felt right, straight from the box (we did not attend the launch) and was just as familiar as any Audi with the new interior details – such as central touch screen – introduced with the A8. Two hundred-plus miles of range should clinch many a deal and appears to have done just that with the GBP81,000-plus launch models being snapped up already. The regular model I drove is around GBP70,000. With this and the likes of the Mercedes EQ line to come, I think Tesla is in for a shake-up. Audi materials and build quality are in a different league and so, I hear, is the dealer experience. But Tesla owners are fiercely loyal, like Apple customers.
Let battle commence.
Have a nice weekend.
Graeme Roberts, Deputy Editor, just-auto.com