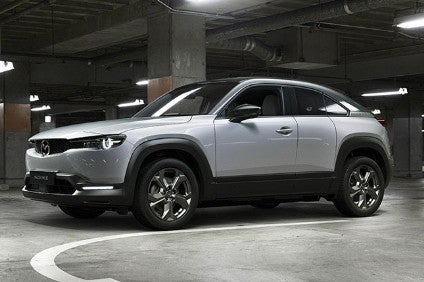 Our update on future Mazda models was a top read this week. The automaker – Toyo Kogyo as was – celebrates its 100th birthday this year and, while it won't be breaking any sales or profits records in 2020 (who will?), the firm is nonetheless in fairly good shape. Just as importantly, there is no one market upon which the company is reliant. As for future models, Mazda is well placed and looks set to continue a step by step move into premium brand territory. On the rare occasions, I get to actually try one, I am always impressed with build quality and interior materials and finish. Worth noting, too, our report from a year ago is still drawing interest.
Mitsubishi Motors last week announced a new far-reaching three-year business plan, referred to as 'Small but Beautiful', which reflects the harsh market conditions and challenges that have come about as a result of the COVID-19 global pandemic. The plan was announced along with the release of a predictably dismal set of financial results for the first quarter of the current fiscal year, the April-June 2020 period, which was easily at the low end of the range of what has been reported by other global car companies. We dug down deeper and concluded this new plan would bring MMC closer to Nissan. The company also announced plans to invest JPY8bn in its Mizushima Plant in Kurashiki city, Okayama Prefecture, for the production of a range of battery powered kei-cars (mini-cars). The investment will cover production facilities for battery packs and expansion of the stamping, welding and final assembly facilities which it will share with its Alliance partner. It will work closely with Nissan to tap into its electric vehicle expertise, share development and production costs, and maximise production volumes. Many Mitsubishi models produced in the ASEAN region will be badged Nissan and likely vice-versa. Nissan has already closed its two vehicle assembly plants in Indonesia and will rely mostly on Mitsubishi and its own plants in Thailand for its ASEAN product line-up. Mitsubishi is understood to be planning self charging hybrid versions of the next generation Xpander MPV and the Xpander Cross SUV in the second half of 2022, which will be produced at the company's plant in Indonesia. They will also be sold under the Nissan badge and exported to an expanding number of developing markets around the world, including in Asia, Africa and Latin America. The two brands will also share products and platforms in Thailand, including the next generation pickup trucks due to be launched in 2022 and replacements for the Mitsubishi Pajero and Nissan Terra in 2023. Mitsubishi also plans to launch a plug in hybrid version of its Outlander when the new compact SUV goes into production in Thailand in 2023 and Nissan-badged models are also expected.
New model launches, socially distanced, are gradually resuming (for some of us, anyway) and retro-cute looks and snazzy interiors are not normally what we associate with Hondas sold in the European region. In that context the new e is revolutionary stuff. Having held out against developing electric cars, Honda has suddenly given us arguably one of the best looking such vehicles yet, the opposite of all those worthy but derivative or oddball alternatives. The little e, which is about the same size as a Jazz/Fit, won't be for every region and there's a big reason for that. Namely, the range. Ah yes, we got the bad news out of the way first.
The first half of 2020 should have been a stand-out time for Aston Martin Lagonda, following the opening of a new factory and the arrival of the company's first SUV. Instead, sales took a dive in almost all markets, the share price collapsed and Andy Palmer was replaced as CEO. New boss Tobias Moers has much to do but at least in terms of future models, there is much in the works. Many are the sceptics who wonder how long Aston Martin can last as they point out the number of times the firm has been bankrupt.
Another change of guard at Ford this week. Jim Hackett, its president and CEO since 2017, plans to retire and will be replaced by Jim Farley, who will also join the board of directors, from 1 October. Hackett, 65, and Farley, 58, will work together on transition over the next two months. Under Hackett, Ford said, the automaker moved aggressively into the new era of smart vehicles and drove a deeper focus on customers' wants and needs. At the same time, he improved the fitness of the base business – restructuring operations, revamping the product line and reducing bureaucracy. It'll be interesting to see what the well seasoned Farley will do to follow on.
Geely seems to be working out for Volvo Cars. And Geely. This week, Volvo Car Group, including affiliates Lynk & Co and Polestar, said over 600,000 group vehicles based on the Compact Modular Architecture (CMA) platform, introduced in 2017, have been sold. The CMA platform, co-developed by Volvo Cars and Zhejiang Geely Holding (Geely), is a joint development, production and procurement project achieved since Geely's acquisition of Volvo Cars on 2 August 2010. The platform appeared in 2017 under the hugely popular Volvo XC40, and due to its modular design, was used for the Lynk & Co 01, 02, 03 and 05, as well as the pure-electric 2020 Polestar 2 and the XC40 Recharge P8 EV.
The third generation Volvo V60 was launched two years ago in its natural habitat – the driveway of a family home in Stockholm – drawing attention to the carmaker's pedigree in family estates. Continuing just-auto/AIC's review of interior design and technology trends, we took a closer look inside this spacious and safe mid size model.
Ford's Transit Custom plug-in hybrid van now comes with the option of geofencing technology to help improve urban air quality. Using live location data, the PHEV automatically switches to electric drive mode whenever entering predefined areas such as congestion and low-emission zones. The geofencing tech need not only apply to city centres: operators can also create 'green zones' to encourage low-emission driving near schools, playgrounds and warehouses. When the vehicle leaves a controlled zone, it automatically switches to the most appropriate drive mode for the next stage of its trip. Low-emission zones are increasingly common across Europe as a way for cities to better manage the environmental impact of vehicles in urban areas. In the first six months of the London Ultra Low Emission Zone (ULEZ), levels of nitrogen dioxide (NO2) – one of the most harmful pollutants from vehicles – were found to have been reduced by almost 30%.
Tesla reported a 103% year on year jump in revenues from its Chinese operations to US$1.4bn in the second quarter of 2020, to account for just over 23% of the company's global sales. The carmaker reported sales of US$3.09bn in the US in the second quarter, down 11.2% year on year, while other markets including Europe contributed US$1.55bn – down by over 29%. The company sold around 31,000 vehicles to customers in China in the second quarter, according to retail data released by the China Passenger Car Association, equivalent to more than one-third of its 90,000 global deliveries – helped by the launch of commercial production at its newly built plant in Shanghai at the end of 2019.
Have a nice weekend.
Graeme Roberts, Deputy Editor, just-auto.com