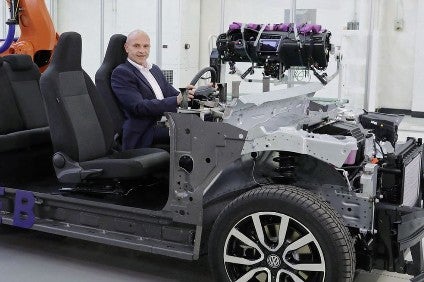 Canada's Magna will strengthen its ADAS product line by acquiring Sweden's Veoneer, spun off from Autoliv in 2018. Magna can supply a considerable proportion of a vehicle's components and also operates a contract assembly unit. Magna said Veoneer's complementary products and capability would "strengthen and broaden" its ADAS product line and industry position. The deal would add "significant engineering and software expertise, including in sensor perception and drive policy software." Under a definitive merger agreement, Magna would acquire all Veoneer shares for US$31.25 cash each, or $3.8bn. The merger would expand Magna's ADAS business with major customers and open access to new customers and regions, especially Asia. Magna would operate Veoneer's Arriver sensor perception and drive policy software platform as an independent business unit, as Veoneer does currently. Magna is also acquiring Veoneer's "leading global position in restraint control systems".
Ford Ion Park will be located in Romulus, Michigan, the automaker announced. It will be a battery and cell research and development centre with manufacturing to follow later. Ford Ion Park director Anand Sankaran said: "The new lab will help us speed up the battery development process to deliver even more capable, affordable batteries and is part of our renewed commitment to making Michigan a centerpiece of our focus on EVs." A new 'collaborative learning lab' will open in 2022. The Romulus facility will account for US$100m of the $185m the automaker is spending on developing, testing, and building vehicle battery cells and cell arrays. Ford in 2010 decided to focus on EVs in Michigan and selected Romulus "with collaboration and expedited tech sharing in mind". At Romulus, Ford will refurbish an existing 270,000 sq ft facility to house 200 engineers and pilot-scale equipment for electrode, cell and array design and manufacturing engineering and innovation. The lab will pilot new manufacturing techniques for breakthrough battery cell designs with novel materials as part of its plan to vertically integrate battery cells and batteries.
Lucid Motors has begun trading on the Nasdaq stock exchange as Lucid Group under the new ticker symbol LCID after completing a merger with Churchill Capital Corp IV. Lucid completed the previously announced merger on 23 July, 2021. The company said the transaction brings in $4.4bn which it will use to accelerate growth and increase manufacturing capacity to capitalise on expected demand.
General Motors and its Cruise robo-taxi subsidiary reportedly have filed a lawsuit to stop Ford from using the name BlueCruise to market its hands-free driving technology. GM said Ford use of the BlueCruise name infringed on GM's Super Cruise trademark, as well as Cruise's trademark. "While GM had hoped to resolve the trademark infringement matter with Ford amicably, we were left with no choice but to vigorously defend our brands and protect the equity our products and technology have earned over several years in the market," GM said. GM also said the automakers had held "protracted discussions" over the matter but failed to resolve the dispute. GM was claiming trademark infringement and unfair competition in the lawsuit and had asked the court for an order to prohibit Ford from using the BlueCruise name plus unspecified damages. Ford called the lawsuit, filed in federal court in California, "meritless and frivolous".
Geely-owned Volvo Cars has reported the best half-year results in terms of sales and operating profit in its 94-year history. The company achieved a revenue of 141 billion SEK, up 26 per cent, driven by strong demand and positive mix effects, with higher sales of electric cars, it said. Operating income was 13 billion SEK in the first six months of 2021, representing an operating margin of 9.4 per cent. Sales volumes rebounded 41 per cent compared to the pandemic-affected period in 2020, but the company also saw strong growth of 12 per cent compared to the first six months of 2019, a more relevant comparison without the pandemic disruption. The 12-month rolling sales volume is approximately 775,000 cars, just shy of the 800,000 target set 10 years ago. Volvo said the appeal of ITS electric cars was demonstrated in the first half by the demand for its Recharge models. Sales of both its fully electric and plug-in hybrid cars grew significantly, now making up 25 per cent of the global volume. This is the highest electrification share as a proportion of total sales among traditional car makers, the company maintains. As part of the move towards full electrification, Volvo has launched its second fully electric model, the Volvo C40 Recharge.
Ford has raised its 2021 profit outlook after posting stronger-than-expected financial results in the second quarter as volume soared in North America versus year-ago levels. The company reported an operating profit (adjusted EBIT) for the second quarter of $1.1bn, which compares with a loss of $1.9bn in the same quarter of last year. Ford raised its anticipated full-year 2021 adjusted EBIT and adjusted free cash flow, respectively, to between $9 billion and $10 billion (up by $3.5bn) and between $4 billion and $5 billion. It also said it is managing through semiconductor supply shortages. Ford had previously said it expected to lose about 50% of its planned second quarter production, which would have resulted in a loss in the period. In fact, Ford said it did better than expected, leveraging strong demand to optimize revenue and profits through lower incentives and a favourable mix of vehicles, to generate the operating profit of $1.1bn. As demand recovery accelerated in the US, Ford's auto business in North America delivered positive EBIT in the quarter on a year-over-year increase of $1.1 billion. Exiting the second quarter, the combined U.S. customer-sold retail order bank for vehicles was seven times larger than at the same point in 2020. The business is "spring loaded" for a rebound when semiconductor supplies stabilize and more closely match demand and overall volume is expected to increase by about 30% sequentially from the first to the second half of the year, driving an improvement in market factors net of production costs.
Visteon has posted a second-quarter net loss of US$11m, while net sales rose 59% to US$610m. The supplier won US$3.2bn in new business during the first half of the year. This included a US$640m second-quarter expansion of a previously awarded digital cluster programme, bringing total lifetime value for that programme to US$1.5bn.
Denso has posted first-quarter revenue up 77.3% to US$12.3bn, with consolidated profit attributable to owners of the parent company, totalling US$808m. "Revenue increased due to recovery of vehicle sales and production against COVID-19 from the previous year," said senior executive officer, Yasushi Matsui. "Operating income increased due to higher production volume and profit improvements created by corporate reform from the previous year. Although it is difficult to project how the business environment might change due to factors like COVID-19 and semiconductor supply, we have achieved a favourable result in our first quarter and raised our full-year forecast." Revenue and operating income increased in all areas due to recovery in vehicle sales and production.
Volkswagen Group has posted record first half earnings, driven by strong Audi and Porsche sales. The company lifted its profit margin outlook for the year, saying it expects an operating return on sales of 6.0-7.5%, versus 5.5-7% previously. First half operating profit reached record EUR11.4bn (previous EUR10bn record posted in pre-pandemic 2019) and VW said the impacts of the Covid-19 pandemic and global shortage of semiconductors were 'successfully contained'. VW said the record operating profit was driven in particular by Audi and Porsche and by Volkswagen Financial Services. H1 deliveries increased by 27.9 percent to 5.0 (3.9) million vehicles over the weaker prior-year period, which was impacted by the pandemic. Sales revenue even rose more strongly by 34.9 percent to EUR 129.7 (96.1) billion. Higher earnings were mainly due to increased vehicle sales, improvements in the product mix and prices as well as positive effects from the valuation of raw material hedges. One-off restructuring expenses of EUR 0.7 billion had a negative impact. VW said Audi and Porsche posted record deliveries for the first half of the year and a double-digit operating return on sales of 10.7 and 17.6 percent, respectively. Due to increased vehicle sales and stronger demand for higher-margin models, group sales revenue rose significantly by 34.9 percent to EUR 129.7 (96.1) billion. A total of 171,000 all-electric vehicles (BEVs) were delivered worldwide by the end of June, more than twice as many as in the prior-year period (+165 percent). After 60,000 BEVs were delivered to customers in the first quarter, that figure increased significantly as planned to 111,000 BEVs in the second quarter. The share of vehicles based on the Modular Electric Drive Toolkit (MEB) relative to all BEVs was already over 60 percent in the second quarter. The BEV ramp up will accelerate further in the course of the year due to the expanded model range. The Group has also systematically ex-panded its portfolio of models with a plug-in hybrid drive (PHEV) – and there is high customer demand for them: 171,000 PHEVs were delivered in the first half of the year, more than three times the figure in the prior-year period (+204 percent). In a cautious note, VW said the risk of bottlenecks and disruption in the supply of semiconductor components has intensified throughout the industry and it expects adverse impacts "will tend to affect the second half of the year."
Have a nice weekend.
Graeme Roberts, Deputy Editor, just-auto.com