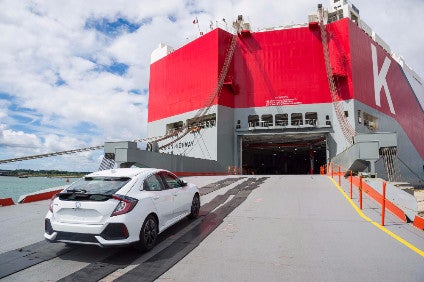 M&A, 'restructuring' and plant news dominated a busy week which is (TGIF) drawing to a welcome close. May as well start with Ford.
Europe has long been an unhappy hunting ground for the blue oval which, despite fielding an apparently acceptable product line often in or close to the top of the sales charts, has failed to provide profit, if any, in sufficient quantity year after year. During the thick end of two decades, the axe has fallen on Dagenham car and Southampton van assembly here in England and a Mondeo plant in Belgium and is currently, amid much dispute, being wielded over a transmission factory in France. Even where the doors are staying open, for now, jobs are at risk – around 5,000 in Germany and a reported 1,150 in England are currently on the block.
Now, as a UK tabloid would begin the headline, the big Russian experiment seems to have failed. After initially going it alone when the Big Rush into Russia was on early in the 2000s, Ford later teamed up with local automaker Sollers, which was once heavily involved with Fiat, and the Ford plants were folded into a joint venture turning out a range of cars and Transit commercials. Sadly, it hasn't worked out and this week Ford Sollers confirmed the closure of three passenger car assembly and engine plants as part of (yet another regional) restructuring which would refocus the venture on the Transit light commercial vehicle model line. The joint venture would stop selling passenger vehicles in Russia and concentrate on the Transit which is the best selling non-domestic commercial vehicle model. This would "help deliver a more competitive and sustainably profitable business going forward and support the company's commitment to exit less profitable segments", the automaker said. The 50-50 Sollers JV dates back to 2011 and currently manufactures seven models. There is capacity for 360,000 vehicles a year but the venture sold only 53,234 vehicles in Russia last year, up 5.7% from 2017 but well behind the 12.8% growth in Russia's overall car market, while market share fell to 3% from 3.8% in 2013. So bye-bye even more jobs. A little good news from Ford ops in South Africa, though.
On the other hand, doomed Honda jobs, also in England, may be saved by BMW. After all the anti-Brexit huffing and puffing in Geneva last month, Munich's finest now apparently sees opportunity in a well-maintained, soup-to-nuts, one owner, low mileage assembly plant conveniently located near its current Plant Swindon (nee Pressed Steel) panel-bashing operation and only a short truck ride from Plant Oxford (Mini assembly) and the engine machining assembly factory on a former power station site at Ham's Hall, just a bit outside Birmingham. What remains of England's Midlands region parts making operations are also within easy reach. The deal – can you hear the sound of industrial estate agents' [realtors] hands rubbing in glee? – makes a lot of sense. Mini capacity is restrained at Oxford and it's far easier to expand output in the same country than farm it out to contractors in Austria or, more recently, the Netherlands. The Honda plant is only around two decades old, presses panels and assembles engines as well as builds cars, a well-trained workforce is to hand, a supply chain is in place (so that's logistics sorted) and there'd be widespread civic (think national and local subsidies) and educational institute (worker training) support for anyone willing to keep the factory doors open in a town previously clobbered some decades ago by the winding-down of its once famous rail industry.
There's delicious, and sad, irony here, too. Honda product helped keep Austin Rover (or whatever it was called that week) going when a variant of the Ballade/Civic saloon went into production as the Triumph Acclaim, late in the 1970s. That led to model and production sharing (Honda Legend/Rover 800 made in both Japan and England; various Hondas made also as Rovers) and the start of Swindon as, first, a pre-delivery centre for UK-built cars, and then engine maker and, ultimately car assembler, building the Honda variants of some models shared with Rover. Many expected that to lead to some sort of Honda-Rover merger but political chicanery and other factors ended up with BMW buying Rover instead, eventually abandoning what was soon dubbed its 'English Patient', MG Rover finally going bust and Honda going it alone with a constantly changing policy of what it should build at Swindon and which markets for? Now, it too, is retreating from English manufacturing and its former Rover suitor rival is apparently swooping in to nab the plant.
In M&A, we learned Fiat Chrysler Automobiles (FCA) chairman and Fiat family investor group chief John Elkann is making a push for a tie-up with another car company, with PSA leading the field of possible partners. Elkann reportedly has been in talks with Peugeot and other car companies. Daimler struck a deal with Geely for a 50:50 joint venture based in China to develop and operate the Smart brand globally as an all-electric carmaker. From 2022 onwards all Smart models for all markets will be produced in China. Until then, the Hambach plant in France will continue to make Smart cars; after that date it is repurposed to make a compact electric car for the Mercedes EQ brand. Meanwhile, ZF, which gobbled up TRW a while back, will soon swallow Wabco to "form a leading global integrated mobility systems provider for commercial vehicles, creating added value for ZF's commercial vehicle customers. The combined company will have sales of approximately EUR40bn. Wabco makes braking control systems for commercial vehicles, stability control, air suspension, transmission automation controls and other products so should be a good fit.
Our analysts have also had a busy week – poking around inside Daimler's latest Mercedes C-Class, and putting both Hyundai and its premium brand Genesis under the 'what's next' microscope. What a week.
Have a nice weekend.
Graeme Roberts, Deputy Editor, just-auto.com