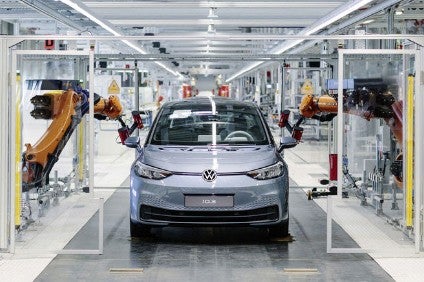 Another three weeks of lockdown was last night confirmed for the UK which is said to be some two weeks behind hard hit Italy in the coronavirus pandemic. That country is now slowly loosening some restrictions (bookshops and children's clothing stores may reopen; lockdown otherwise continues into May). But there were glimmers of the start of a slow return to auto production in the news this week.
Volkswagen detailed a "step by step" resumption of passenger car production starting with Zwickau and Bratislava from 20 April and other German, Portugal, Spain, Russia, South Africa, North and South America plants from 27 April. May would see production resumed in South Africa, Argentina, Brazil and Mexico. Short time working would continue at plants in Germany but the number of employees affected would be successively reduced in line with the resumption of production. Production would be resumed in line with the current availability of parts, government requirements in Germany and Europe, the development of sales markets and the resulting modes of operation of the plants. Irrespective of these developments, compliance with the stringent health protection measures for employees will be top priority. Components operations had already started to resume production at plants in Brunswick and Kassel from 6 April, followed by plants in Salzgitter, Chemnitz and Hanover, as well as the Polish plants, from 14 April, to safeguard component supplies for vehicle production in China. Ironically, we have heard reports of industry-wide issues in China with the supply of parts from outside the country which may well explain VW's 'parts first' move.
Our daily update of COVID-19 news and comment continues, of course, but so do our analysis articles. This week, we took a look at how the virus might affect future Kia models. Will the expected sharp fall in Q1 profit delay its relentless roll out of ever more cars and SUVs? To an extent, yes, although that has already happened due to many factories being offline. The US and European downturns are now severe but fortunately South Korea and China are on the up, so planned vehicle programmes will probably continue, albeit delayed in some cases.
Auto companies are rising to the challenge of building vital medical and PPE supplies in the fight against COVID-19. The world is facing a severe shortage of medical equipment as it tackles the novel coronavirus. Existing suppliers only turn out a fraction of the supply needed to combat the virus, so the world is turning to existing large-scale manufacturers to make up the deficit. As our parent GlobalData has noted previously, automotive companies – especially component suppliers – are well placed to pivot to producing medical supplies.
Our Man in Brazil checked in with first quarter results. Responsible for 4.5% of Brazil's GNP, the auto industry is one of the economy's most vulnerable sectors in this Covid-19 epidemic. There were two very distinct halves to March. Following the two first weeks of healthy activity in the domestic market and robust, 9% growth for the year, the steady slowdown of retail trade and auto factories in the second half cut almost 90% of the sector's activity. Social isolation measures led to the closing of 67 auto manufacturing plants countrywide. A date to gradually resume retail trade and industry work in the state of Sao Paulo was set for 22 April but chances are high this won't happen [Toyota Motor has since said it was suspending vehicle production at its Brazil plants until at least 22 June, joining General Motors which also expects to resume production in the same month]. In all of March, cars and light commercials plunge fell 21% year on year for production, registrations and exports compared to 18% for registrations and exports and 7% for production in February. It is so serious a situation that neither Anfavea nor dealers' representative Fenabrave (NADA equivalent in US) will make any prediction for the full year now. Sector specialised consultancies talk of a minimum 33% plunge in sales of light and heavy vehicles sales depending on government action, the resulting financial situation and buyer confidence. Some consultants say above 40%.
Passenger car sales in the European Union (EU) in March – the UK no longer included – plunged 55.1% year on year as a result of the COVID-19 outbreak, the European Automobile Manufacturers Association (ACEA) said. "With containment/lockdown measures taking hold in most markets from around the middle of the month, the vast majority of European dealerships were closed during the second half of March. Consequently, demand across the region fell by more than half last month, dropping from 1,264,569 units registered in March 2019 to 567,308 units," ACEA said. One of our analysts went in for a deep dive – how about Volvo ahead of Fiat and Kia emulating recent US results and outselling parent Hyundai? Far more Porsches were sold in March than Jeeps – the Germans drew a curtain over March but the first quarter wasn't as bad as you might expect.
Coronavirus will have a far reaching effect on the world as we slowly emerge. One thing that came to another of analyst's mind this week – car sharing in a post-COVID-19 world where, till there's a vaccine, much care will still be required.
The nascent sharing economy will have to work out how to ramp up its hygiene practices in a post-COVID world. Ride hailing services such as Uber or Didi Chuxing, or car sharing schemes including Share Now and Zipcar face a rapidly changing operating environment in the shadow of the pandemic. Both consumers and operators are likely to now have significantly increased expectations of hygiene compared to before the outbreak. The companies that can reassure customers that they've taken sufficient steps to ensure their health while using their services will probably pull out a quick lead over any rivals that attempt to return to business as normal.
Ford has let us know it expects to see a $650m loss for the first quarter. It's a big number, but there's no great surprise there. Ford wasn't exactly in great shape before the crisis hit. Ford posted disappointing fourth quarter results that included a loss that virtually wiped out its profit for 2019. Higher warranty costs and expensive investments in advanced technologies were a drag on its bottom line, even as the top line came under pressure from softening demand in major markets. Indeed, CEO Jim Hackett had acknowledged operational shortfalls. That is behind this week's announced reorganisation, the result of a 10-week deep dive led by COO Jim Farley, aimed at sharpening the focus on product and launch execution; fully leveraging smart, connected vehicles and big data to better serve customers; improving quality and lowering costs; and creating a dedicated commercial vehicle business in the US and Canada.
Talk of production restarts is encouraging but, China apart, even in the European countries where lockdowns are being eased, most dealerships are shut so demand ain't going to be there until ways are found to reopen business safely. We're hearing suggestions of centre seats blocked off on aircraft, restaurant servers in masks and gloves. The gradual return to 'normal' life will be anything but 'normal' and some things may change forever. Anyone else not loving the clean air and lack of traffic? But we have to have the jobs back. Mindful of this, the ACEA this week set out four guiding principles for a successful re-launch of the auto industry, which, it said, would be vital to the wider economic recovery of the continent. That can't come soon enough, but we can't risk re-opening too early and just encouraging that pesky virus to surge again. We've already lost too many people. Patience is the watchword.
Stay safe and have a good weekend.
Graeme Roberts, Deputy Editor, just-auto.com