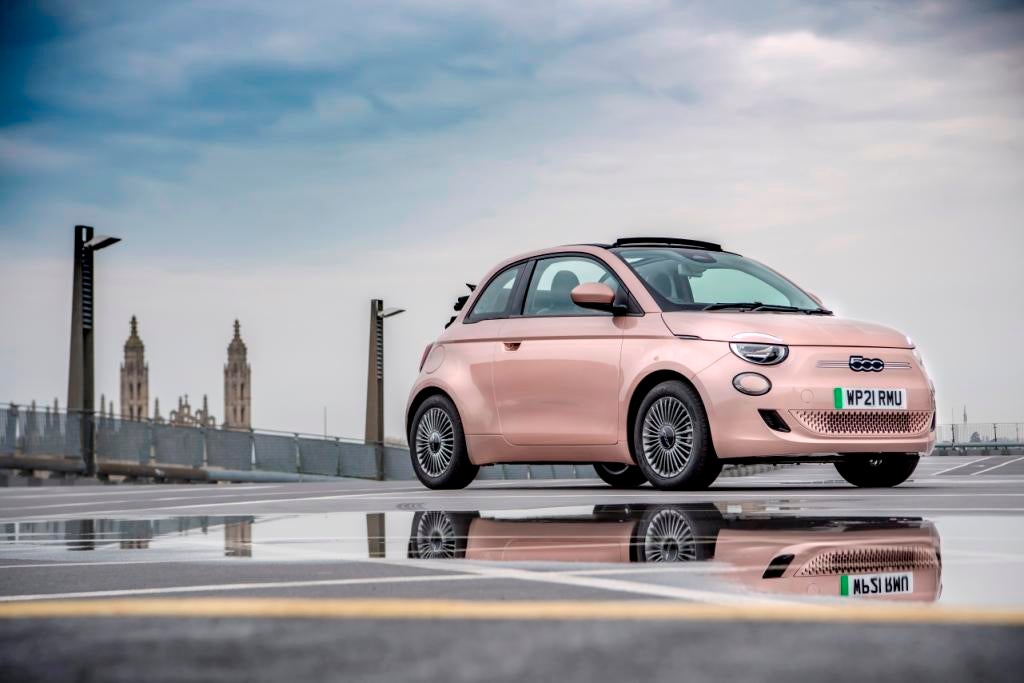 When FCA revealed the new Fiat 500 last July, some wondered what sort of future there could be for the little EV 's bespoke platform, should a merger with PSA go ahead. Now, Stellantis appears to see this architecture as the key to giving other group brands a continued, profitable and perhaps expanded presence in the A segment.  The new Cinquecento takes Fiat into a segment where only a few other OEMs have ventured: electric city cars. The Volkswagen Group has been there for some years yet there is the strong suspicion that the E-up isn't much of a money spinner. Why else would the supply of its Seat Mii Electric brother remain restricted, not to mention Skoda 's Citigoe iV equivalent having been taken out of production after fewer than 12 months? Fiat just launched the 'lecky 500 here in England and one of us went to Cambridge for a steer.
Our new model futurist is like rust, he never sleeps. Hence the constant stream of look-ahead model analysis for which just-auto is well known. Over the coming weeks, upcoming model plans for Alpine , Dacia-Lada, Mitsubishi , Infiniti , Venucia and Nissan will be examined as part of a deep dive into what's expected later in the 2020s for the Renault -Nissan-Mitsubishi Alliance . First though, this new series began with a look at Renault and Renault-Samsung's passenger vehicles.
Following right along from that: If you're Renault, what do you do next with a marque which has a rallying heritage as well as former and current endurance racing and Formula 1 involvement? Try making it a brand in its own right with one high priced retro-style sports car which sells in admirable numbers. Then what do you? The marque in question being Alpine, you make a plan that involves electric SUVs and yes, thankfully, a new sports car too.
Ford Europe chief Stuart Rowley has written an open letter to the trade ministers of a number of EU states to express concerns over trade arrangements between Europe and other parts of the world, with a particular focus on Mexico – where Ford makes the Mustang Mach-E which is now being launched in Europe. Under current trade arrangements finished vehicles imported to the EU bloc and not covered by any other bilateral trade agreement attract a 10% tariff. Rowley said in his letter that he wants to see a proactive European trade policy and believes there is "much we can improve".
Mercedes-Benz said it was the first car manufacturer to take an equity stake in Swedish start-up H2 Green Steel (H2GS) as a way to introduce CO2 free steel into series production. Together with its steel suppliers, Mercedes said it was retooling its supply chain to focus on the prevention and reduction of CO2 emissions rather than compensation. The partnership with HSGS was another step towards CO2 neutrality, which Mercedes-Benz was pursuing as part of Ambition 2039, its goal to achieve a fully connected and CO2 neutral vehicle fleet in 2039 – 11 years earlier than the EU legislation requires.
In-house GlobalData research: April's light vehicle sales have now been reported for all global markets. They show a 83.4% year-on-year increase, which was not unexpected due to the impact COVID-19 had on the prior year's sales. Due to this, all major regions contributed high double figure gains in the month. Given the mostly meaningless year-on-year comparisons at present Saar provides a better view of market activity. From this viewpoint, April can be seen as a largely positive month. The SAAR came in at 88.4m. Together with March's stronger result April showed global markets were back on track. Don't be too surprised if the market ends up closer to 2019 than many currently forecast. An index of SAAR, shows that West Europe is furthest removed from the January 2018 base, while the US market has undergone the shallowest impact from COVID-19.
Zero-emission electric vehicles and advanced connectivity based on new electrical architecture and battery technology are key to the Ford+ growth plan detailed to analysts in a virtual meeting this week. The automaker is also claiming Ford Pro makes it the first auto manufacturer with a fully dedicated commercial vehicle services and distribution business. Ford is breaking away from the transactional, build-and-sell business model that has typified the auto industry for decades and Ford+ is characterised by close, enduring customer relationships. Blue Oval Intelligence is the automaker's new, cloud-based platform for integrating electrical, power distribution, computing and software systems in connected vehicles. The company expects 40% of its global vehicle volume will be fully electric by 2030 with products including the Mustang Mach-E (Ford claims a 70% conquest rate), the F-150 Lightning pickup truck now on pre-order with 70,000 reservations and E-Transit commercial vans, out later this year. Ford is investing in battery technology to design, engineer and manufacture its own batteries, with key developments including Ion Park, vertically integrating battery technology with an extensive range of EV batteries – IonBoost lithium ion; IonBoost Pro lithium iron phosphate for commercial vehicles; and long-range, low-cost solid-state batteries based on in-house engineering and know-how from Solid Power, in which the company holds an equity stake, and forming a joint venture, BlueOvalSK, with SK Innovation to manufacture battery cells and arrays at two plants in the US. Ford Pro is a global vehicle services and distribution business within Ford devoted to commercial and government customers.
Mitsubishi Motors said it plans to cut production at five plants across Asia in June due to the ongoing global shortage of semiconductors, according to local reports. The Japanese automaker said it will reduce output by 30,000 vehicles next month, split between plants in Japan, Thailand and Indonesia. A company spokesperson said the cuts have already been factored into its earnings forecasts for the current fiscal year.
Chinese state-owned carmaker Chongqing Changan Automobile has set up a new joint venture with local electric vehicle (EV) battery manufacturer Contemporary Amperex Technology (CATL) and mobile telecommunications giant Huawei Technologies, according to a recent statement to the Shenzhen Stock Exchange. The new company, called Avatar Technology, will operate as an independent company producing high-end smart EVs based on a jointly developed CHN architecture. The vehicles will use electronic systems including semiconductors developed by Huawei and batteries made by CATL. The new joint venture is expected to help Changan, which is seen as a late comer in the electric vehicle segment, compete with a growing number of premium EV brands and models entering the Chinese market including dedicated EV manufacturers such as NIO , XPeng and Tesla as well as from existing vehicle manufacturers such as SAIC Motor , FAW Group, Volkswagen and General Motors .
Production of fifth-generation high-voltage batteries and battery modules for use in various BMWs is now under way at the automaker's dedicated factory in Dingolfing. Bmw is also increasing production capacity for its fifth-generation electric motor, which has been built in Dingolfing since 2020. The group is spending EUR500m expanding capacity for e-drives at Dingolfing between 2020 and 2022. From 2022, it will produce e-drives for 0.5m electrified vehicles. The group is also spending EUR790m boosting capacity for electric powertrain components at Dingolfing, Leipzig, Regensburg and Steyr between 2020 and 2022.
Once the preserve of passengers lounging in high-end, premium vehicles, rear-seat entertainment (RSE) technology has undergone a tentative journey over the last 10 years and is only now about to explode, a software supplier said. Screen size and resolution are obvious enhancements to the in-vehicle experience but, according to VNC Automotive , the gradual move towards advanced levels of autonomous functionality is set to herald the biggest shift yet in the way the technology is integrated and utilised. Some of the steps could even make physical screen technology redundant.
Carlos Ghosn, the fugitive former Nissan Alliance automotive executive, has been ordered to repay GBP4.3m to Nissan and Mitsubishi by a Dutch court after he failed in the first step in a legal claim. The Guardian said Ghosn had asked an Amsterdam court to overturn his sacking after his initial arrest by a Dutch company that formed part of the alliance. Ghosn claimed that he was wrongfully dismissed by a joint venture, Nissan-Mitsubishi BV (NMBV), and that he was therefore owed EUR15m (GBP13m) in compensation because of lost wages and severance payments. However, the court found that Ghosn did not have a valid contract with the company, and said he must repay nearly EUR5m in salary he received during 2018.
Nissan Motor will standardise and share electric-vehicle components with alliance partner Renault, the Japanese company's COO said, describing electrification to Reuters as the partnership's new lynchpin. The Franco-Japanese alliance, which also includes Mitsubishi Motors, was strained in the aftermath of the arrest and ouster of former chairman Carlos Ghosn. Since then, the coronavirus pandemic has provided an impetus to rebuild the collaboration, and the companies have looked to standardise parts and platforms to cut costs, Reuters noted. Nissan has already been sharing common platforms, powertrains and components with Renault and Mitsubishi, but those efforts have "reached the maximum we should do," Ashwani Gupta, Nissan's COO, told Reuters in an interview.
Daimler Truck has hosted its inaugural Strategy Day, setting out its ambitions as an independent company. The management board headed by CEO Martin Daum presented strategic objectives, key financial targets and technological goals. The unit is targeting benchmark margins in each region, and an overall double-digit operating margin for the new group by 2025, in a scenario with strong market conditions. There's also an ambitious technology roadmap for both battery (BEV) and fuel-cell electric vehicles (FCEV), with up to 60% of sales ZEV by 2030. Multiple new technology partnerships announced: Advanced battery development with CATL, high speed charging with Power Electronics , Siemens and Engie and a 1200km 'hydrogen corridor' in Northern Europe with Shell. Daimler said the separation and stock market listing for Daimler Truck is on track; completion is expected by year end 2021.
Have a nice weekend.
Graeme Roberts, Deputy Editor, just-auto.com