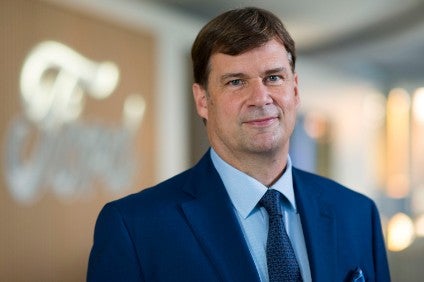 Future models always-r-us and, this week, Tata Motors' Land Rover went under the microscope. Land Rover's strategy of expanding three vehicle families – Defender, Discovery and Range Rover lines – continues, with the early 2020s looking like a busy time for the brand. More plug-in hybrids are arriving, full electrification is coming, buying in engines from Ford is ending, and a new platform arrives next year.
The postponed Beijing show went ahead. Following two media days and two trade days, it opened to the on 30 September. We have a list of world premieres.
As negotiations continue between the UK government and EU Commission over trade arrangements following the end of the Brexit transition period, a letter from the UK's chief negotiator to the UK's auto industry could signal trouble ahead over rules of origin and their application to car components in UK manufactured vehicles. According to a BBC report, the letter from the UK chief negotiator Lord David Frost implies that car parts from Japan and Turkey fitted to UK made vehicles could mean the resultant finished vehicles would not be treated as British, even if a free trade deal between the UK and EU is signed before the end of the year. In the letter, Lord Frost says the UK has failed to get the car parts deal it wants and 'cannot insist on it'.
Jim Farley, who succeeded Jim Hackett as Ford's president and CEO on 1 October, outlined key goals and organisational changes during a virtual town hall meeting with the company's global team. Farley said Ford plans to move with urgency to turn around its automotive operations – improving quality, reducing costs and accelerating the restructuring of underperforming businesses. John Lawler became CFO on Thursday, overseeing the finance and Ford Motor Credit organisations. Lawler succeeded Tim Stone, who has accepted a position as chief operating officer and chief financial officer at ASAPP, a research-driven, artificial-intelligence software company.
Fiat Chrysler Automobiles and Peugeot SA have announced the composition of the board of directors of Stellantis, the new company that will result from the combination of their respective businesses. The board will have 11 members, the majority of the non-executive appointees being independent. "The independent board members are drawn from diverse professional backgrounds and will bring with them significant relevant perspectives and experience, in line with the dynamic and innovative spirit that characterises the creation of this new enterprise," the automakers said in a statement.
This will be a new entrant to watch: Lynk & Co has confirmed plans for a brand launch in selected European cities during the fourth quarter. Initially, only the 01 will be offered, with customers able to share their car via a digital key. The 4.5 m long crossover will be available in seven European markets as a hybrid and a plug-in hybrid. There will be a single trim level and only two colours: blue or black. The division's car sharing option, which costs "up to" EUR500 per month, can be agreed either online or in person at a so-called Lynk & Co 'club'. These won't be dealerships but rather places where customers can meet one another and attend events. The first two clubs will open in Amsterdam and Gothenburg later this year. The membership, which can be cancelled with a month's notice, includes insurance, servicing and access to a car sharing platform. As an alternative, there is a free membership option which is for those who want to pay only when they borrow a car.
It is reported that Uber is in talks to acquire FreeNow, the BMW-Daimler combine which is a competitor in Europe and South America to Uber's services. FreeNow was born in early 2019, when BMW and Daimler merged their car sharing and ride hailing units. The merger was born of the two's realisation that greater scale was required if the new mobility business was ever to contribute a return on investment. Since forming, the car-sharing arm, Share Now, has already announced its withdrawal from North America, Brussels, London and Florence due to high costs and low take-up. Like all new mobility providers FreeNow has struggled during the Covid-19 pandemic, with BMW and Daimler reportedly touting the business for new investment. Now Uber is reportedly in talks to ride to the rescue.
Some good news for Nissan for once: it expects to be profitable in 2021 if its current sales momentum continues, chief executive officer Makoto Uchida told reporters at the Beijing International Automotive Exhibition. Uchida noted Nissan was beginning to recover thanks in large part to a strong sales rebound in China. After declining by 42% in the first quarter of 2020 due to the COVID-19 pandemic, the overall Chinese vehicle market has grown strongly in the last five month and Nissan expects this recovery to continue.
Huge seachange for Honda Motor (especially if you have ever endured a Tokyo rush hour commuter train): the automaker is introducing work from home allowances and rearranging its office spaces in the latest sign that large Japanese companies confronting COVID-19 are making gradual but permanent revisions to their corporate cultures. "After experiencing teleworking at home, we realised it is possible to implement a new kind of work style we had never imagined," Asako Suzuki, Honda's head of human resources and corporate governance, said. "It has become apparent that we were spending more time commuting and in meetings than was needed. [The pandemic and subsequent telework boom] made us reconsider our workflow from scratch."
Not so good news at Mitsubishi: it is said to be planning to offer early retirement to some 500 to 600 workers in mid November as part of plans to cut costs and restructure its operations. The company is said to be planning to offer early retirement to staff over the age of 45, including white collar staff at its Tokyo headquarters and workers at its factories in Aichi and Okayama prefectures. Its total workforce at the end of March was around 14,000 people.
Driver monitoring for fatigue and distraction has become a major focus of automotive safety regulators and governments worldwide. This trend looks set to continue in SAE level 2 (partial) and 3 (conditional) semi-autonomous vehicles. If and when cars appear on the road in a highly automated mode, driver monitoring will become even more significant. Continuing just-auto/AIC's series of research snapshots, we assess the current state of play with driver monitoring systems and some regulatory forces driving them.
Have a nice weekend.
Graeme Roberts, Deputy Editor, just-auto.com