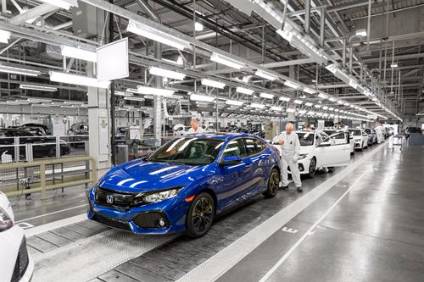 Easter has come around again – traditionally a time to try and remember where we left the mower and barbecue at the end of last summer but, as you may have heard, we already had our two days of summer early this year and week. So, what tickled just-auto readers' fancy this week?
Lancia CEO, Luca Napolitano, has announced the reorganisation of the Lancia brand with immediate effect. "We were looking for a team of professionals to build the future of the Lancia brand, leveraging on a huge potential of passion, commitment and vision," said Napolitano. Paolo Loiotile has been appointed responsible for Lancia products. Yann Chabert has been appointed responsible for marketing & communication. Erica Valeria Ferraioli has been appointed responsible for pricing of Lancia & Alfa Romeo, directly reporting to Napolitano and to Jean-Philippe Imparato, Alfa Romeo CEO. Roberta Zerbi has been appointed responsible for Lancia & Alfa Romeo Europe, reporting hierarchically to Maxime Picat, Enlarged Europe COO and functionally to Napolitano and Imparato.
Vehicle markets ready to soar. The proclamation in a headline this week will seem incongruous to many coming just after the European manufacturers' trade body, ACEA, has reported that European car sales fell 20% in February. However, the COVID-19 ravaged sales months of March and April 2020 will soon come into play and will bring some headline grabbing figures when year-on-year comparisons are made. Aided by a triple digit percentage year-on-year rise in China's light vehicle sales, global sales rebounded by some 16.2% in the month just passed. February marked China's 11th consecutive year-on-year increase with sales surging by a remarkable, but not wholly unexpected, 429% due to comparison with last year's market nadir.
Honda of the UK Manufacturing has entered into a contract for sale of its Swindon site. Originally purchased by the Japanese car manufacturer in 1985 (for a predelivery operation and later engine plant), the site will be sold to Panattoni, Europe's largest developer of new build industrial and logistics facilities. In 2019, Honda Motor announced a restructuring of its global automobile manufacturing operations, which included the cessation of production at the UK plant in July 2021, at the end of the current model cycle of the Civic Hatchback. Following the closure announcement, Honda committed to leaving the site in a responsible way, with a sustainable legacy for Swindon. Jason Smith, director at Honda of the UK Manufacturing, said: "We are pleased to have identified a capable new owner of the site. From our engagement with Panattoni and initial discussions with Swindon Borough Council, we are confident that the new owner can bring the development forward in a commercially timely fashion and generate exciting prospects for Swindon and the wider community." Following the end of production on 30 July 2021, Honda will immediately commence decommissioning of the Swindon site. The site is anticipated to be legally handed over in Spring 2022, and once the necessary consents have been obtained, Panattoni will start regeneration and redevelopment shortly thereafter.
It'll be interesting to see what Panattoni does with it. Cowley (the former Morris bit west of the Oxford bypass) is now a business park, Canley (Standard-Triumph) is a retail park, Banner Lane (Massey Ferguson) is housing, Stoke (Humber/PSA) is a mix of housing and business (including Stellantis' UK HQ), Longbridge (MG Rover) continues its transformation into housing, hotel, tertiary education and retail, Browns Lane (Jaguar) is a mix of housing and industry and Ryton (Rootes/PSA) is now a giant business park called ProLogis on the A45 east of Coventry. Two former Vauxhall sites in Luton are being redone for mixed use (old factory) and business park (former head office), respectively. Swindon's proximity to the London-Wales M4 motorway suggests to me it'll end up something like Ryton. We'll see.
As Manfred Bischoff steps down after 14 years as chairman of Daimler AG's supervisory board, his successor Bernd Pischetsrieder will inevitably face fresh challenges as he steers the company through the 2020s. So what can we expect when it comes to what matters most of all – the cars that must both continuously reinvent the Mercedes-Benz name and bring in the cash to fund their even higher tech replacements?
Controversial April Fools joke: Volkswagen of America on Tuesday reposted on its media site a press release 'accidentally' posted a month early on Monday announcing a new name for its US operations, Voltswagen of America, emphasising the automaker's electric vehicle efforts, but a spokesman for the parent company in Germany on Tuesday night confirmed suspicions the move was a joke. Guys, April Fools Day is 1 April.
A report in a Korean newspaper this week said Toyota and Tesla are close to announcing that they will work together on an electric compact SUV vehicle platform. The Chosun Ilbo said the two companies have been in discussions over the partnership arrangement for some time and are now 'approaching the final stage'. The report suggests that a collaboration between the two would bring together their respective strengths – Toyota with the basic vehicle engineering, Tesla with the electronics and OTA software – for a low cost compact SUV electric vehicle. Cost savings in developing such a vehicle would benefit Tesla in its ambition to launch lower priced electric vehicles in mass market segments.
That got our analysts thinking: Toyota may be preparing to launch a small electric SUV using technology provided by Tesla, according to rumours circulating across a number of outlets. If true, this could prove to be a highly disruptive force in the auto industry, combining Toyota's manufacturing strength as the largest automaker by volume, and Tesla's market leading position in electric vehicles.
ABB and Amazon Web Services (AWS) have announced a collaboration to jointly develop a cloud-based digital solution for the real-time fleet management of EVs. They says the solution will optimize the efficient use of EVs and speed up the electrification of transport fleets, helping operators worldwide maintain 100% business continuity as they transition to fully electric. The collaboration will combine ABB's experience in energy management, charging technology and e-mobility solutions with AWS's portfolio of cloud technologies and software expertise. The new platform, which is planned for roll out in the second half of 2021, will offer a tailored user experience in a single view platform.
Our analysts again and this one is creating some buzz: The electrification of passenger vehicles is now a certainty and China leads the way as the single largest EV market. The current field of competitors is made up of the four large state-owned automakers along with a handful of private groups. Here, we take a look at their current electrification strategies along with the EVs currently being fielded by each company.
Have a nice Easter and easy on the chocolate.
Graeme Roberts, Deputy Editor, just-auto.com