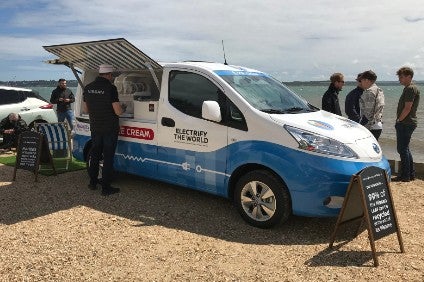 A Peugeot interior review drew the largest number of just-auto reader eyeballs this week. The 3008's been out a while (revealed in 2016) but the interior nonetheless remains very stylish with lots of interesting details and good materials and finish.
As we said: "The high-tech, swish interior of the 3008 is cloaked in a rich mix of materials, including leather, touches of brushed chrome, large expanses of carbon or cloth decoration. The upmarket textiles cover the door-card inserts, headliner, windscreen pillars and dashboard inlay. Most of the surfaces are soft to touch with all the usual scratchy plastics hidden at ankle level. Faurecia supplies the well-shaped and supportive seats."
Although terms and conditions apply (read: Brexit to their liking), PSA confirmed this week the axe has been raised above the British Astra assembly plant in Ellesmere Port and it will build the next one to PSA, rather than GM Europe, specifications. Vauxhall, the British brand for the Opel/Vauxhall European operations PSA purchased from General Motors, said: "We have been working hard to turn around the fortunes of the brand and to address the performance of the commercial and manufacturing divisions. Currently, the Vauxhall and Opel Astra are built in Ellesmere Port and in Gliwice – and our best seller is still in the middle of its life cycle." It also said the next generation Astra would be manufactured in two plants in Europe: "The group has confirmed that the Russelsheim [Germany] plant will manufacture Astra and that it is planned that the second plant will be Ellesmere Port in the United Kingdom." One of our number reckoned there was no mention of the British plant in the German Opel press statement – have we been 'Brexitised' already?
This week's news wasn't quite so rosy for 12,000 Ford of Europe workers though it was confirmation of a cull mostly previously announced. The blue oval firmed up more details of its latest restructuring it called it called "the most comprehensive redesign in the history of its business in Europe". The job cuts will come due to the previously announced proposed or confirmed closure or sale of six assembly and component manufacturing plants by the end of 2020: Bridgend Engine Plant in South Wales, Ford Aquitaine Industries Transmission Plant in France and the Naberezhnye Chelny Assembly, St. Petersburg Assembly and Elabuga Engine Plants in Russia will all be closed while the Kechnec Transmission Plant in Slovakia will be sold to Magna. Ford will have 18 factories in Europe by the end of 2020 compared with 24 at the start of 2019. More bad news for UK employees: the Ford of Britain and Ford Credit Europe headquarters in Warley, Essex also will close later this year with operations consolidated in Dunton, also in Essex. Remember that all auto making had previously been ended in England at plants, in Dagenham and Southampton, and also at Genk in Belgium. Pre-PSA Opel/Vauxhall wasn't delicate with the axe, either, just ask the residents of Luton, England or Bochum, Germany. And, of course, Chrysler UK was toast years ago.
The US Big Three's retrenchment of vehicle making this side of the Atlantic has been notable though some work has gone to cheaper places in the east like the GM-now-PSA plant in Poland and Ford's operations in Romania and Turkey. Interesting, too, how some things in the industry come around again – Rootes/Chrysler UK/PSA over several decades had axed Linwood, Bathgate, Stoke and Ryton plants by the early 2000s – now PSA is back assembling in England again, albeit in an existing, former GM factory.
With PSA in the news over its close-to-Liverpool factory, we coincidentally eyed the group's plans for Opel and Vauxhall. "A lot has changed since just-auto looked at Opel and Vauxhall future models a year ago," we said. "Legacy vehicles from the GM ownership era are disappearing, replaced by fresh ones with PSA platforms, along with BEV and PHEV models. There is much more to come." So bye-bye Opel and Vauxhall-centric names like Karl and Viva though Corsa, newly electrified, carries on albeit with a PSA/Dongfeng platform underneath rather than one shared by Fiat (remember that era; shared engine plants, etc?) and GM. The sometimes incestuous auto industry relationships continue but the parents change once in a while.
Supplier Gestamp's been busy. Ever-tighter CO2 targets from the European Commission (EC) require a degree of "common sense," the metal stamping specialist told us this week, as the Brussels bureaucrats show no sign of easing their focus on emissions reduction. Gestamp has joined a chorus of suppliers and OEM voices raising concerns surrounding the extremely tough falls in CO2 to 2030, which will see a 37.5% reduction – versus today – for cars while vans emissions will have to drop by 31%. Separately Gestamp said it was "prepared" for consolidation in the industry, but maintained it would continue its focus on implementing 4.0 techniques embracing digital technologies. One of the last mega-mergers between suppliers was ZF's acquisition of US component manufacturer, TRW to create a US$36bn behemoth (it is now in the process of swallowing Wabco whole), but Gestamp, while aware of tie-up possibilities, has latterly concentrated on joint ventures such as last year's cooperation with Beijing Hainachuan Automotive Parts (BHAP). Plus, for good measure, it's just opened a new stamping factory in Slovakia specialising in aluminium to supply, you guessed it, Land Rover's new Discovery/Defender assembly plant where they're rather fond of using alloy in their SUVs.
Increased battery electric vehicle ranges are becoming common now as the cell and other technology constantly improves and Nissan is the latest to the party with a long range Leaf called e+ that takes the (standard models still available) claimed range from 168 to 239 miles. Leaf remains my favourite EV, not least because of the clever tech like e-Pedal regeneration braking and sensible packaging. The 2010 original claimed 100 miles but 89 was more like it, on a good day. How long till the 400-miler? As well as lengthening the Leaf's legs, Nissan (GB), in a little local initiative, took the ICE (internal combustion engine) out of the ice cream van, creating an all-electric, zero-emission concept. The van is only really at a concept stage (it was actually plugged in to a power source when we saw it), and the automaker worked with Mackie's of Scotland, an ice cream producer powering its family-owned dairy farm by renewable wind and solar energy, to stock the vehicle. I can assure you their soft-serve was delicious.
Have a nice weekend.
Graeme Roberts, Deputy Editor, just-auto.com