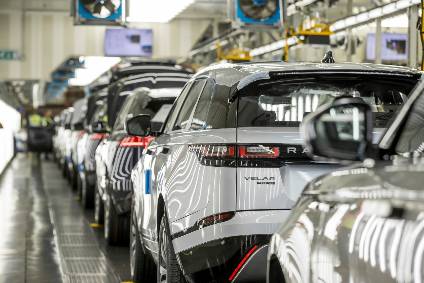 Hardly the best 'good news' story on just-auto this week, but our report Tata-owned Jaguar Land Rover (JLR) was planning to reduce its manufacturing capacity by a quarter over a five-year period to 2027, as part of its latest strategic plan under new CEO Thierry Bollore, was the most-read article. I'm not surprised. We're UK-based and I hold there is a lot of underlying industry and public support for 'home team' players (and big local employers) like JLR, and its domestic manufacturing rivals, especially as we strike out anew into uncharted post-Brexit waters after years yoked to the EU. The premium carmaker also said in a presentation to investors it had reduced its breakeven point from c.600,000 units pa to c.400,000 units, helped by some GBP6bn of cash and profit improvements under 'project charge'. And there was even some good news: the automaker also reported an 'encouraging turnaround' in China, despite COVID-19, and said there had been a significant improvement in business and quality of sales there. That's steering the right course. Under the 'reimagine' strategy, the company is aiming for investment at GBP2.5bn a year and positive cashflow from FY2022/23. By FY2025/26 JLR is targeting an EBIT margin of over 10% compared with around 4% (underlying) in this fiscal year. Best of British, JLR.
Ssangyong. Oh dear. After a relatively recent hiss 'n' roar locally, taking (some) Brit motor noters to Korea for a major new product roll-out of which seemed like an excellent new model, generating much favourable 'ink', the news from home since has been anything but good. Falling volume, cashflow issues, worker unrest (understandable), suppliers cutting off parts shipments, consequent assembly line stoppages, majority owner Mahindra & Mahindra attempting to ditch its 'South Korean Patient', the whole nine yards. This week it was slightly better news as SsangYong Motor resumed operations at its Pyeongtaek plant on Tuesday (2 March) after a two week closure due to a shortage of components. The automaker's only plant, 70km (44 miles) south of Seoul, was shut for 16 days in February after local manufacturers refused to supply components because of significant overdue payments. That was about as good as it gets for now after Ssangyong filed for bankruptcy last 21 December after failing to meet debt obligations and creditors refused to extend loan repayment deadlines. It was given a two-month reprieve on repayments by a local bankruptcy court at the end of December, to give the company time to find a new investor, before a court led restructuring was scheduled to begin on 28 February. Mahindra & Mahindra is said to be struggling to agree financial terms with a potential buyer to ditch its 70% stake.
Musical management chairs in the premium automaker sector: Koenigsegg has named former Tesla Berlin Gigafactory director of engineering, procurement and construction, Evan Horetsky, as chief industrialisation officer reporting to CEO and founder Christian von Koenigsegg. In a statement, Koenigsegg said Horetsky "rose fast through the Tesla ranks and participated in Tesla's scaling of Gigafactories across the world, including leading local efforts in the US, China, and most recently Germany". Von Koenigsegg said: "Bringing [Horetsky] on-board is part of our forward-looking vision. [His] sharp engineering mind, strategies for scale, and data-driven leadership style brings new strengths to our management. I look forward to working closely with him."
More on M&M: This year, sez our resident new and future products guru, will be one of ups and downs for Mahindra & Mahindra. On the plus side, the company's Automobili Pininfarina subsidiary is due to launch the first of several hypercars and the Mahindra brand itself will roll out several new models. But there are big questions to be resolved over the future of SsangYong Motor (see above) and the unwinding of what had once looked like a promising alliance with Ford. The last time I eyeballed a Mahindra product in the metal, it was a licence-built Jeep in a NZ showroom in the 70s, but some of that new and future product we list looks quite passable and it will be interesting to see how M&M resolve The Ssangyong Question and sort the other brands.
Rimac – what's all the fuss about? we asked this week. Electric vehicle startups are a dime a dozen at the moment. The success of Tesla – and its sky-high stock price – has helped drive interest in other EV companies as investors look for the next unicorn to finance. While companies such as Lucid and Faraday Future have shown off impressive concepts and generated some investor interest, neither has successfully raised funding from established automakers. However, a small Croatian outfit named Rimac is bucking this trend. In its history, Rimac has only built two ultra-low-volume models – the Concept One and the C_Two – both extremely powerful battery-electric hypercars, with vast price tags to match. In fact, many petrolheads have only heard of Rimac thanks to one of its models being involved in a dramatic crash while [former Top Gear TV star] Richard Hammond was driving it for Amazon Prime's The Grand Tour.
The number of new Chinese EV model launches (or updates) has been notable of late, and that's just the ones we have heard about (there is also a notable trend towards China EV makers engaging UK and European PR firms to build brand awareness ahead of planned future exports): this week BYD Europe confirmed specification of its updated 2021 model year Tang SUV which it will launch in EV-friendly Norway later this year. The seven seat, full electric vehicle is being marketed and sold through RSA, a Scandinavian importer and dealer network operator. The four wheel drive Tang is aimed at family buyers. Range is a claimed class-leading up to 505km (NEDC) (!) and acceleration to 100km/h takes just 4.6 seconds. Battery capacity is 86.4 kWh. An extremely high level of technology for all occupants will, BYD said, make the Tang "a hugely attractive proposition" capable of "combining the daily commute with full day family adventures on a single charge". The interior has had a major upgrade, with all seats upholstered in brown leather and waffle stitching. Driver and front passenger seats are ventilated and heated and the large infotainment screen can be rotated to either horizontal or vertical to suit specific vehicle displays. I would like a crack at that.
The Chinese EV makers, perhaps having noted the few earlier, pre-EV, less than stellar Chinese automaker attempts to establish European beach heads, particularly in the sophisticated and demanding west loyal to the premium German brands, appear to be taking a much more cautious approach – several brands have promised much but so far delivered little. BYD's approach, in Norway, where EVs are welcomed with all sorts of subsidies and drivers' perks like dedicated lanes, free parking and charging, seems the right degree of caution but I think the tide will soon grow. Another possibility, though so far exports are not mentioned, is Xpeng which this week expanded its domestic product line with three new models powered by lithium iron phosphate (LFP) batteries – the rear-wheel drive (RWD) P7 Standard Range Smart and Premium models plus the G3 460c all now available to order. Based on the existing RWD Long Range models, they're powered by an IP68 waterproofed and dustproofed LFP battery to deliver a range of NEDC 480km and have the XPilot 2.5+ and XPilot 3.0 autonomous driving assistance systems for the Smart and Premium versions respectively. They are supported by the automaker's latest Xmart OS intelligent in-car operating system. Future export markets competitor for Tesla and the rising number of its other rivals? We took a closer look at Xpeng recently, by the way.
Nissan Motor this week said it had made a breakthrough in the development of its e-Power hybrid technology with the new system achieving a 50% thermal efficiency level. The automaker said the breakthrough would lead to significant reductions of carbon dioxide (CO2) emissions when the technology was put in to commercial production. This company said the improved thermal efficiency could also reduce fuel consumption by 25% compared with its forthcoming e-Power engine which has a thermal efficiency of 40%. The claimed breakthrough had been achieved by strengthening the gas flow into the cylinders, helping the ignition burn a more diluted air-fuel mixture at a higher compression ratio.
German steelmaker Thyssennkrupp launched a new Automotive Body Solutions business unit, specialising in body assembly and production of lightweight components. The new unit was created by splitting up of the System Engineering business unit which previously combined the supplier's various automotive engineering businesses. CEO Falk Nuessle said: "As an independent bodymaker we can take a more entrepreneurial approach and respond more quickly to market requirements. We are combining our know-how in conventional assembly line construction with our expertise in the production of body components to offer our customers tailored and proven solutions for all aspects of body production from a single source." The company said it was positioning itself as the "go-to partner for automotive body requirements".
A lot of Stellantis news this week. Not pulling punches or mincing words, the new merger of PSA and FCA (with a former Renault chief in charge) said it expected a "binding commitment" from the UK government in the near future, concerning its North West England Vauxhall plant at Ellesmere Port. The factory produces the current Astra model but the brand's new parent company (the third in less than a decade) has yet to decide on whether to make the next generation model there. The plant employs around 1,000 people directly and has been operating on a single shift in recent years. Stellantis is said to have concerns surrounding potential conditions for electric vehicle production at the plant – particularly in the light of the UK government's decision to ban sales of ICE light vehicles in Britain from 2030.
We're hearing more and more about hydrogen as pro-the-gas automakers Hyundai and Toyota promote 'self charging' FCEVs as an alternative to plug in (obv) BEVs and put investment money where their mouths are. This week SK, Hyundai Motor, POSCO, Hanwha and Hyosung announced plans to spend KRW43.4 trillion (US$38.6bn) by the end of 2030 in all areas of the South Korean hydrogen economy, ranging from production and distribution to storage and use. The companies plan to steer South Korea past the US, Japan and Germany at the early market stage to achieve the world's top hydrogen industry as leading domestic companies seek to become leading hydrogen businesses with intensive government support. During the first half of the year, CEOs of leading hydrogen companies such as Hyundai Motor and SK plan to form a 'Korean hydrogen committee', essentially a private sector economic group for hydrogen related businesses. One to watch.
Have a nice weekend.
Graeme Roberts, Deputy Editor, just-auto.com