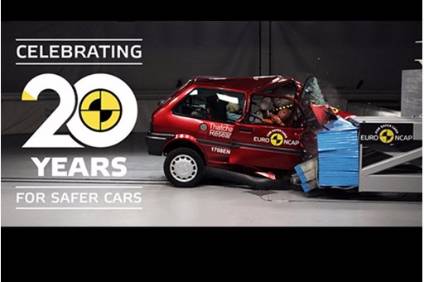 Euro NCAP changed consumer attitudes to car safety but is in danger of getting lost in its own complexity, writes Ray Hutton.
Euro NCAP, the European New Car Assessment Programme, recently celebrated its 20th birthday. Back in 1997, it first published the results of its first series of crash tests, using a simple four-star rating system: the more stars, the better the protection of a car's occupants in an accident.
The car buying public were becoming attuned to the idea of safer cars and soon Euro NCAP scores became part of the car buyer's checklist, along with price, performance, and fuel economy. Euro NCAP has now published 630 safety ratings and estimates that, since 1997, it has helped to save more than 78,000 lives. The European Commission proclaimed it 'the most cost-effective car safety measure in 20 years'.
It is remarkable that an independent organisation has become the arbiter of car safety by applying standards way beyond the official EU requirements. At the beginning, the star ratings were a combination of the results from instrumented dummies in 40mph offset frontal and side impact crash tests plus an assessment of injuries to a pedestrian hit by the car travelling at 25 mph. A later development, which introduced a fifth star, was the head protection test in which the car is propelled sideways at 18mph into a rigid pole.
In 2003, Euro NCAP claimed that that a driver or front seat passenger was 37 per cent more likely to survive an accident in a five-star car than in one that just met the minimum standard set by legislation (and wouldn't receive any stars). In the following years it became clear to manufacturers that for a new car to be saleable it had to have four or five stars.
So, arguably, by 2010, Euro NCAP's job was done: its existence had led to greatly improved safety for cars of all classes. But the organisation had ambitions to expand its remit, from passive (occupant protection) to active safety (crash avoidance) and the interaction of cars with pedestrians and other road users.
Technology moves on and Euro NCAP has developed with enhanced tests and the inclusion of more and more factors. A five-star car from 2009 – which may still be in production – would score no more than three stars today. So the car buyer reviewing a list of prospects is no longer comparing like-with-like. Euro NCAP's credibility is threatened; its simple USP has gone.
The organisation answers this criticism by saying that the star ratings should always be related to the date of the published tests. It believes that it has a responsibility to keep abreast of safety advances and to raise the bar accordingly.
It also encourages car buyers to delve into the detail. It publishes percentage scores for each individual test and emphasises that valid comparisons can only be made between cars of the same type and similar size and weight.
The cars tested – which in early days were purchased but are now mostly submitted by manufacturers – are the most popular (best-selling) version of each model. But, from 1 January 2016, to achieve five stars that car had to be fitted as standard with a pedestrian-detecting autonomous emergency braking (AEB) system. Not many cheaper cars are so equipped and were downgraded, many to three stars when their predecessors scored five.
Euro NCAP's answer to this was to allow a dual rating – one for the standard car and another for the same model equipped with a 'safety pack' including AEB. The trouble is, hardly anyone buys the safety pack. The Suzuki Baleno launched in 2015 was the first car to have two different star ratings – four stars with the safety pack and three without it. Since then a number of other manufacturers have followed this path.
The dual rating makes sense – rewarding the latest technology while also accepting that it might be too expensive for the car's market position – but creates even more confusion for the consumer.
It is hard to see how Euro NCAP can get back to basics. It continues to make its assessments more complicated – it would say more comprehensive – as it devises tests for the latest electronic active safety systems; the next move is to include cyclist-sensing AEB.
It is true that things were simpler in 1997. Euro NCAP was founded at the initiative of Max Mosley, then president of the FIA, better known as the governing body of motor sport. Mosley had been looking at ways of improving racing safety after three-times World Champion Ayrton Senna had been killed in an unexplained accident at Imola.
Discovering that the legislation covering crash tests for road cars had not changed in 20 years, Mosley and his associate David Ward started an FIA road safety campaign directed at the European Parliament which resulted in the reinstatement of proposals for tougher safety legislation that had been shelved in the face of industry opposition. At the same time, it brought together the independent crash test programmes run by national governments and motoring organisations with the aim of providing an index of occupant protection for production cars.
Euro-centric car makers had been against tighter rules because they would make airbags essential, require substantial re-engineering, and increase costs. Predictably, when Euro NCAP was launched, some manufacturers protested that it was an unofficial body and that compliance with the EU standards was all that the consumer needed to know.
But as it became clear that a high rating was something to boast about, carmakers began to re-consider. A notable convert was Renault chief executive Louis Schweitzer, who decreed that all its future cars should attain four stars and henceforth became one of Euro NCAP's greatest proponents.
Proof of the importance of Euro NCAP came at the expense of the Rover Group, Britain's largest car manufacturer, then owned by BMW. When its 1980s icon, the Metro, renamed the Rover 100, scored just one star, managing director Walter Hasselkus felt that there was no option but to withdraw it from sale.
There are other examples of one- and two-star cars stopping production and still more of cars that have been upgraded and re-tested, achieving a higher score. But the manufacturers do not have the same incentive under the new star system. Take the recently published results for the Ford Mustang: it scored only two stars. As a low-volume model, Ford didn't expect the Mustang to be tested and dismissed the result – 'Mustang is a safe car, meeting or exceeding all applicable safety standards globally. It scored a five-star rating in crash tests carried out by the US NHTSA' – with the promise of making a safety pack available later this year, with a view to dual rating.
Ironically, just as its significance diminishes in a sea of complexity and confusion, Euro NCAP has been showered with awards. These were recognition that, over 20 years, Euro NCAP has succeeded where Ralph Nader, safety lobbyists, and government campaigns, on both sides of the Atlantic, failed. Until it came along, safety rarely featured in a car manufacturer's marketing; the dictum was 'safety doesn't sell'. Well, it does now.
Max Mosley and David Ward have gone on to develop the idea as Global NCAP (as chairman and director general respectively), prompting countries with less developed car markets to pay more attention to vehicle safety. Global NCAP works with Latin, Asean, Indian, and Chinese organisations, which replicate the crash tests first introduced in Europe and have already been successful in identifying and shaming the manufacturers of cars with zero ratings. Most recently, Latin NCAP's nil score brought pressure from Mexican consumers to have the locally-made Nissan Tsuru withdrawn from the market.
Proof, once again, that the secret is in the stars. But the simple message that the stars convey is becoming a little more complex, along with the introduction of advanced technologies and shifting standards.