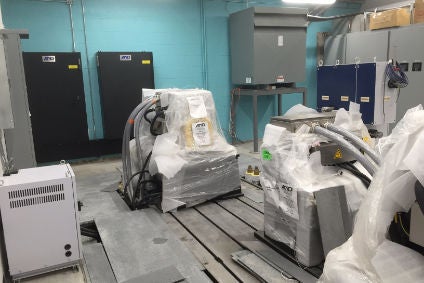 It takes a fair bit to impress engineers from a major OEM but the boffins from a major Canadian university reckon they achieved that recently with a guided tour of a new research and development facility they are building.
The University of Waterloo Centre for Automotive Research (WatCAR) is in the midst of building a C$10m Green and Intelligent Automotive (GAIA) facility due to open in 2016 which, in essence, merges multiple test cells with the whole lot controlled by a single system so all data is captured in one place for all units.
Toyota, which has a large manufacturing presence in the province of Ontario, has kicked in $1m of the cost but it was engineers from rival Honda, also a big OEM player in Canada, who were impressed during a recent visit. They have access to the same types of test cell but not the same level of integration.
WatCAR, headed by managing director Ross McKenzie, has a track record doing research for automakers and suppliers with around 125 faculty and an uncountable number of keen students working on such things as automated driving, lightweighting and advanced powertrains.
They'll have a crack at anything – intelligent vehicle control, efficient power management, wireless sensors and connections, energy storage and charging are just some examples.
Stuff at an advanced stage of installation includes a battery test cell, a powertrain test cell (with handy overhead crane), vehicle test cell and a rolling dynamometer accessible off the university's campus ring road.
The battery test cell will be able to both test batteries and simulate them in various scenarios plus do vehicle to grid experimental work while the powertrain test cell will also test real engines or simulate them in various development projects. And it can cope with very high levels of torque.
A small test track is available nearby on university property and GAIA will also have access to Toyota test tracks at Cambridge and Woodstock. Suppliers are also interested in the facilities – the Canadian home team includes Magna and Linamar.
Even before the GAIA facility opens, WatCAR offers what is claims are "31 leading edge competencies" categorised under Connectivity, Lightweighting, Powertrain, Software and Structure.
During a tour, just-auto saw software engineers testing a new way to stop malware infecting a processor by using a simple plug-in module, systems looking for certain processor operations patterns suggesting malware penetration may be being attempted, a treadmill adapted to trial and test a new type of forward facing camera to enhance lane keeping assist and collision avoidance plus a drone equipped to follow a randomly moving robot and safely land itself on the moving target. We were also shown video of Waterloo competing with other institutions to have model vehicles respond correctly to traffic light signals and track their way safely through routes marked out with traffic cones.
One particularly interesting project is centred around two Chevrolet Equinox SUVs (GM is another big OEM supporter) which have been stripped of their ICE powertrains and turned into two- or four-motor EVs. In these test beds, everything on the car is coordinated by a central controller intended to allow suppliers of other equipment to be able to test their items on a common system without the expense of developing a bespoke system for each new vehicle. This project is also experimenting on using the central and standardised electronics across a vehicle range to vary performance, handling, braking and steering characteristics according to vehicle type, rather than developing separate systems for every model.
Other projects in the pipeline include a tyre condition (not just pressure) monitoring system, work on dampers, vibration and noise isolation and a new type of variable valve timing system that next year will be trialled on diesel engines.
WatCAR does a lot of autonomous car work with model vehicles because they are cheaper for initial research – you can get four for about $50,000 versus about $500,000 for one full size prototype.
Current hurdles to be overcome include dealing with adverse weather (think what happens when sensors ice over and road markings and other defining infrastructure features disappear in snow), the need to guarantee safety, the associated regulatory and liability issues and cost.
McKenzie's team reckon that slow speed autonomous vehicles will come to market within three to five years with fully autonomous 10-20 years off.
Later on, we spoke to a graduate student who is already on the case, developing autonomous capability for low-speed, golf buggy type vehicles for resorts and retirement complexes. These, he told us, are easier to engineer as their routes and distances are limited and he was working on getting them to dock themselves for recharging when required, and automatically return to 'fleet' use once batteries were revived.
Waterloo itself is expanding in other ways. Citing a Canadian shortage of 100,000 engineers by 2025, it is just this week breaking ground on a former car park to build a new, $88m, seven storey engineering building – and two more are planned.
The university claims to turn out well rounded graduates with more than usual work experience through its 'co-op' programme that alternates four (or sometimes eight) month stints of study with work placements. This usually means a student graduates after five years (instead of four) but with two years of solid work experience. And the graduates are snapped up by a wide spectrum of industry as well as auto.
And, unusually, students who invent things on campus get to retain the full IP rights themselves, rather than having to hand over some or all to the institution.