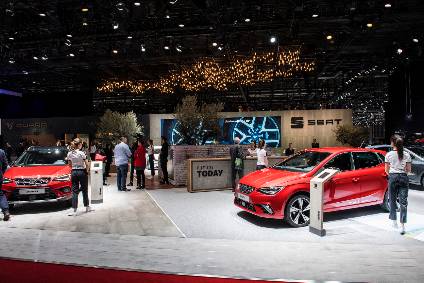 Another year passes and Geneva is upon us. As usual, we have a lengthy list of expected global debuts, updated daily, with our productmeister Glenn Brooks continuing to keep score through the press days.
News Porsche would not offer the redesigned Macan with combustion engines attracted a lot of eyeballs this week.
"Instead, the second generation of this SUV will be an EV," we reported. Said the automaker: "The supervisory board of Porsche has decided to manufacture the next generation of the Macan as a fully electric series".
We noted: "While there is no wording which clearly states that petrol engines will not be available, the model's architecture is the electric-only PPE. Therefore, should the market not be fully receptive to the electric-only Macan, Porsche will have a major problem on its hands."
Insiders have hinted to us that, even though that model's platform is not compatible with petrol engines, for those customers who do not wish to have an electric Macan there will be a solution: the existing model will be given a second facelift to make it look like the EV and kept in production for some years. Both will be made in the firm's Leipzig plant which, you may recall was heavily remodelled for Macan #1.
We think: "Porsche may, in around 2022 or 2023, add a fresh SUV in this size class based on another Volkswagen Group vehicle as the true successor for the first generation Macan." Watch that space.
"Will FCA keep or kill Chrysler and Dodge?" Good question. "Thanks to Ram and Jeep, FCA has strong cash flow and is making a lot of money in the US. Big profits can quickly vanish though when there are so many brands needing fresh models. Which is why some see Chrysler and Dodge being phased out in the 2020s. But will these historic names really disappear?" See what we think. We also took a look at Ram future models.
Given it is axing thousands of mostly white collar workers in the UK, Tata Motors' Jaguar Land Rover has understandably, been pretty quiet about the opening of its new, EU-subsidised factory in Slovakia to build the Discovery (freeing up capacity for upcoming new models in the UK). 'Build it and they will come', is pretty much the mantra for a new, greenfield factory and, if you visit Kia's plant in Zilina, you will see an adjacent supplier park full of Tier 1 household names' dedicated just-in-time, just-in-sequence final assembly factories. And many more nearby. Same seems to be happening for JLR as (Chinese) Shenda-owned Auria, the global supplier of vehicle acoustical and fibre-based products, said it had opened its new Vrable, Slovakia factory producing automotive flooring systems and decorative trim parts for Jaguar Land Rover and "other premium OEM customers". Announcing 2018 results today, Gestamp said it currently has four plants under construction which are expected to be opened during 2019 in Mexico, Slovakia, the US and Morocco.
Good news from FCA (and for its workers): plans to build a new assembly plant in Detroit and add production at five existing Michigan facilities, creating nearly 6,500 jobs. The company described the investment as the next step in its US industrialisation plan, announced in 2016 under the late Sergio Marchionne, to expand the Jeep and Ram brands, moving FCA away from declining passenger car segments. FCA said a US$1.6bn investment would convert the Mack Avenue Engine Complex into a manufacturing site for the next Jeep Grand Cherokee and a new three row, full-size Jeep SUV, creating 3,850 new jobs. A US$900m investment at Jefferson North involves a retool and modernisation for continued production of Dodge Durango and the next Grand Cherokee with 1,100 new jobs expected, FCA said.
Not so good news from Ford: it is definitively ending production at its French transmissions site at Blanquefort near Bordeaux this August with the loss of 850 jobs, thus incurring the wrath of local mayor Alain Juppe. The former French prime minister waded into the debate after learning of what he said was Ford Europe's decision to reject Punch's offer for FAI. "Bordeaux Métropole, in cooperation with the Nouvelle Acquitaine region, will put in place everything to contribute to starting new activities on the site and asks the [French] state to require of Ford to at last take responsibility to finance a true revitalisation plan for the site," said Juppe. Ford is certainly making itself popular with unions in western Europe, having axed car and commercial vehicle production here in England, the Mondeo plant in Belgium and now this parts plant in France, all the while threatening to axe what little remains of components making in the UK if it doesn't get the Brexit deal it wants.
Have a nice weekend.
Graeme Roberts, Deputy Editor, just-auto.com