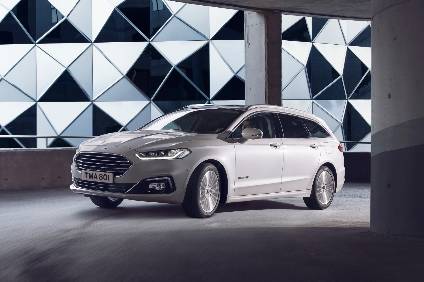 We had some advice for Ford of Europe this week – don't kill the Fusion and Mondeo. Is there a future for the Mondeo, we asked? At the moment, Ford of Europe isn't saying either way as speculation suggests there are plans to replace this model, the S-Max and Galaxy with a new global crossover. Considering the age of the design, sales are holding up well, with 20,800 delivered during the first half of 2019.
Profits might be down but there is no doubting the sales success of BMW. Cars, not so important in the US market, remain a major part of its growth in Europe and China. The G20 3 Series is this year's stand-out product, particularly in Germany. With the G21 3 Series Touring plus a steady flow of many other new models imminent, Mercedes and Audi have much to worry about. We took a look at future BMW brand cars.
I, for once, have been driving an actual car. Volvo added some more powertrains and made a few tweaks to my favourite SUV, the right-sized XC40 which, with eight speeds of ZF automatic now available bolted to three cylinders of 1.5-litre petrol engine, provided the perfect excuse to renew acquaintance and update you on the changes.
Yet more future models – usually the most popular reads on just-auto. BMW SUVs this time. It would be fair to surmise BMW makes the majority of its profits from sales of SUVs. Former gaps in the numbers line-up have been filled by the X2 and X4 and the range extended at the top end by the X7. The company has also become especially good at bringing down life cycles, as the imminent arrival of the G06 X6 shows, just five years after the launch of the outgoing F16 second generation model.
Doom 'n' gloom for UK sales which declined 4.1% to 157,198 registrations – the lowest July tally since 2012. But battery electric car registrations almost tripled to take a record monthly market share as a new EV forecast suggested full year share could double in 2020. Year to date volume was down 3.5% to 1.4m. July saw the fifth consecutive month of decline, as political and economic uncertainty and confusion over future government policy on different fuel types continued to affect consumer and business confidence. Declines were seen across all sectors, with private demand falling 2% while deliveries for fleet and business customers were down 4.7% and 22.5% respectively. Roll on 31 October when Brexit details should finally be sorted and automakers know what they have to deal with.
Sales of new vehicles in southeast Asia's six largest markets combined turned negative in the second quarter of 2019, by 2.4% to 833,515 units from 854,343 units in the same quarter of last year, according to data from local industry sources including vehicle manufacturers, trade associations and government departments. This was the first quarterly decline since early 2016 and mainly reflects a fall in sales in Indonesia, the region's largest market until last year. Thailand was unable to entirely offset this sharp decline, with growth there also slowing sharply in the second quarter. Malaysia and Singapore also reported declines in the second quarter, while the Philippines and Vietnam continued to recover from weak year-earlier sales when new regulations and taxes adversely affected these markets. Asean vehicle sales in the first half of the year were just 0.3% lower at 1,686,898 units from 1,691,824 units a year earlier, thanks to moderate growth in the first quarter. Enjoy our regular quarterly report.
It's not all bad out there, Daimler's Mercedes-Benz said it started the third quarter of 2019 with a new sales record for July – 188,857 cars delivered (+12.7% year on year). Double-digit growth in unit sales was achieved in all regions and core markets in July.
Magna has won seating business in North America with an unnamed global automaker and will supply structures from a new manufacturing facility in Lancaster, Ohio. The company held a groundbreaking ceremony at the site where construction has recently started on the 150,000-square-foot facility with an initial investment of around US$60m. The event was attended by Magna CEO, Don Walker, US representative Steve Stivers and US vice president, Mike Pence. "As our customers expand their manufacturing footprints around the world, we will be there to support them with design, engineering and manufacturing," said Walker.
I saw some muttering on social media recently after someone spotted an MG badge on a van Somewhere in Asia. So I wonder how this will go down with the purists: China's SAIC Motor entered the Thai pickup segment this week with the launch of its locally-made MG Extender. The pickup truck, based on SAIC's Maxus T70, is produced by the company's local joint venture SAIC Motor-CP Co Ltd at its factory in the WHA Eastern Seaboard Industrial Estate in Chon Buri province. SAIC Motor-CP, through its local distributor MG Sales Thailand, plans to sell 20,000 Extender models annually in the country and will also target other markets in the region later on.
Any travel sickness-prone people in your tribe? Same. So this is good: ZF is working with neuroscientists from Germany's Saarland region to put the human at the centre of its technology and avoid motion sickness, which can typically induce dizziness, headaches and nausea on long journeys. "What does it mean, human-centred, what does it mean for ZF?" said ZF human-centred development project head, Florian Dauth at the supplier's recent technology day in Dresden. "We can't only deal with the vehicle itself or the components. We need to integrate the human and need to understand what is motion sickness or discomfort."
Finally, I love this, as we enter an age of automated, connected commerce. With the newly created digital Truck-ID and associated Truck Wallet, Daimler Trucks in a pilot project successfully carried out an automatic payment at an electric charging station. Trucks can identify themselves to other machines using their Truck-ID as if they had their own integrated ID card and can thus provide a unique signature for specific processes. The Truck Wallet works as a platform technology and central user programme for all applications which can access the Truck-ID for various purposes. Truck-ID and Truck Wallet – both currently still in the prototype phase – are stored as encrypted software programs within a cryptographic processor.
What future truckie isn't going to love the truck doing its own paperwork?
Have a nice weekend.
Graeme Roberts, Deputy Editor, just-auto.com