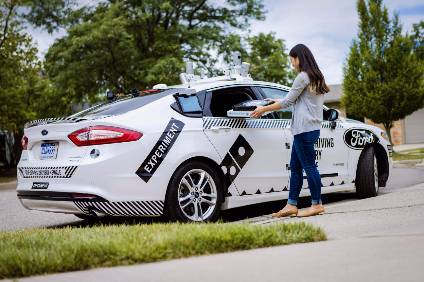 The word autonomous seems to have cropped up even more than usual this week. It began on Monday when Ford and Domino's announced that they would trial pizza delivery vehicles without drivers. Interesting concept, of course, though I must admit that I would kind of miss the kids on mopeds and the small slice of human interaction that comes with the all-important delivery currently.
Domino's and Ford combine for driverless pizza delivery test
You will note that the Ford autonomous vehicles involved in the trial have sensors mounted on the roof. They're not all that pretty and I can well imagine some designers getting all hot under their turtlenecks at the way such functionally mounted sensors break the aesthetic form of the cabin roofline. Help may be at hand. Magna thinks it has come up with the answer to the problem in a new system it has developed.
Magna develops AD system without 'roof spinners'
As the rush to develop autonomous drive and electric vehicles gathers pace, keeping an eye on Chinese companies is going to become essential. There are some very big reservoirs of investment resource available for companies there and it will be interesting to see how Chinese internet giants, such as Baidu, position themselves as participants in the mobility space.
JAC to 'produce autonomous vehicles from 2019'
It's also interesting to note that OEMs and suppliers are increasingly looking outwards and working with non-automotive partners to understand rapidly changing consumer demands and associated emerging technologies or business models. There were more examples this week.
ZF/University of California enter strategic research partnership
'TOYOTA NEXT' innovation partners selected
Toyota/Grab partner for ride-hailing services in Southeast Asia
In another sign of internal shake-up at Toyota, there was also an interesting new division set up in North America.
Toyota NA forms new Connected Technologies group
Joining all the dots and getting the most efficient and competitive outcomes – from a manufacturing and market offering point of view – is clearly going to emerge as quite a challenge in the automotive industry in such a dynamic environment. As the pizza delivery experiment suggests, we've hardly started and everyone wants a pizza the action. And on that note, I think it may well be pizza time for me.
But finally, we send our best wishes and sympathies to everyone impacted by Storm Harvey in the US (including our Houston-based correspondent, Bill Cawthon). It will be interesting to see the net impact on the US vehicle market when the August numbers come out next week.
Have a good weekend,
Dave Leggett, Editor, just-auto.com