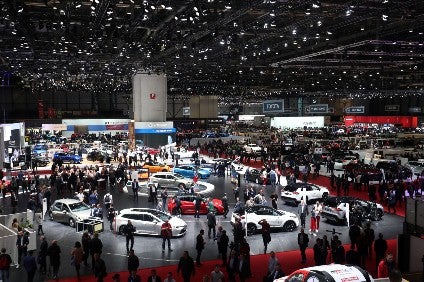 The annual Geneva motor show – long an industry and visitor favourite for its compact size and being on 'neutral' Swiss territory – dominated this week. As usual, we compiled a vast list of world debuts from soup to nuts, er, Abarth to Zenvo. Electrification, natch, was a big theme with both concept and production cars on show.
As we note in our post-press days management briefing: "There were more surprises at this year's Geneva motor show than has been the case with previous events. For brands such as Alfa Romeo and Fiat, that worked a treat with the Tonale and Centoventi concepts having a high level of media coverage. We also learned a great deal about these and other makes' future vehicle plans."
News from the show included Honda electrification strategy. The automaker has announced it intends to make 100% of its European automobile sales electrified (includes hybrids) by 2025. The Geneva show saw the unveiling of the e Prototype battery electric vehicle. The new ambition builds on the brand's earlier (2017) aim of two-thirds of its sales to be electrified by 2025.
Meanwhile, Toyota Europe told us about nameplate consolidation, having earlier admitted that the change from Auris (as the new Corolla was called when shown as a 'concept' a year ago) was pretty much last-minute. It's part of a strategy that will see Toyota consolidate behind its strongest model names in the coming years. Toyota Motor Europe marketing chief Matt Harrison said: "Despite the fact that we replaced the Corolla name with Auris in western Europe a decade ago, awareness of the nameplate is still strong."
TME's chief Johan van Zyl was reported by the Nikkei to have suggested to Japanese journalists attending the show the automaker could end UK production as early as 2023 if the country leaves the European Union without a deal on the terms of its departure. The business daily had cited van Zyl as saying: ""If the business environment becomes very, very difficult to operate," a future withdrawal "should be on the agenda as well". He also mentioned less drastic options, including scaling back production or investment. But a Toyota GB spokesman told just-auto: "There is no truth to these reports. They appear to be a misrepresentation of comments in an interview with Japanese journalists about the possible long-term impact of an unfavourable Brexit scenario." Something lost in translation?
BMW was more blunt, threatening to move Cowley Mini assembly and Hams Hall engine production from the UK in case of a no-deal Brexit. The automaker told Sky News production of the Mini in Oxford may be at risk. Peter Schwarzenbauer, the board member responsible for Mini and Rolls Royce, said the automaker would "need to consider" moving production from the UK as the company could not absorb the extra costs it would inevitably face. He also told Reuters news agency at the Geneva show some engine manufacturing could be lost to Austria. "We have some flexibility on the engine side with Steyr in Austria. We would need to make some adjustments toward Steyr. We are preparing to be able to do it. Like we are preparing warehouses in the UK to produce cars." A final decision on whether to transfer some production of engines from Hams Hall in central England, where BMW machined and assembled over 375,000 engines last year, to Austria had not yet been taken.
And it wasn't just Brexit. As we noted from the show floor, political headwinds right across Europe were dampening any hopes of growth in vehicle sales this year. Executives were watching the markets closely with instability in Spain and Italy, the aforementioned Brexit concerns in the UK, the devaluation of the Turkish lire plus France and Germany sailing dangerously close to recession. These were all having a damaging effect on consumer confidence and no one seemed to think total vehicle sales across Europe would be significantly different to last year's total of 20.6m.
With Geneva out of the media's way, as the public descend on the show this weekend, we're already looking ahead and have debut lists on the go for New York, Shanghai and Frankfurt. Stand by for lots more electrified cars – Porsche is already claiming 20,000 'expressions of interest' for a Taycan EV no one outside the company has yet seen. Officially. Roll on September.
Have a nice weekend.
Graeme Roberts, Deputy Editor, just-auto.com