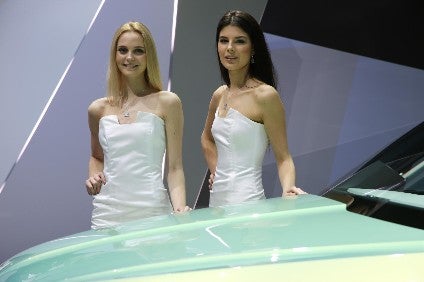 Not entirely unexpected but enough to rattle quite a few people's cages this morning – the Geneva show is off. Not postponed. Too big for that. Axed. Canned. Cancelled. News agency sources reported the announcement following the government in Bern's ban on gatherings of over 1,000 people while a hapless Palexpo 'spokesperson' declined to comment. Eventually came a press conference. Force majeure so forgeddabout suing Palexpo and good luck with nailing legal paper on the Swiss administration's front door.
In any case, automakers reportedly had been withdrawing staff from the show's preparatory work and presumably some of the small army of interlopers, measuring and photographing every detail of rivals' cars and components while masquerading as journalists on press day, might also have been discouraged. Long before media day one an equally long list of automakers had already all but said they weren't coming as they had better ways to spend hard-won marketing and PR budgets. David Leggett, automotive editor at just-auto's parent company GlobalData, summed up the whole circus very well today: "The public health crisis caused by the COVID-19 outbreak has hit home this week with whole towns quarantined in northern Italy and the first cases confirmed in Switzerland. However, the organisers of the Geneva show stuck doggedly to the line that it could continue to take place and issued health guidelines for exhibitors and attendees on Wednesday (26 February). This seemed unrealistic to many and exhibitors began to cancel or massively scale down their attendance plans. The decision to cancel the show at this late stage – press day scheduled for next Tuesday, 3 March – was finally forced by a Swiss federal government edict banning gatherings of more than 1,000 people. Many prospective exhibitors and attendees may well be disappointed that the event was not called off by the organisers earlier."
Anyhoo – what might brave attendees have seen had the show gone on? We've got that here.
Nissan Motor is again threatening to take its Sunderland factory ball away unless post-Brexit UK plays the game its way. The plant in north east England, which makes the Juke, Qashqai and Leaf accounting for most European sales, 'remains under a cloud of uncertainty'. Bloomberg reported Nissan Europe chairman Gianluca de Ficchy saying, should Britain fail to reach a free trade agreement with the European Union, the consequent 10% tariff on cars and parts could spell the demise of the plant, which exports about 75% of its output to the continent, and the automaker's entire European strategy. The government said this week it might well walk away from talks if the EU keeps trying to pin 0% tariffs to continued European regulation of a country which has left the EU. Nissan's in trouble regardless – the report noted it had cut its full year profit forecast this month and scrapped its end of year dividend payout while a turnaround plan wasn't due for another three months. The Spanish LCV plant is losing orders, 600 staff have been chopped, the whole place also up for review. De Ficchy said Sunderland models could be made at Renault plants but that would be costly and take years to put in place at a time when the car market is becoming increasingly competitive and undergoing a technological shift. "My working hypothesis is to stay in Europe with a factory in England," de Ficchy said. Better get creative instead of threatening then, and the final deal really is up to the EU. The UK has stated its case – free trade but no more involuntary EU regulatory control or courts. Sensible alignment of safety and emissions rules is another thing entirely.
How about some good news? PSA, which not so long ago absorbed the Vauxhall and Opel brands which rarely made GM Europe any money, posted a new profitability record in 2019 despite what CEO Carlos Tavares described as a 'highly challenging environment'. The company posted an 8.5% adjusted operating margin for 2019 at EUR6.3bn on revenues up 1% to EUR74.7bn. Group adjusted operating income amounted to EUR6,324m, up 11.2% with automotive adjusted operating income up 12.8% to EUR5,037m. PSA said the 8.5% profitability level was reached thanks to a positive product mix and further cost reductions despite exchange rate headwinds and raw material costs increases. Consolidated net income reached EUR3,584m, an increase of EUR289m compared to 2018. I don't think we better ask about 2020 right now as coronavirus continues its inevitable spread with PSA heavily into China JVs.
This story illustrates very well the problems facing suppliers trying to keep factories open to ship much needed parts to automakers. MTA told us it had "no idea" what will happen with the situation at its shut Codogno factory [in Italy] as its highlighted its experience of introducing strict hygiene measures in its Chinese facility in the light of the coronavirus outbreak. The manufacturer had directly asked authorities in Rome to allow it to partially resume production with 10% of its workforce but said it remained in the dark as to what the immediate future would be. Italy's coronavirus outbreak, which has claimed lives and seen hundreds infected, has at its epicentre the town of Codogno where MTA has a factory supplying many OEMs including FCA, although the automaker maintained it was working normally up to yesterday (27 February). MTA, which produces electromechanical and electronic products among other components, was ordered to shut in a Lombardy-wide bid to contain the outbreak but urgied authorities at a national level in Italy to allow 10% of its 600-strong workforce to resume work. "When we stop we get a fine and OK, it can happen, but normally we know when we can supply again," MTA marketing manager and grand-daughter of the supplier's founder, Maria-Vittoria Falchetei told just-auto from Italy. "We don't have [an] answer, we don't have an idea of what will happen. They [authorities] should say people who are able to follow instructions to avoid spread of the virus, they should open. Those who are not able, they should close. In our plant in Shanghai, before entering the factory there is a garden…and we have the possibility to disinfect hands. We measure [people's] temperature and register every name – we distribute masks and gloves." There were also reports of customer FCA getting dispensation to send staff in to collect parts from suppliers such as MTA which had earlier warned of stoppages at several automakers if it couldn't make their parts.
Have a nice weekend.
Graeme Roberts, Deputy Editor, just-auto.com