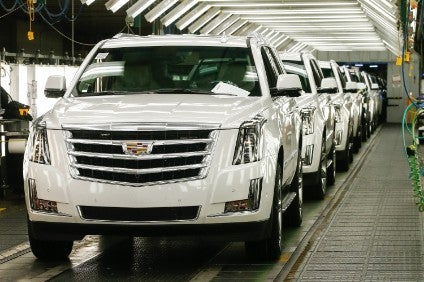 Not surprisingly, another in our popular series of future model reviews topped the just-auto eyeball attraction chart this week.
We began our scrutiny of General Motors' Cadillac with: "Stung by criticism that Cadillac wasn't offering the right luxury vehicles for shifting customer preferences in China and North America, GM has thrown much money at the division and infused it with fresh thinking. Suddenly, no-one can say there are too many big cars but too few SUVs. The CT4 and CT5 sedans will soon be rolling into showrooms, an elegant next generation Escalade is now just months away from being revealed, while the 2020s will bring an electric SUV and many other novelties."
The lesser spotted Cadillac brand – I have driven one press demo in my life, way back in 1999, soon after the CTS, (or was it the STS?) was launched in RHD for markets such as the UK.
Fast forward into the noughties and the storied US brand seemed to have had more European and UK relaunches than I've had hot dinners – with miniscule sales results. Then there was the 'Sadillac' era – Saabs lightly restyled and rebadged as Cadillacs for Europe (there were also Saabs based on GM and Subaru SUVs, an era sufficient to make any fan of the famous Swedish brand shudder at the recollection).
So now there's proper new product on the way, in the form of CT4 and CT5 sedans and some new SUVs and EVs. Will Cadillac fortunes change, especially in Europe? We'll see. Best of British, Cadillac.
Contract renewal talks have seen the powerful United Auto Workers union 'strike' GM plants in the US since Sunday. As we reported: "Some 49,000 UAW members at GM have walked out in what is the company's first strike action since 2007. GM and the UAW are locked in disagreement over the terms of a new collective bargaining contract between the company and UAW members. The existing contract expired at the weekend, the strike starting on Sunday (15 September). GM has said that its offer to the UAW includes investments in eight facilities and adds more than 5,400 jobs.
There has been some knock-on effect and not just in the US (where spare parts flow to dealers has been hit) – we reported on Wednesday the UAW strike led to hundreds of workers at the the Oshawa plant in Ontario, Canada, being told to stay home on Wednesday due to parts shortages shutting down the truck assembly line. About 1,200 workers were told to go home on Tuesday afternoon while another 650 on the morning shift were told they weren't needed on Wednesday. A GM spokesman said approximately half of production at Oshawa was being affected by the UAW strike.
You'll note in that article the to and fro of engines between the GM Canada assembly plant in Ingersoll, the engine and transmission plant in St. Catharines (so far unaffected by the parts shortage) and engine and assembly plants in the US – 80% of the engines the plant builds are destined for cars assembled at GM plants in the US while, in turn, about half the vehicles assembled at Ingersoll use engines made in the US. Supply from one country stops and assembly plants in another also grind to a halt. This broadly parallels the fears of the UK and European automakers as we in the UK approach Brexit (with no solution yet) amid fears of a 'hard' deal which will hinder what is today effectively 'borderless' trade in components and completed vehicles. In any case, Canadian fears were well founded, as of time of writing, the US strike is still on.
More bad news: Japanese automotive components manufacturer Marelli Corporation announced a reorganisation of its production bases in Japan, including the closure of four manufacturing facilities, mainly in response to weak demand from its key vehicle manufacturing affiliate Nissan Motor.
Calsonic Kansei Corporation formerly changed its name to Marelli Corporation earlier this month to reflect the EUR6.2bn takeover earlier this year of Italian component manufacturer Magneti Marelli. The company said that once the four plants were closed down, it would either transfer production to other plants within the Marelli group or outsource the products from third party manufacturers.
Good auto industry news (especially considering what the next door neighbour is soon to do): A new automaker is to build a 4×4 vehicle in Bridgend Wales, next to the doomed Ford engine factory slated for closure at the end of 2020. Ineos Automotive said its utilitarian 4×4 will be named Grenadier after the pub in which it was conceived and will be built in a bespoke new factory on the green field site. This will create 200 jobs initially, and up to 500 in the long term. Site development is now under way to support the planned start of production in 2021. If it all goes to plan, that will help offset the pain of the Ford job losses, at least a bit.
After the break-up of supplier giant Delphi Automotive into Aptiv and Delphi Technologies, Delphi Technologies is in transition as a specialist Tier 1 supplier of propulsion technologies to OEMs. Meeting changing fuel mix and e-mobility market needs are at the top of CEO Richard (Rick) Dauch's agenda. We caught up with him in Frankfurt to hear a progress report.
Finally, to end the week, a bit of innovation, new mobility and sounds-like-fun: German flying taxi start-up Volocopter has flown its air taxi at an event in Stuttgart. It was the first time the air taxi prototype has flown in an urban area in Europe, but it has flown in a number of demonstration flights around the world. The unmanned flight lasted a few minutes and was a highlight of a two-day event 'Vision Smart City – Experience future mobility today' hosted by Daimler. The event saw the presentation of technical innovations and sustainable transport concepts for future mobility at the Mercedes-Benz Museum in Stuttgart.
Have a nice weekend.
Graeme Roberts, Deputy Editor, just-auto.com