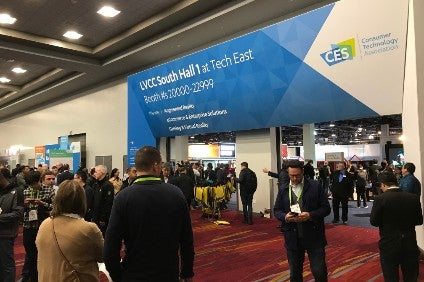 There's really only one place to start this week and it has to be in the Nevada desert where the annual tech-fest of the Consumer Electronics Show 2018 kicked off the year in a technological blitz which was high on AI.
There has been some criticism the gadgets on show are really only nice to have rather than aiding human experience, but in the automotive world, there are genuine game-changing moves forward which will radically shift how we view mobility in the future.
just-auto deputy editor, Graeme Roberts was in Las Vegas for first-hand experience and to hear about Kia's "Boundless for All" strategy and its vision for future mobility plus parent Hyundai Motor's new Nexo fuel cell vehicle.
Graeme's busy week also included seeing Toyota unveil its E-palette business system which chairman Akio Toyoda said was a: "Mobile showroom as a platform for an e-commerce-on-demand retail experience, a multi purpose moving experience, mobile personal shops, an individual, personalised mobile showroom."
Also Stateside at CES 2018 was just-auto correspondent, Matthew Beecham, who caught up with Visteon president and CEO, Sachin Lawande. The US supplier used to be known as a Tier 1 custom product development company and told Matthew how it has transformed from manufacturing interiors and electronics to one exclusively focused on cockpit electronics and autonomous driving solutions.
All of our content from the week's gadget bonanza can be found packaged here in our CES Hot Issue.
Continuing the American theme, just-auto editor, Dave Leggett will be at NAIAS next week in what promises to be an icy Detroit, with both shows now giving each other elbow room to each have their moment in the sun. Just before he got on the big white bird, Dave also filed this interesting piece showing Volkswagen's Seat brand releasing details of its intelligent robots' operations at its Martorell, Spain, manufacturing plant.
I first saw collaborative robots at Renault 's Valladolid plant also in Spain last year, with the automaker keen to emphasise it doesn't view such Industry 4.0 practices as harmful to jobs, in fact quite the contrary.
New and Future Vehicles editor, Glenn Brooks has filed a wideranging list of motors which will be making their global debuts at NAIAS and here they are in a comprehensive package. Glenn's Detroit take includes the facelifted Ford Edge and its new ST variant; the next generation of the KIA Forte, which will be the K3 and CEED in other regions; plus official images of the Insight from American Honda.
Closer to home on this side of the Atlantic, we ran figures from LMC Automotive showing West European car sales fell by 5.2% year-on-year in December, although the decline was impacted by the holidays calendar which meant most markets faced two fewer selling days compared with last year.
Better news overall though as the market expanded by 2.5% to 14.3m units, the fourth consecutive year of growth and the best result since 2007. Of interest was the UK, which dropped nearly 6% as uncertainty continues to swirl around Brexit, although a market exceeding 2.5m units is still the third highest during the past decade.
Staying in the UK – from where I'm writing this under the leaden grey skies of January – Stephen Norman has been named new MD of the PSA-owned Vauxhall brand, which also includes responsibility for Opel sales in Ireland. The blizzard of exec moves also continued in Paris, where PSA appointed Albéric Chopelin SVP chief sales and marketing officer, effective 1 February.
Moving east to Russia – famously described by British Prime Minister Winston Churchill as "a riddle wrapped in a mystery inside an enigma" – the country with 11 time zones continues to power ahead and recover from a terrible last few years. Just to underline that healthy rebound came news this week of Ford Sollers creating 600 new jobs at its Elabuga Assembly operations in Russia's Tatarstan Republic, as well as moving from a five-day to a six-day working pattern.
The new recruitment brings the total workforce at Ford Sollers' two plants in Tatarstan, Russia, at Elabuga and Naberezhnye Chelny, to more than 2,800 people and is yet more evidence of AEB Automobile Manufacturers Committee chairman, Joerg Schreiber's confidence the market is fighting back.
"Cumulative sales in the past 11 months delivered a plus of 12% over the same period in 2016. It is well worth remembering exactly one year ago, we were still looking at a cumulative minus of 12%," he noted at the end of 2017.
Oil prices have climbed steadily in the past few months to US$70 today, providing Russia with some much-needed stability, while the looming World Cup will raise the profile of the country considerably and may inject a huge feel-good factor to persuade consumers to part with their roubles.
Las Vegas, Detroit, Tatarstan, it's been a busy week.
Have a peaceful weekend.
Simon Warburton
Business Editor