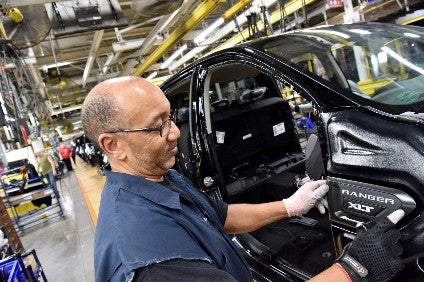 Ford has let us know it expects to see a $650m loss for the first quarter. It's a big number, but there's no great surprise there. Ford wasn't exactly in great shape before the crisis hit. Ford posted disappointing fourth quarter results that included a loss that virtually wiped out its profit for 2019. Higher warranty costs and expensive investments in advanced technologies were a drag on its bottom line, even as the top line came under pressure from softening demand in major markets. Indeed, CEO Jim Hackett had acknowledged operational shortfalls.
The COVID-19 coronavirus crisis this year has swept in suddenly to hit the company with a need to rapidly reset priorities.
Like many other vehicle manufacturers grappling with an unprecedented crisis of uncertain duration, Ford is looking to bolster its cash position and cut costs wherever possible. There are undoubtedly going to be some tough decisions to be made and I don't envy the corporate strategists right now. In the current climate, there is very strong case for exercising tough cost control and deferring expenditure where at all possible, but it is also important not to cut so much that future performance or competiveness is impaired. Mind you, it is a brave CEO that says 'keep the foot on the gas pedal' when the market is collapsing.
I recall former Ford chief Alan Mulally told me in 2009 that was precisely what he was able to do when the last recession hit. In what with hindsight looked like stunning foresight, Ford took out a very large mortgage in 2006. When the full force of the financial crisis and recession hit a few years later, GM and Chrysler went into bankruptcy and bailouts, but Ford had the cash reserves to stay operational and out of Chapter 11.
Moreover, Mulally made sure that any cost cuts made were highly selective, important investments protected. He said in 2009: "We had to accelerate, not slow, the R&D and investment in new products and also make sure we have enough liquidity – which is why we went to the banks [for $23.5bn] – and then start improving our balance sheet, which we have been doing over the last year, both on paying down our debt and raising equity."
So, when the bean counters come calling and say you have to slash cost, you want to have the room to push back a bit and say that things like new product programmes have to continue in order to safeguard long-term corporate health. Slashing or deferring new product spend is, after all, a potentially very dangerous path to go down (FCA has been down that one before and suffered lost market share as a result). Good product (and fresh product) is everything in this massively competitive industry.
Current Ford CEO Jim Hackett has been quite rightly moving to build Ford's cash pile to get through the crisis. Has he got enough of a buffer ($30 billion, but probably wants more) when the bean counters knock on the door and talk about cash-burn? He wants to answer very firmly in the affirmative, also reassuring investors who are naturally nervous. Every recession is different. This one puts economies in government-induced comas and is like no other. As they survey the uncertainties ahead, car companies are all looking to build very big stockpiles of cash.
All companies though, will be on a journey of re-evaluation, in terms of both tactical (operational) steps and strategic priorities. Some things will get canned, other things will be accelerated.
Joint ventures that are under-performing, projected benefits a long way into the future? Time to get out perhaps and reduce risk, focus scarce resource on other things that will influence bottom lines over the next two years.
Review global supply chains to make them more robust? Invest more in automated manufacturing processes? Now could be a good time for those things. Car company executives need to ask themselves: How is the post-Covid business landscape going to look and how do we need to adapt to meet it? What needs to change?
As Ford's experience illustrates though, priority number one is getting through the current crisis, having cash at hand and looking to emerge in good shape, ready for the very serious competitive tests ahead. After that, the playbook changes for all.
See also: Ford boosts cash reserves but warns of $600m Q1 loss